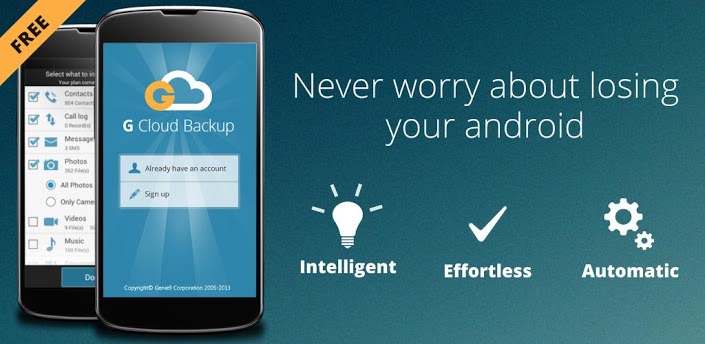 Never worry about losing your device, (One device is lost every 3 Secs in the US) just install this App and it will intelligently backup all your data to a secure cloud/online location, and its FREE
Backup and protect your SMS messages, contacts, call logs, documents, settings, photos, music and videos to a secure cloud location
Just select what to backup and you're done, it intelligently backs up daily when your battery level is normal and connected to WiFi, you can also select to use 3G.  
As the title suggests this is a back up application and service from a company called Genie9. A great solution if you ever lost your phone and those valuable SMS or call logs. (I personally have no valuable call logs or SMS and the items I call valuable are already uploaded to other services with more storage and a more complete user experience without having to spam my social streams. More on that later.)
We'll take a look at the application first then the service provided so we can paint a clear picture of what you get. This is the free version I've tested.  There's also a paid for but I can't justify paying for it when I have a few apps/ services that already do what the paid for version does.
The App
An attractive application which is very simple to use and grasp in a few short minutes. Everything looks well and runs quick-ish but can be throttled a bit when refreshing the back up list.
The landing page/ dashboard…
Status
Storage
Details
Pending
Backed Up
Last Back Up
Data tab… (This is everything the app can back up)
Contacts

Call Log
Messages
Photos
Videos
Music
Documents
System Settings
Browser Data
Restore lists…
Contacts

Call log
Messages
Etc etc what can be restored
A plethora of settings give you access to when to upload and back up. Over WIFI only, on what percentage of battery, how it works, delete files… Loads of options there to set automatic back ups if you so wish. All very good and user friendly.
The Service
Now forgive me if I'm wrong but if you are already using an Android device that has Google's awesome array of applications and services aren't most of things already available? Contacts linked to your Gmail account, photos instant upload to G+ same as videos or even YouTube, Music, usually most people stream nowadays anyway via Spotify or Google Music. Documents? I don't know what that is because I have no folder in my phone named that… To gain any real storage options, that would be even close to what you need if you were backing up videos and such, you'll need to jump through hoops to do so. (See screenshot#2) I'm not comfortable with being the service providers advertiser in exchange for 200mb. I'm sorry to type that but that's just my opinion. Maybe if I only used this service for my SMS when my wife texts me "What would you like for dinner?" or "Pick up a few cans of coke on the way home from work." Everyday nonsense. This app would be enough.
In Conclusion
If your looking for a back up application and you don't need a lot of space then this app is fine but once you fill up quickly you'll have to revert to spamming FaceBook or whatever looking for people to join so you get some storage. This is turning in to a common thing these days, it's not just Genie9 but most of these services run under this business model and I suppose we just have to accept it or use something else.
As always we have provided a link to download.
(Free Version)