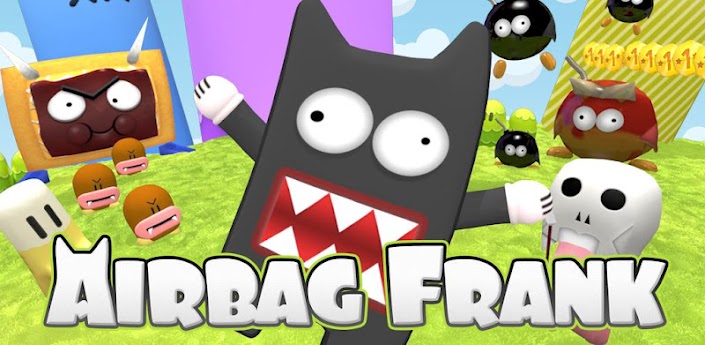 Airbag Frank 3D is a free game for Android which tells the story of Frank, who with the help of a large rubber band and a slingshot, flies through the air to collect coins. Your coins can then be used to purchase upgrades, items, and skins.
If you feel Frank is falling down too quickly you have to ability to use jetpacks, fruit and veg to keep him up in the air for longer. Longer air time means more coins and a higher score.
The fear factor has been injected into this game with enemies such as the Crunch and Skullorm who will stop at nothing to make sure you don't upgrade to the latest slingshot model.
I can confirm this is a truly addictive game. It has great graphics and smooth game-play. I played it for around 30 mins and didn't notice a single stammer or performance drop. A fantastic feature is real 3D rendering, where all you need is a pair of anaglyph 3D glasses: red/blue, cyan/magenta and yellow/blue are supported.
This game looks and plays great on a number of devices I played it on, but if you (like me) are one of the lucky owners of one of the latest devices then you (like me) can enjoy higher detailed models with realtime shadows and even more special effects!
Pros:
– Real 3D rendering making for a avatar style game. (Warning: May not actually product Avatar like graphics)
– The ability for higher-end devices to turn it up to 11 for a more detailed game.
– Great gameplay, smooth graphics.
– A truly addictive game.
– No mention of in-app purchasing.
 Cons:
– It appears to not fit my screen properly, not so much to cause an issue but it is noticeable.
– It has OpenFeint intergration, this is just a case of ignoring it.
– Phone may get warm after playing this game for as long as you will.