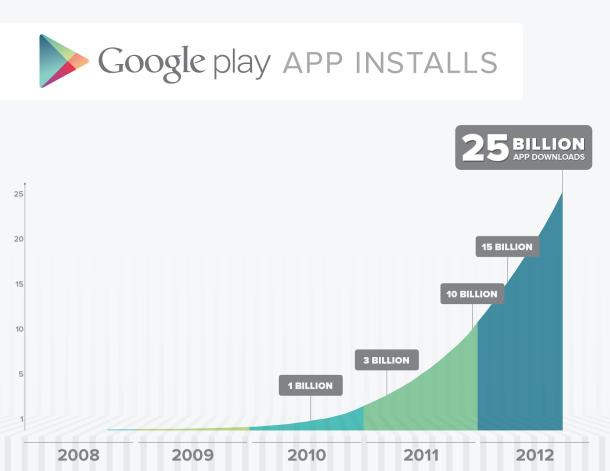 Our first in the series of tips for newer users begins with accessing the Google Play Store. What's available?, How do I use it? Etc etc
Your brand spanking new Nexus7 (we'll use this as an example) comes with the full Play Store installed. Likely when you first boot the device you'll be asked to register a Gmail account. This is very important! This is your key to all those lovely Google products and apps. Everything is linked to this Gmail, so don't forget it. For a UK user we have a lot more services and products that we can purchase now.. Linking a credit card or prepaid card is also a good thing to get the best that's on offer.
What can we get?
Apps
Games
Books
Music
Movies
Magazines
Apps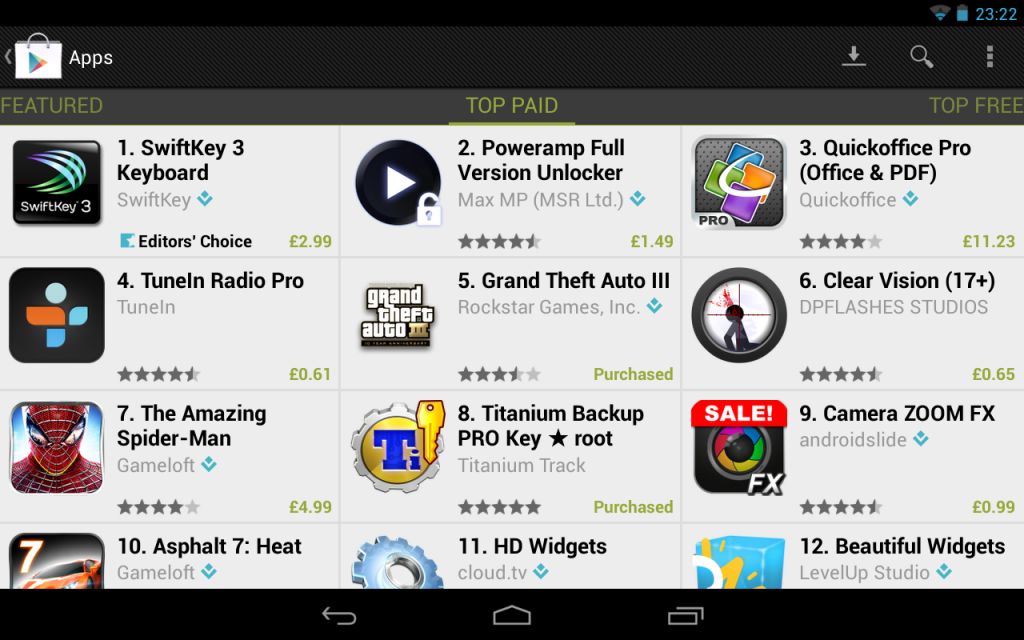 As the first picture shows applications downloaded has sky rocketed. The second picture shows the standard Top Paid applications which people have downloaded as a guide to what's hot, right now. Google have gathered applications and grouped them for you to enjoy under various tabs from best free, paid for…..
Games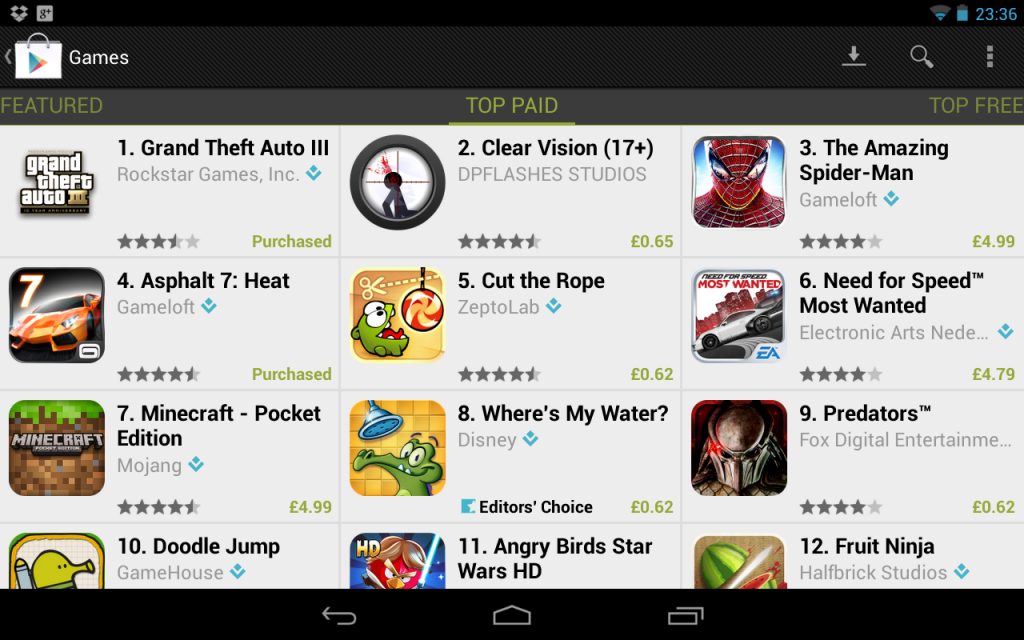 This is where the fun starts (Still using the Nexus7 as an example.) Waiting at the airport for a flight or playing Cut The Rope on the loo. There are 1000's of games to choose from. Loads are free and some you'll have to pay for. Games available will suit all ages from your 4 year old to your deaf granny. Angry Birds is still getting rinsed and repeated. We have reviewed a few on the site. Just hit games on the blue bar at the top. Or
here
  (browser or tablet only)
Books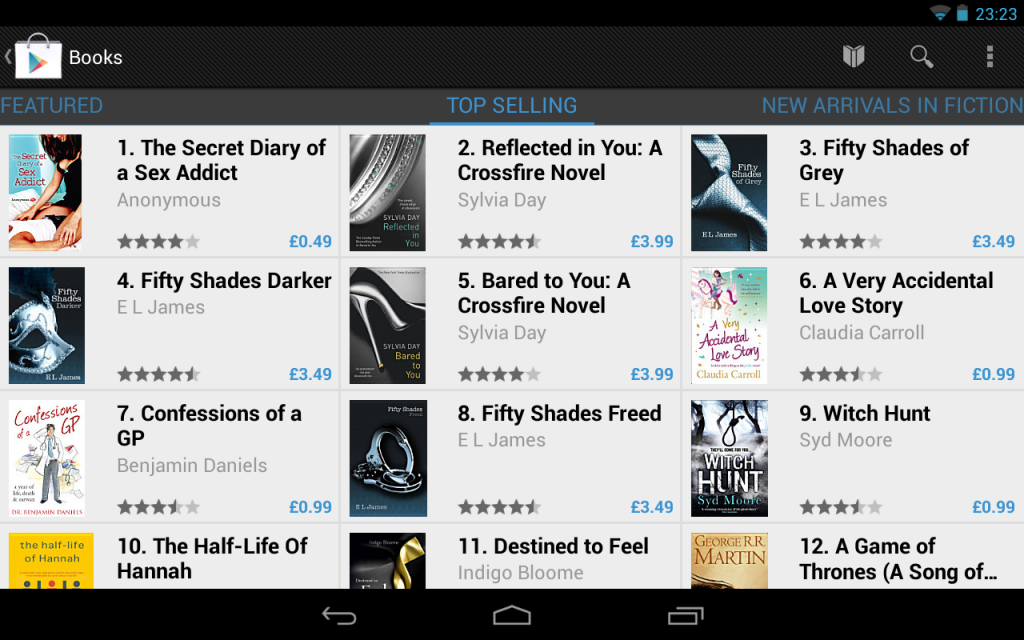 Laid out the same for easy viewing are the top titles that you'll be looking for.  Most are available in the Book section. (You'll not  need that old Kindle anymore.) All  reasonably priced, in my opinion. If your looking to purchase books for going on holiday, make sure it's fully downloaded first.
Music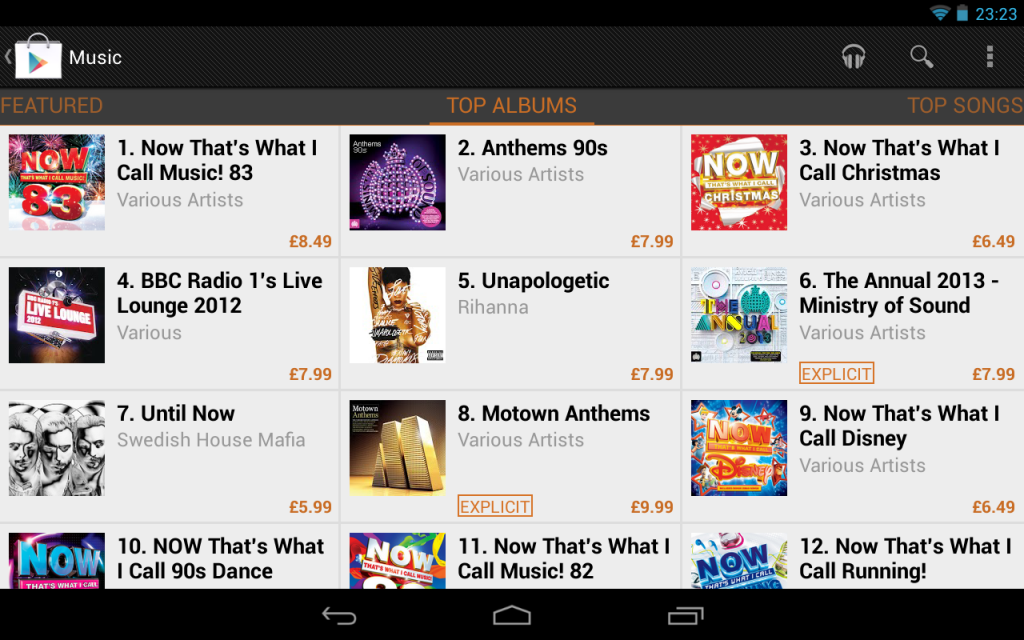 Now that's what I call a lot of….  Now that's what I calls 😉 Same applies here. purchase and download to enjoy all the latest  music and albums and listen to them via your Google Music app that's pre-installed. Over wifi or 3G streaming. This is a fantastic service that we, in the UK, have been waiting on for a long time. Awesomeness!! I use it every day! You can also upload your own music to enjoy.
Movies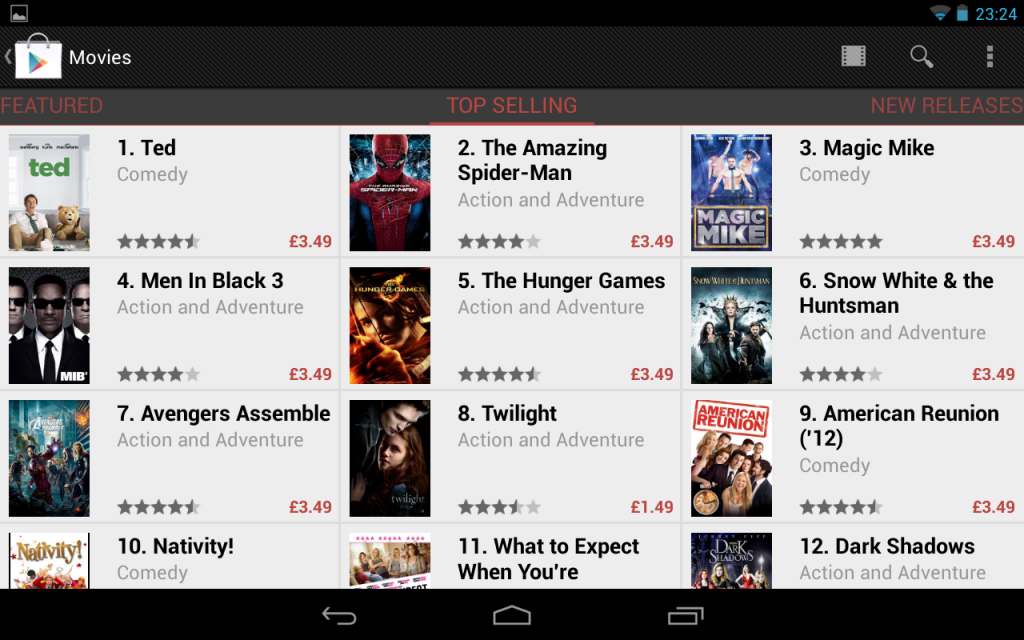 Same applies here for movies also but you can't upload your own. All the new top titles are available for you and you can search for the less obvious or older movie. (Personally I haven't used this service much myself, maybe I should.)
Google Play can also be accessed via any web browser, which is great. Once again you have to be signed in with your Gmail account. Use this link
Google Play on web browser
 and bookmark it. Everything is the same here but it runs on your browser and doesn't need to be downloaded or updated. All this is done without you knowing, it really is brilliant.   (looking at you iTunes)  Choose an app, hit install, select which device… It's like magic.
Feel free to comment here or on our
Google Plus
page or via
Twitter
. I've enjoyed writing this and hope it's of use to some.