Griffin Woodtones Over-the-Ear – Review
Making wood the primary design element for headphones is common trend nowadays, with a lot of companies sacrificing sound and performance, in order to get the look right. The Griffin WoodTones Over-the-Ear Headphones, though, were a nice surprise. At £99.99, they're an affordable pair of headphones with great audio balance which goes with their good looks. People looking for a powerful bass may not find these beefy enough, purists seeking flat response may find them too bass-heavy and sculpted, but for those of us in the middle, the WoodTones, I found, offer quality sound all wrapped up in a great looking set of headphones.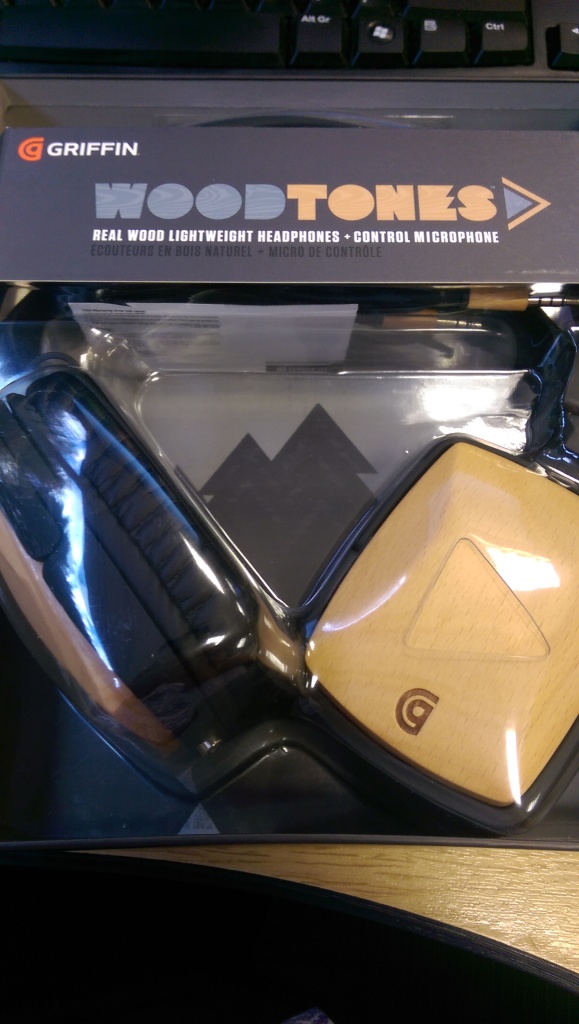 The WoodTones have real wood housings on the earcups, you get to choose from Walnut, Sapele, or Beech. Its hard to get exited about the design, when every company and its brother is doing wood effect on their gadgets. It's still a classy look, and the rest of the design featuring an all black, auto-adjusting headband and plush black earpads offers a comfortable, secure fit.
One advantage is the detachable cable that connects to the left earcup, and includes an inline microphone and remote control. The remote has one button that lets you answer calls, play and pause tracks, and navigate forward or backward with multiple clicks, but there is no volume control built in. The detachable cable also makes it far more affordable to replace a faulty cable than replace a pair of headphones.
When testing them, I went for some really bass heavy tracks, the WoodTones didn't distort even at maximum (and unsafe) listening levels. I have found that more budget headphones circumvent the issue of distorting on tracks with seriously deep bass by avoiding the deep bass altogether, but the WoodTones bring a healthy amount of low-end to the mix. Then the Woodtones bring it back on more subtle tracks, vocals are crisp, and the drumming gets a very subtle bass boost.

Trying tracks which are a mixture of the true really show what the WoodTones offer. The drum loop gets a nice treble edge, while the sub-bass synth is delivered with a healthy low-end presence. The bass is never over-the-top, but it's definitely there and noticeable, the vocals on the tracks tested dance through everything.
This headphones will never suit everybody, but if you're the balance-minded listener who's looking for a different design, the Griffin WoodTones have plenty to offer. They look great around your head, and from testing sound great, with very little sound bleed.