The Jam Plus bluetooth speaker lets you connect wirelessly up to 30 feet away from your device and even pair two for true stereo sound. The rechargeable lithium-ion battery delivers up to 6 hours of wireless play.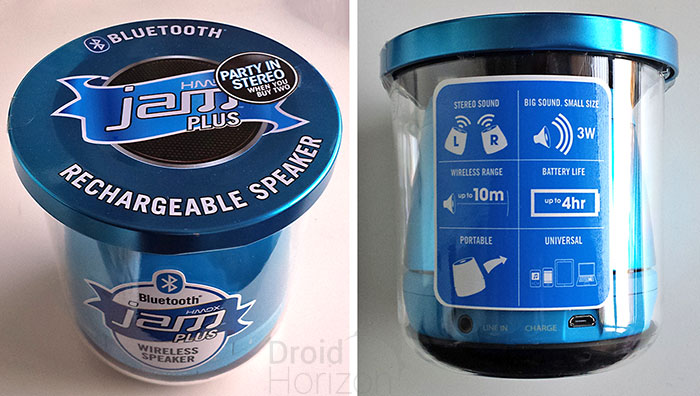 Build Quality & Design
Before I get into reviewing the device itself, I need to mention the packaging. HMDX are running with the jam theme by supplying their speaker inside a jam jar. This is a nice touch and you can keep it to store your speaker or whatever else you wacky kids keep in jars these days.
On to the speaker, and the Jam Plus is very compact with a quality plastic shell available in a range of colours. Encouragingly it has a little weight to it with a rubber ring around the base to stop it sliding about. The shiny metallic surface can be prone to scratching, but should be fine under normal use. Overall this looks and feels like a quality device.
The speaker itself faces upward, with volume and play/pause buttons, micro-USB charging port and a 3.5mm audio jack around the sides. The on/off button and left/right/mono selector switch are located at the base.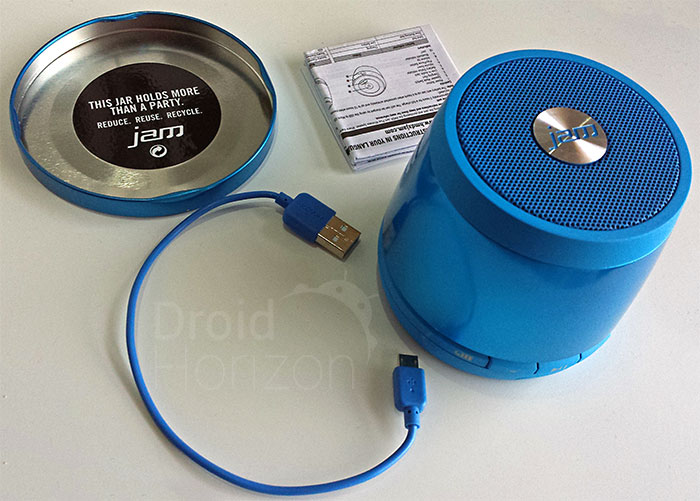 Performance
The Jam Plus is a mono speaker which for it's size gets extremely loud and has no problem filling a large room.  Overall audio quality is really impressive with great dynamic range although there can be a little distortion at excessive volumes. There's a nice level of bass but as you'd expect for such a small speaker, it won't shake your socks off.
The packaging states that the battery life is up to 4 hours with 12 hours possible through a wired connection. The Jam website lists up to a 6 hour wireless battery life, and knowing what "up to" can sometimes mean I was interested to see how it faired in real life.  I put the speaker on charge and waited for the red solid battery indicator light to go out indicating a full charge.  Then listening wirelessly at a moderate volume, I waited for that same battery indicator to start flashing indicating a low battery.  4 hours passed.  6 hours passed.  In the end this Jam Plus played for almost a staggering 12 hours which is fantastic for a speaker this size.  I think the HMDX marketing guys are doing this speaker a disservice in terms of battery life.
The Bluetooth range of the speaker was also excellent and no matter how far apart or what room the speaker and phone went inside my house the audio continued uninterrupted.
Features
The main feature added to the Jam Plus over the previous Jam Classic model is the ability to pair two of these bad boys. Using the selector switch at the bottom you can designate whether the speaker will act as the left, right or mono (combination of both). Having just the one meant I wasn't able to test this feature, but I'm in no doubt that having two would create an excellent sound in terms of both quality and volume.
HMDX's focus with this device is firmly on the audio with the Jam Plus having none of the other additional Bluetooth speaker features such as a microphone, water resistance or ruggedness.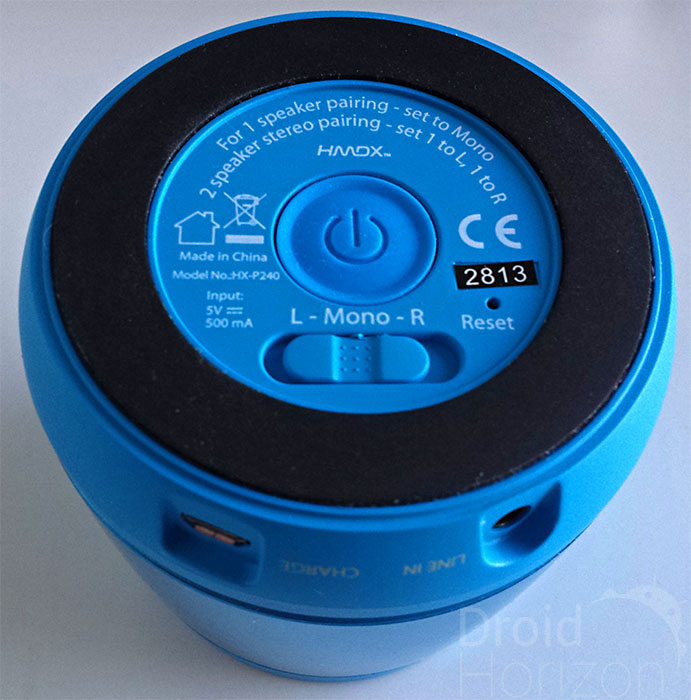 In Use
Pairing the Jam Plus was simplicity itself. Just switch the unit on, hold down the play button to enter pairing mode and both my phone and tablet were able to find it and connect without issue or passcode. There's a reassuring jingle and blue LED to let you know it has connected.
The speaker has it's own independent volume controls, and the play/pause button works great for pausing or restarting your media (Bluetooth connection only).
The device is extremely portable and easy to throw into a bag when travelling. Having the same charging port as your phone means you don't need to carry a separate charger.
Price
At around £35/$60 the Jam Plus is well worth the asking price. If you're sure you'll never buy a second one to make use of the pairing feature, then the otherwise similar Jam Classic is now available on Amazon for around £18 (I suspect battery capacity isn't as good but it's still an absolute bargain for a speaker of this quality).
Overall
Whether the Jam Plus is for you will depend on whether you intend pairing two of them and are okay with carrying two around. For a mono speaker the Jam Classic has similar performance at an even better price.  For the price of two you can buy a stereo speaker which would be easier to carry around and keep charged. However you won't be able to stick a speaker in opposite corners of the room and are unlikely to raise the same volume level.
Overall the Jam Plus is a great little speaker that's convenient to take with you wherever you need your tunes and with performance that won't let you down.  Despite being mono I would have no problem listening to my music on it every day and it's also great if watching video on your tablet just isn't quite loud enough.
Superfi are currently offering two of these speakers for £59.99 (thanks to Ashley Albans for the heads up).  Otherwise HMDX's full range of Jam Bluetooth speakers (including the Jam Plus) are available from the Jam website below, and they're also available on Amazon…