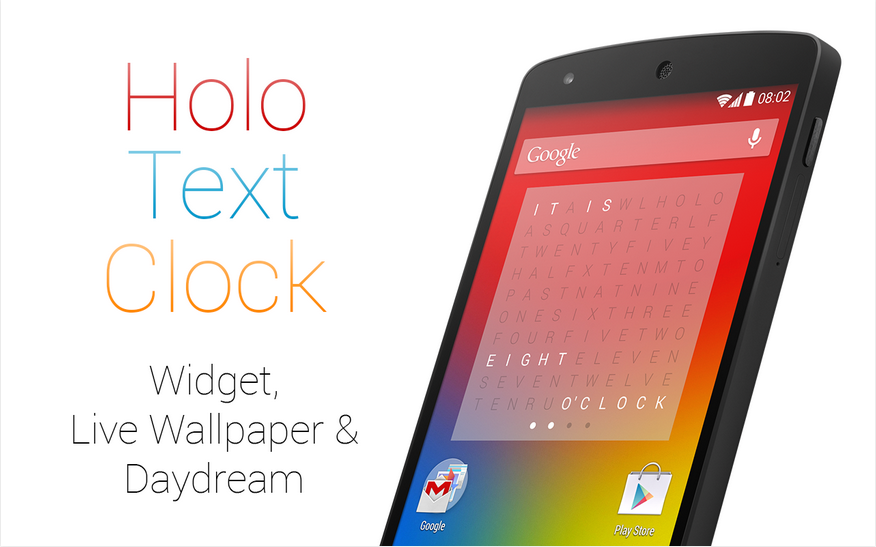 Developer's description Holo Text Clock;
Holo Text Clock displays a grid of letters, of which some are illuminated. Read out, they form a sentence describing the current time in five minute intervals, for example It is five past ten. Four lights at the bottom indicate the minutes to be added to get the exact time.
After reviewing a few apps and games recently, that, to be honest, had a terrible UI (User Interface). Along comes Holo Text Clock and my faith in Android app design has been restored. Not only does the end product look gorgeous on your devices' home screen but the settings and methods of designing the clock, are of the highest quality. Built to Google's recommended guidelines and enough costumization options to even please me, Holo Text Clock is my new favourite clock application.  The app comes with seven beautiful color themes installed: Holo Dark, Holo Light, Holo Blue, Holo Violet, Holo Green, Holo Orange and Holo Red. Daydream features are present also, these are available in the Pro version along with a live wallpaper option.
When a developer takes the time to even make their Play Store listing look great and builds an application that lets your own home screens stand out from the crowd. I have no issue at all recommending you go pro here for £0.89 GBP.
Download Holo Text Clock below;