Hopsooken makes gear for travel. Their line includes a backpack, neckpouch, and money belt.  I've spent a couple of weeks with their 30L backpack, which seems to indicate that their line is good for travel, in that it's collapsible into a small pouch, water resistant, and light. I haven't spent time with a backpack in a couple of decades, so at this point I'm pretty close to a clean slate. Here's how things actually shook out for me, using their model that's black with gray trim.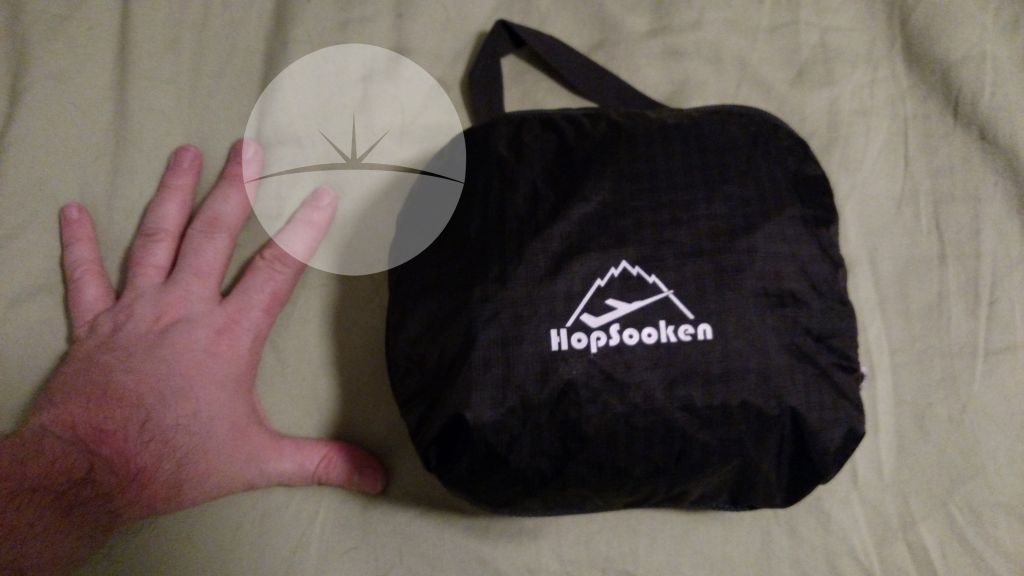 The first thing that I noticed was how the 30L could fold up, as that was how they sent it so it could fit into a smaller container. Once I unfolded it, I could see that it was a standard sized backpack, and made out of a very light material, that turns out to be nylon. The weight of the backpack weighs less than a pound, so one hardly notices the weight of it while its being worn. Now with this being the first backpack that I used in sometime, I found the lack of weight as a pleasant surprise. The material is very thin as well. There's no thick lining inside the bag that acts as a wall between your back and its contents, so anything angular is felt. I guess that's the trade off for being so thin and light. That being said, it feels like I'd have to go out of my way to puncture it, so I didn't take what I felt as any cause for concern.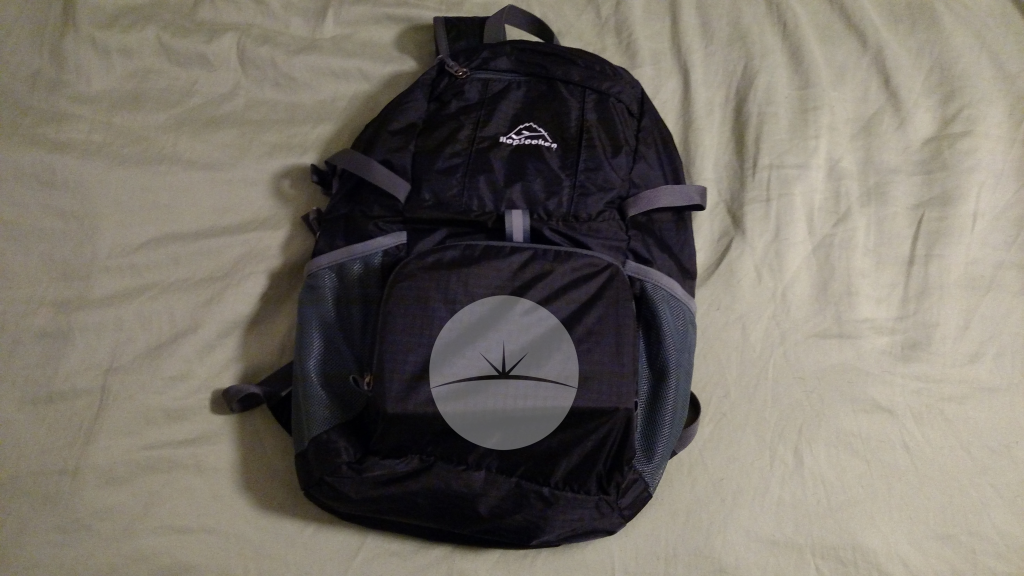 The backpack has several different pockets and compartments. Beginning with the main and largest portion, it didn't strike me as any larger than other backpacks; Hopsooken indicates that the bag holds a total of 30 litres. Inside the main portion, there is a thin gray lining that acts as divider, along the inside that faces your back. It allows relatively flat objects such as reading material to slide in, and be kept more or less upright against your back. The rest of the inside is one usable space that opens and closes by two pull tabs that share the same tape of teeth. On the outside are a few smaller portions. Along the back are two zippered compartments of sideline differing and smaller sizes, and on the bottom of both sides are mesh pockets that don't close; these pockets obviously aren't intended to be weather proof in any way, though I suspect they're still counted in the total storage they advertise. The smaller compartments along the back will both zip closed, and they both have a single pull tab along the same tape, just like the main compartment. The larger of the pair is found near the bottom, and resembles more of a pouch, while the smaller is near the top, and is something closer to a patch pocket with some depth. The straps adjusted in a fashion that was surprisingly easy. There was little or no resistance when I was letting the shoulder straps out, or taking them in, yet they still remained locked into place when I applied pressure to the strap while wearing the backpack. Again, with it having been so long since I regularly used a backpack, I have no idea if this is standard fare for them or not. In either scenario, I was quite pleased with how adjustable the shoulder straps were.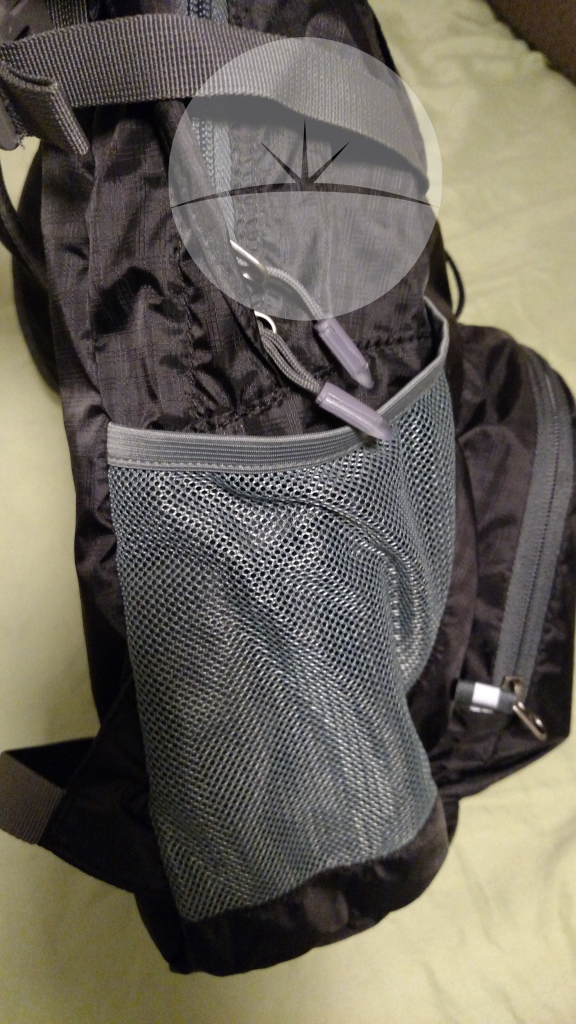 And this is where we reach the unpleasant part of the review. The zippers continue to give me no end of fits. Each zipper functions beneath an overhanging flap, made of the same nylon as the rest of the backpack; many jackets and bags have this, to keep the zipper dry. On a near daily basis, the zippers catch on the flap. Folding the flaps up works for a short time, but they inevitable resume their designed position. So unless I remember to *slowly* zip/unzip the desired compartment, it snags, almost without fail. And short of my finding a way to remove the flap that protects the zipper, I see no other way around this issue. So if catching zippers is a pet peeve of yours, buyer beware. They will not operate consistently, if the user is in any sort of rush. Another problem I found was with Hopsooken's claim of water resistance. While I have no doubt that the nylon that the bag is made from is water resistant, the bag's ability to keep water out of its inside compartments was a far cry from water resistance of any kind. To simulate being caught in the rain, I emptied the bag and put pieces of corrugated cardboard inside each of the compartments that zipped shut. I then held the bag under the shower for sixty seconds; mind you, it was not submerged at all. After the minute expired, I took  it out of the shower and towel dried it, to help ensure that water on the outside didn't come in contact with the cardboard inside; I wanted any dampness on there to have been from being under running water. Unfortunately, that was exactly the case. Each compartment contained some water in side, with the largest compartment containing an ample amount for me to turn the bag upside down and pour it down the drain. Had my electronics been inside, they had legitimate risk of being damaged in some way. I have zero confidence that this bag can protect things that shouldn't get wet.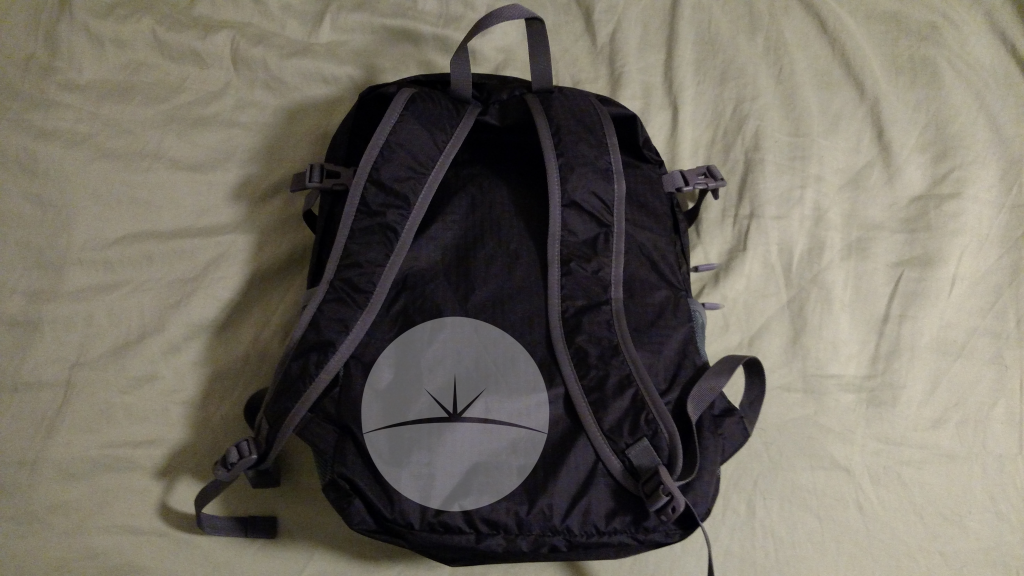 I have used this backpack on a near daily basis, as well has taken it on a roadt trip during that time. I found that it performed as one might expect a backpack to, zipper snags not withstanding. It fits comfortably on my shoulders, and I was able to lug it around without any other problems. During the trip, I filled it up more than I did in my day to day use, and saw no problems. Trip not withstanding, I typically put my electronic gear in it (ear buds, tablet, HDMI converter cable, charging cables, and other related stuff I don't want my kids getting into when I leave the house), and it performs just fine there as well. So, whether it was a light or full load, everything remained in place and I was able to retain freedom of movement with my hands. On those whole though, ti's a tough recommendation for me to make. On the one hand, there's a lot to like about it. It's light, has straps that adjust easily, and has a few handy compartments. On the other hand, the zippers fail quite reliably, to the point of being irksome, and the bag doesn't shield its contents from water damage whatsoever. Pardon the pun, but it makes this bag quite the "mixed bag". Thus, now only will I withhold any kind of recommendation from using this bag, I would counsel prospective buyers to look elsewhere for backpacking needs.