As it is with choices for a lot of other things, various users who own Windows devices always find a way to continue to seek for the best options for getting accurate weather updates as this ultimately affects their movement either for business or for pleasure. With that said, there are various applications, tools and packages which are all readily available online for monitoring the weather with each having its own unique selling or attraction points.
If one decides to use Weatherbug, you are able to follow through on every live and forecast data on your local weather. While using the application, you will also notice that you get local advertising about businesses in your immediate or nearby locale. This is because the application has been basically designed to push through advertising that is based on the business' location and then ensure same is served to users on the application. With its level of detail and forecast accuracy, Weatherbug was prior to this time ranked as the second most popular service for weather information available on the internet, with The Weather Channel just ahead of it. While using Weatherbug, you will notice that this achievement was no fluke as the application is quite detailed on the weather conditions in and around your locale.
However, if one chooses not to use weatherbug download , there are a plethora of alternatives available online but with different characteristics for following up on weather updates. Depending on what you look out for or what really drives your need for a weather update tool, some of these should really work for you, or maybe one or two might.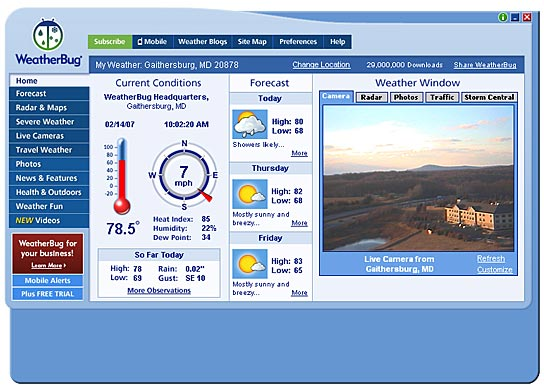 The Weatherbug weather tool has a lightning-detection feature which is able to tell when there is a lightning bolt coming through and thus, warns you just about the time of occurrence. In a similar vein, it also lets you know about tornadoes, a hurricane watch, a flash flood warning or any impending adverse weather conditions. Weatherbug is able to do this as it gathers data from more than 10,000 weather stations and is able to send weather alerts for you to be safe.
As well as being able to warn you during adverse weather conditions, Weatherbug is as comprehensive as possible and can be used each time you have a question related to weather. It helps you plan properly on when to do certain chores, or the best times to go about your business or even the best time to go swimming or hiking. One is also able to know the real-time weather conditions, hourly forecasts, ten-day forecasts, weather maps, and features that include air quality, precipitation, radar and so much more with minute-by-minute account of weather conditions. You will have to allow access to your location for the tool to work and give you accurate information as possible. Without this, your weather reports and updates may just about be wrong.
Again, there is the upcoming forecast feature on Weatherbug where you can get information about what the weather outlook is over the next hour and more. The layout here is very simple and clear and lets you view the temperature and cloud data and you can simply get a view of what the weather could look like in the next week or so. To get some more specific information about the weather outlook on a particular day, you can go ahead and click on that day and then read through the description of the weather and the metrics as forecasted.
There is also the option for tracking various weather patterns in the form of radar maps and this is quite useful in various situations. Pollen counts are also another feature which could be tracked and makes sense to track for anyone who has allergies.
You can also go ahead to use the Battery Monitoring feature to automatically turn off background weather updates whenever the battery level is low or on a certain percentage level. Other outstanding settings include the level of frequency of weather updates which can be set just as you can set or change the units of measurement from metric to imperial.
The Weatherbug layout is great and comes with nice aesthetics and works in a fast and smooth manner without any lag. The weather details which it provides is quite precise as this is from a whole lot of weather stations, schools, airports, and much more.
If you are one of those who do want the few extras for just a small fee, you can also upgrade to WeatherBug Elite and in addition to the removal of all ads, you get some extra features available. Additionally, the radar view jumps to life becoming fully-featured as it is filled with animations, cached data, and additional map layers making it brilliant for your offline viewing.
Indeed, checking the weather and getting regular weather update remains a daily ritual as well as requirements for understanding how to travel for business or even pleasure. Irrespective of what data you want and how you want to view it, be it a quick glance or even an all-round fun experience, the right tool is able to ensure you get a more satisfying update than just the regular. These tools mentioned above are able to offer you that and that is if you decide to get any of them rather than download Weatherbug.
To measure their level of accuracy and reliability, it is already known that most new weather applications for mobile do actually rely on the data from these tools which they then go ahead and modify to fit the user interface.