Indiegogo: MagicStick Reaches 500% on initial goal
MagicStick is the most powerful PC on a stick that turns your TV into a real computer. Simply plug it to a TV or projector, add a keyboard and mouse or use the free control app for mobile and tablet and you are ready to go!
MagicStick is the first PC stick with up to 8GB RAM and Intel's almighty 14 nm Cherry trail quad core processor with 12/16 core GPU, HDMI 2.0, USB 3.1, 256 GB solid storage.
It comes with Windows 10 and Android Lollipop Pre-loaded and also supports all variants of Linux. You will be able to access and browse the internet from your tv, 4K films streaming & watching, Shop on-line or play your favorite 3D video game.
Be the first to experience the power of MagicStick – Delivery in Dec. 2015.

They have been working on a similar device since May 2013, that is why they have a complete confidence in their ability to successfully deliver this product. They have an experienced team, very skilled both with hardware and software integration, and they are absolutely confident that they can ship MagicStick according to their timeline.  They have already completed  and tested several models of the prototype using the old Intel's Bay Trail Processor. This has helped them not only to acquire the proper know-how but also to build a solid and proficient professional relationship with all suppliers involved in the production process.
They understand that there are few risks associated with the launch of any brand new technology to the market, but they are convinced that in their case these are very minimal. They already have in their hands a complete functioning product and they just need to mass produce it. They believe in a transparent project management approach and they have decided to inform all their backers on a regular basis about the progress made during the production phase.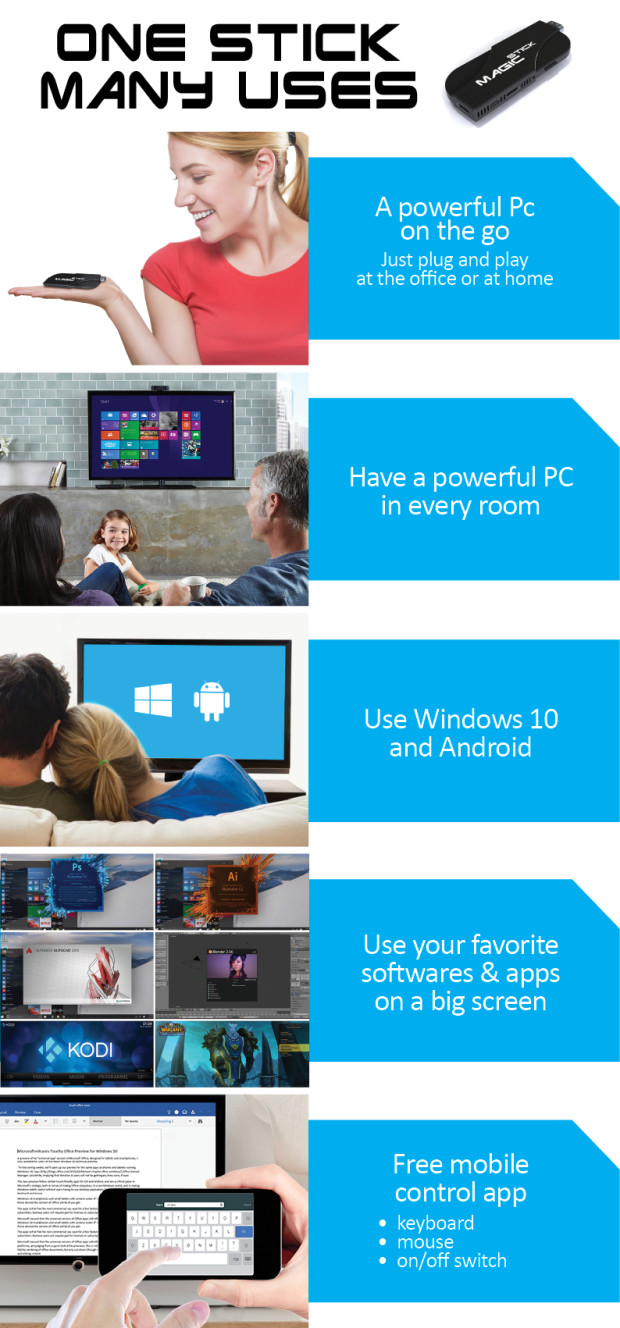 Does MagicStick support gaming over Wi-Fi?
Yes, It supports gaming over Wi-Fi. If you are fed up with your device not giving you better gaming experience over Wi-Fi, MagicStick is the device meant for you. With over 1 Gbps speed of Wi-Fi, it gives you the same feel as you get with LAN wire.
What's an IOT device? You have mentioned that MagicStick will work as an IOT device? What's the use of IOT in MagicStick?
MagicStick can be controlled remotely using cellphones. You no longer have to get out of your bed to switch on your computer. Using IOT, you can switch ON/OFF your MagicStick through your mobile.
The user will be able to do a lot of cool stuff remotely using a cell phone. For example
1. Switch between COMPUTER MODE and DEVICE MODE through cell phone.
2. Switch ON/OFF Wi-Fi remotely through cell phone.
3. Data transfer from your cell phone to your computer without actually connecting to USB cable.
4. Schedule your MagicStick computer to get awakened and loaded with your favorite OS at some specified time etc.
MagicStick comes with a high sensitive antenna? What's the benefit of this or how it improves the MagicStick's performance?
MagicStick is fitted with Wi-Fi antenna with higher sensitivity (10 Dbi) which helps MagicStick to capture even the weak Wi-Fi signals produced from your Wi-Fi router. So, the area within your home where the Wi-Fi signals are weaker, it will not have any problem accessing Internet. MagicStick will be able to catch even the weak Wi-Fi signals due to multiple walls. This is to make sure you will always have the Wi-Fi availability in your house even if the signal becomes weak because of the multiple hindrances.
There is no fan in MagicStick Box. So, what about the heat produced due to processors and other components?
It produces very little heat for which fan is not needed. MagicStick is powered by latest Intel 14 nm Cherry Trail processors which run only on 2 watts of power. It's a new innovative technology that consumes very little power, so very little heat is produced. Moreover, the material used in MagicStick Box dissipates the heat efficiently. We have designed MagicStick while taking care of the aerodynamics. Therefore; there is no need for the cooling fan in this set. While designing the cover and PCB, aerodynamics had been taken into account so that cool air enters from one end and hot air gets pumped out from the other. The maximum temperature at any point of time inside the inner
MagicStick can be close to 65 to 70 degree C which is safe and a fan is not needed to cool it further.
What kind of software can be run by MagicStick?
It can run any kind of application including photoshop, Coral Draw, light to medium graphics rendering work, etc. You can be able to do all kinds of work a normal laptop does. It runs heavy graphics game with ease.
MagicStick is well capable of streaming 4K video. So, you will be able to watch ultra High Definition video without any sluggishness. Most of the old computers may not be capable of streaming 4k ultra HD video. MagicStick comes with 16 core GPU which makes it an excellent device for graphics related works. Thus, MagicStick is one step ahead of your laptop when it comes to streaming 4K Ultra HD videos.
Does MagicStick support high definition graphics work?
Yes, Of course! It has 12 to 16 Core very fast Graphics Processor built in it. It's capable of rendering
heavy graphics too and better than your desktop for gaming etc.
Check out the campaign below:
indiegogo.com/projects/magicstick-most-powerful-pc-stick-8gb-ram#/