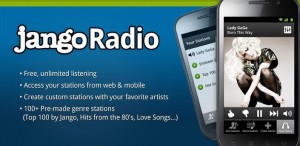 When it comes to Android, we all love our options. This is no exception when it comes to personalize radio services. Let's take a look at Jango Radio and see if it is your new go-to radio app for Android.
"Jango Radio is free, personalized radio that plays the best music by artists you love. Just start with the name of one of your favorite artists, and Jango will create a custom station that plays similar music. Or you can tune in to hundreds of expertly programmed genre stations like Top 100, Hot in Hip-Hop, Indie Dance Hits & more… All with far fewer ads than Pandora." – Jango Developers
After installing the 1.4m app from the Play Store and opening it, you'll be greeted with the following welcome screen: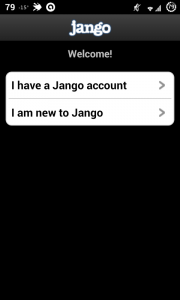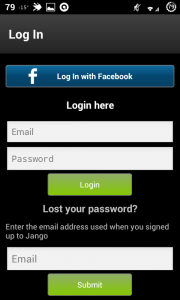 If you're new to Jango, you'll want to select that option and create an account. It only takes a few seconds and you can even sign up with your Facebook account if you're into that sort of thing. Just provide and email, password, select Female/Male and your birth year, and you're good to go after tapping "Sign Up." If you're already a user, either through the app or their website, you can sign in and proceed.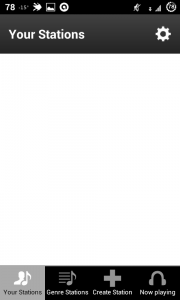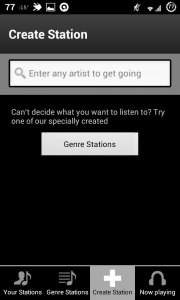 You'll first be presented with the "Your Stations" screen which will display all your created stations. As a new user, you'll want to tap the "Create Station" tab at the bottom and enter in an artists search query to get yourself started.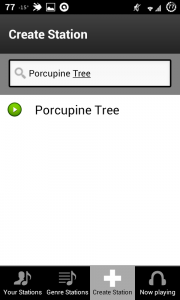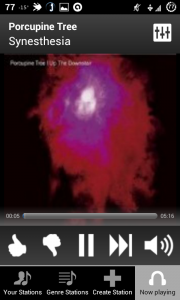 After selecting the artists' station, you'll be immediately taken to the "Now Playing" screen. This is where you;ll be spending most of your time within the app.
Here Jango will create a personalized radio station based off the artist you entered and then provide music based off of that artist and similar artists. If you like a song tap the "Thumbs Up" icon in the lower portion. This will tell the station to play this song again in the future. Opposite of that, if you do not like a song presented to you, tapping the the "Thumbs Down" icon will tell the station to never repeat that song and will skip to the next presented track. You also have the options for "Pause/Play", skip to the next presented track, and a volume slider toggle.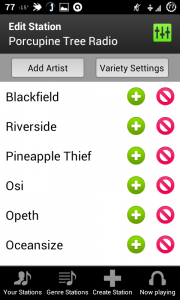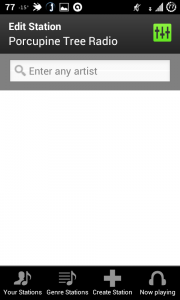 This will bring up the similar artists list in which Jango uses it's database to provide you with new tracks. This is where it get's kind of unique. Here you can toggle which bands/artists Jango has defaulted to play on the station, search a new artists to merge with the station, and two Artists/Song Variety options.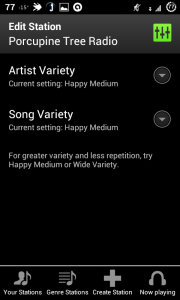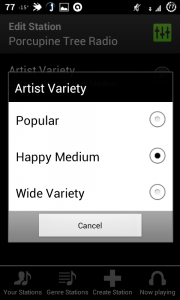 These options allow Jango to choose between the most closely related artists to the band the station was created off of, or "Popular", the default, "Happy Medium", or play artists that share loose ties with that artists for the the "Widest Variety" listening experience. Note: When selecting "Popular" for either Artists/Song variety settings, you're more likely to have more frequent repetition.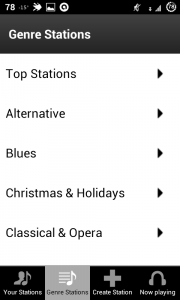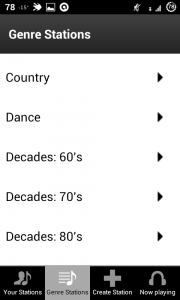 After you've created an artists station, you'll also want to try out one of Jango's huge selection of "Genre Stations". Here you'll find all the work done for you if you're having a hard time coming up with what you want to listen to. Everything from the days Top 100 artists, 80's Love Songs, Techno, Independent, Jazz and so on. There is well over 200 pre-defined stations perfect for any listening situation or mood.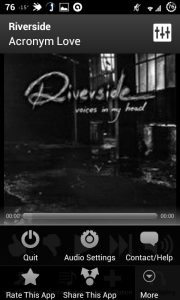 Tapping your devices menu key will also bring up a hidden settings menu for the overall app. Here you can quit the app, toggle some audio settings, contact the developer view Google Drive or Email, Rate the App in the Play Store, share the app through  email or Facebook,  and, under "More" you can change your account Password or Log out of Jango.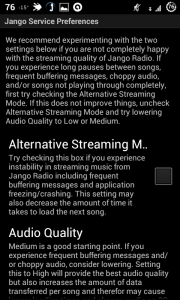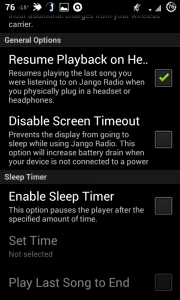 Really the only actual setting here to check out is the Audio Settings, which there are very few of, but appreciated nonetheless. Toggling "Alternate Streaming Mode" will give you a better listening experience if you're having streaming issues such as buffering and/or freezing/crashing. You have the option to toggle the Audio quality "High, Medium, Low"; pretty standard. Other options include "Resume Playback on Headset Connect", "Disable Screen Timeout", and "Enable Sleep Timer" which will pause the player after the specified amount of time.
That covers basically everything Jango has to offer. Here is my rundown of the good and the bad.
Pros:
– Vast database with few limitations for even the most underground music nerds
– Station Customizability: Artist/Song Variety Settings
– Ease of Use
– Great selection of over 200 pre-defined stations
– Personalized and related artists are well defined and accurate
– Rename stations
– Very few audio ads. Especially in comparison to its competitors
– Unlimited listening and track skipping
– Completely Free. No Paid version
– Widget
Cons:

– No option to sign in with Twitter
– Gingerbread UI
– No Optimized Tablet support
– Low Quality Album artwork
– No Last.FM scrobble support
– No Expandable Notifications
– No playback options within Notification Tray
– "Share this App" only allows for Facebook/Email
– No options for real world Radio Stations/ Local Favorites
– No Option to skip back one track.
– No Artist bios, album reviews, lyrics, videos
– No EQ
– No Station Caching
– No Song History
– No alternate language support
– Cannot edit User Profile
– When creating a station, does not present user with Similar Stations
– No option to Purchase tracks through Amazon
– Cannot track/follow other users
Overall Jango shines with its personalized database and ease of use, but it lacks many of the features that it's competitors utilize that even Jango's website already has implemented.