Judge 300 W Stand Mixer Review
With The Great British Bake Off back on our screens, it feels only right to look at a stand mixer. The Judge 300 W is a stand mixer with a difference, as not only does it stand, but will also detach and allow you to mix freely too.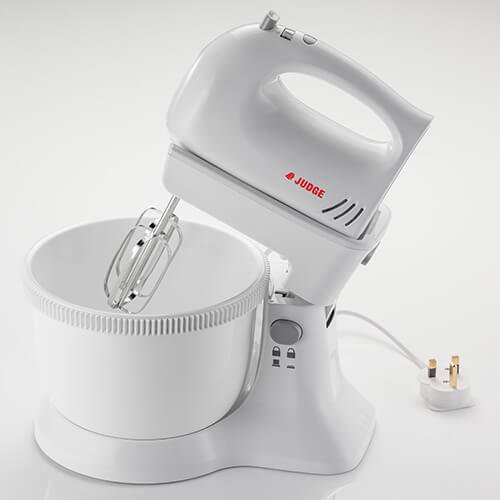 I found the Judge Stand Mixer is the best choice for anyone with a small kitchen, as it doesn't take up a lot of space. There is a 1.5 litre bowl that comes with it, that fits directly into the mixer. This then will automatically rotate allowing for a good mix.
The blades can also be tilted back, which means I can have easy access to the bowl to add ingredients when needed.

The mixer rocks a  300w motor, which is all controlled via a set of grey buttons along the top. This allows for up to 5 speed settings, I was also a fan of the turbo button for extra speed and power. This made mixing, whisking and kneading an absolute breeze.
I used the mixer for a standard Victoria sponge recipe and was able to mix all the dry and wet ingredients together with no problem. The cake come out fluffy and not lumpy, so I was really impressed. I then used the dough hooks to make a granary bread recipe, and though it did struggle in the beginning turning on turbo mood made short work of that dough.

The point that really attracted me to the Judge Mixer was that the mixer is fully detachable, meaning it works as a hand mixer. This means I actually have two kitchen gadgets in one, saving space and money.
The stand mixer comes with 2 beaters and 2 dough hooks, it runs of a power lead.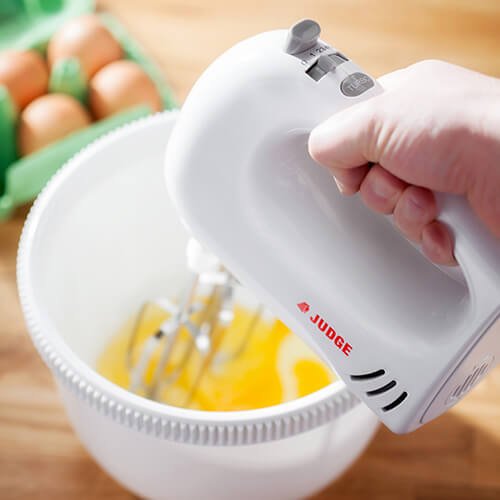 The Judge Mixer comes in at £39.95, which for what you get in an amazing deal.
hartsofstur.com/acatalog/Judge-300W-Stand-Mixer-JEA80.html#SID=778