Jumpdrive Tough and Jumpdrive USB-C 64gb Review
Lexar® JumpDrive® Tough USB 3.1 flash drive
The JumpDrive Tough from Lexar, is a thumb drive with a USB 3.1 connection. This allows transfer speeds up to 150MB/s read and 60MB/s write. But it's main claim to fame is that it's incredibly rugged, allowing it to be knocked about and not lose that episode of House you had backed up.
The JumpDrive is pressure resistant up to 750 PSI, and can withstand temperatures ranging from -10.5c to 149c. It can also go as low as 98 feet deep into water. This is excellent for any outdoorsy tech heads, that tend to carry data while scaling a volcano. Included with the JumpDrive is Lexar's EncryptStick Lite software with 256-bit AES encryption. Which will encrypt data automatically when added.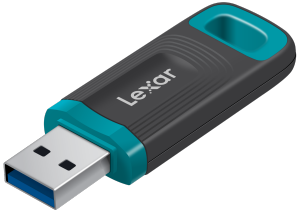 Specs:
Capacity: 32GB, 64GB, 128GB
Interface: USB 3.1 (backward compatible with USB 3.0 and 2.0)
Compatible with PC and Mac
Security: 256-bit AES encryption
Warranty: 3-year limited
The JumpDrive Tough is quite bulky, at least more then the cheaper less protected USB drives. Though I was impressed with the weight still being very light. The overall look is pretty cool, with a dark grey body and turquoise trims.
There is a space on the bottom to slot a lanyard round, and the cap can be removed to access the drive itself. I was a little annoyed to find the lid didn't fit on the other end, or be attached. This means I would suspect the lid will be lost by the end of this review.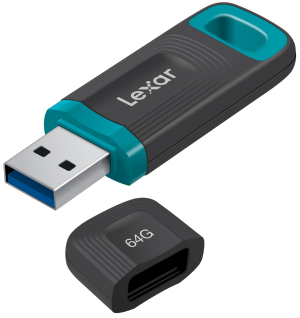 I found in tests files copied over within the specified areas, and only noticed 4K file when plugged into my TV seemed to be a little pixelated. Though this drive is definitely not built for media, it is more to protect that data from thieves and or very hot rooms.
lexar.com/products/usb-flash-drives/lexar-jumpdrive-tough-usb-flash-drive.html
Lexar® JumpDrive® C20c USB Type-C flash drive
The Lexar JumpDrive C20c Flash Drive utilises the increase of USB-C connectors, and allows it to be connected to phones, or laptops which use the USB-C port. This is perfect for people who want flash storage for their USB-C device. This comes in three different sizes including 32GB, 64GB, and 128GB.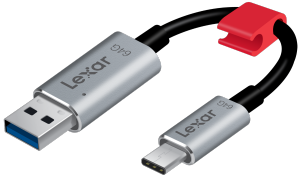 Specs:
Capacity: 32GB, 64GB, 128GB
Performance

Read: 150MB/s
Write: 60MB/s

Compatibility: USB 3.1 (Gen 1),backward compatible with USB 3.0 and USB 2.0
The Jumpdrive is quite small at only 5 inches. There is a USB-C connector connected to a normal USB port via a black cable. There is also the addition of a red clip which keeps everything together. Not only can this be used as storage on my S8, it also doubles as a charging cable, which is excellent.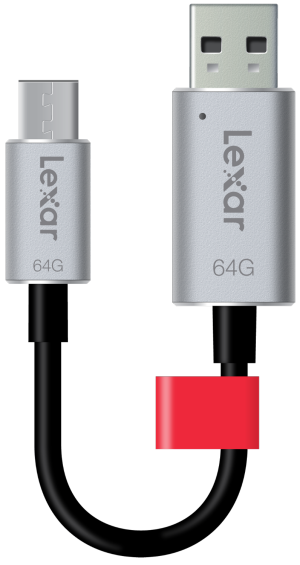 This is a very compact and easily portable device, and its huge selling point is that it works with both Type A and Type C devices. I was a little underwhelmed by the transfer speeds, but for storage on my mobile it was exactly what I needed.
lexar.com/products/usb-flash-drives/Lexar-JumpDrive-C20c-USB-Type-C-flash-drive.html