Billed as a 5-in-1 mobile companion, Kingston Technology's MobileLite Wireless G2 tries to pack a lot of functionality into a compact travel-friendly unit.
The G2 supports the following functions…
Storage Expansion
Multi-User Wireless Media Streaming
4640mAh Power Bank
Travel Router
SD Card Reader
Can it actually deliver on everything it tries to do? Read on to find out.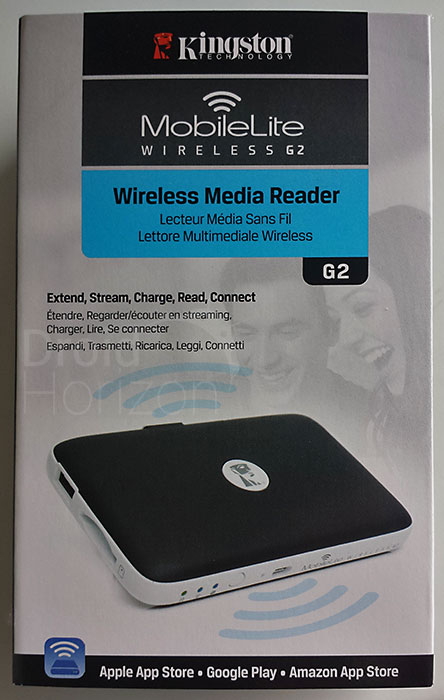 Build Quality & Design
At around 5″ x 3″ and half an inch thick, the G2 is certainly portable and resembles a lot of power banks on the market. The top and bottom are made from matt black plastic with a distinctive white edge around the edge of the device dotted with ports, LEDs and an on/off button. While I don't expect it to win any beauty awards, the look is fine for this type of device – it isn't intended as a fashion accessory. More importantly the build quality seems good as you'd expect from a big name manufacturer like Kingston.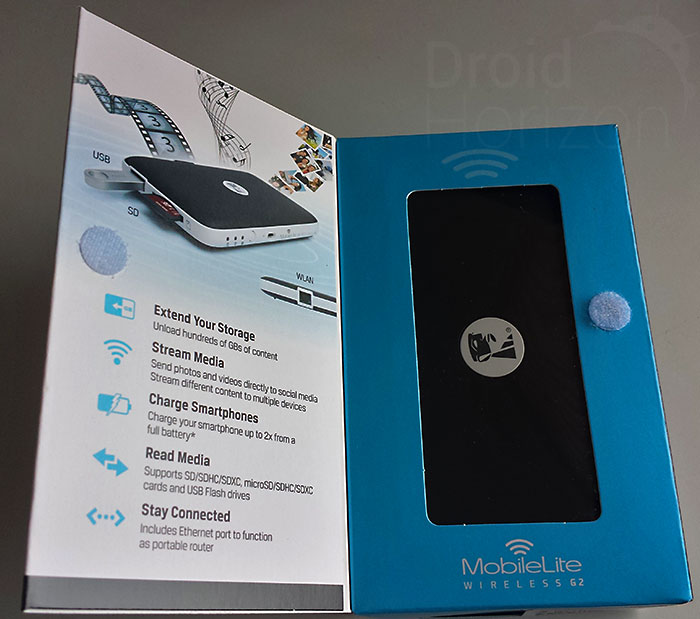 Installation
The G2 setup works with a dedicated app that's available on the Play Store as well as the Apple and Amazon app stores (thus covering most mobile devices). After downloading the app, turn on the G2 by holding down the power button for a few seconds and once it starts up it creates a WiFi hotspot that you connect to with your mobile. It's then very straightforward to complete the rest of the configuration using the app.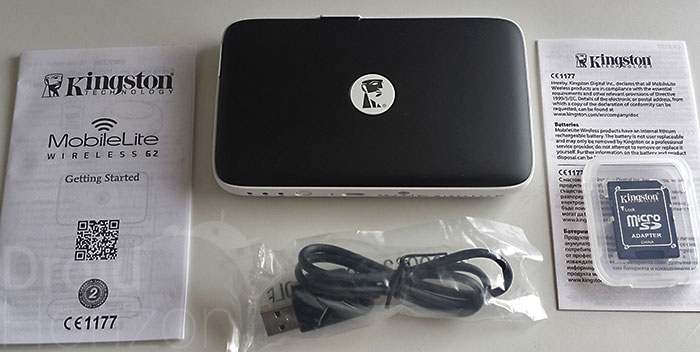 Router
Once setup is complete the G2 then connects to your home WiFi and passes internet traffic between the home router and your phone or tablet. It also has an ethernet port which can be directly connected to your router if you prefer.
If the WiFi signal from your router has trouble reaching every corner of your home, then the G2 can sit between your device and router acting as a WiFi extender.
Likewise if you need WiFi when you're traveling you can plug the unit into (for instance) a hotel's ethernet port and have your own little WiFi hotspot. You can even plug a 3G (not 4G unfortunately) dongle into the USB port and get your data from there without a PC.
The WiFi connection supplied by the unit is 802.11g/n 2.4GHz which may feel a little slow if you happen to have a 5GHz connection.  Similar to it having a USB 2.0 port instead of USB 3.0, while it's not bleeding edge hardware that would drive the price up it is plenty fast enough for most activities you'll be doing on mobile.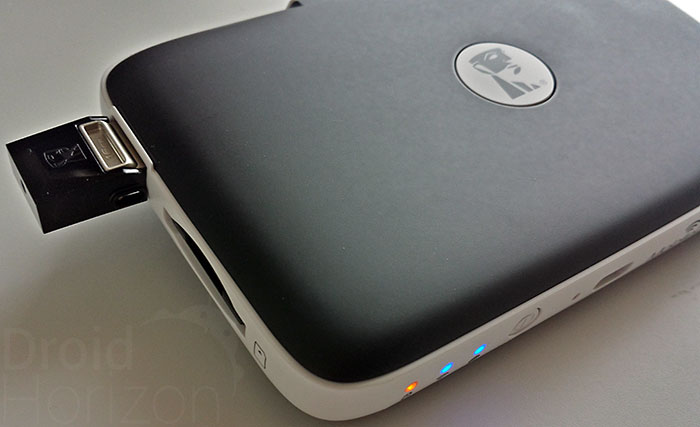 Storage Expansion / Media Streaming
The G2 has a full-size SD card slot and a USB port allowing you to connect your storage and access it from the app on your phone or tablet. FAT, FAT32, NTFS and exFAT formats are supported and I was able to access every storage medium I connected to it including external hard drives (up to 2TB supported). It also comes with an adapter that converts a micro SD card to full size so that it fits the slot.
Kingston have rated the streaming battery life at up to 13 hours which is likely achievable with flash media and light use, but your mileage may vary as 4 – 5 hours is more realistic if it's powering the spinning disks of an external drive.
The app acts as a basic file manager allowing you to access the various folders of whatever storage you have connected to the SD card slot and/or USB port. The main functions are all there allowing you to copy, move or delete files, but only internal storage was accessible on the phone or tablet – I couldn't access the card in my phone's SD card slot or any OTG connected storage with the app. With internal storage sizes finally increasing this is becoming less of an issue, but as someone who still stores their media on the SD card it's a big con. Needing to copy files to internal storage first before using a different file manager to move them on is not just inconvenient, but can be a real hinderance if you have limited internal storage available.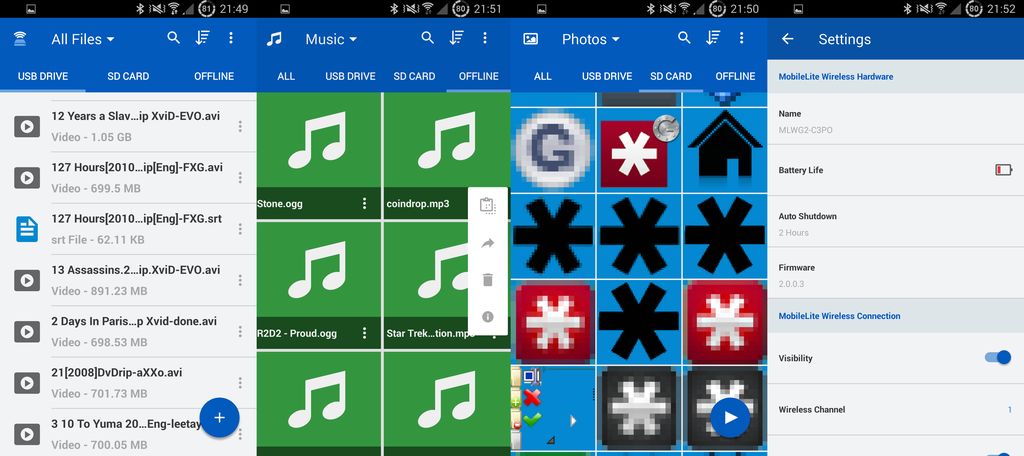 Luckily most media files can be streamed directly within the app or sent to a 3rd party app. Video (even HD) playback was very smooth and it was difficult to tell I wasn't playing a local file. Even skipping back and forth showed very little delay. The G2 allows multiple devices to stream video at the same time so could be a real life-saver for keeping the kids amused. The device supports DLNA and WiFi Direct and there's even an undocumented web interface accessible from typing 192.168.201.254 into the browser on your connected device which will allow you to stream to (for instance) your laptop.
The app settings includes a time-out setting which automatically shuts the G2 down after a specific period of time, defaulting to 1 hour. I'd have expected this to be an hour of inactivity, but actually the unit will shut down right in the middle of streaming a movie so you may want to increase this setting.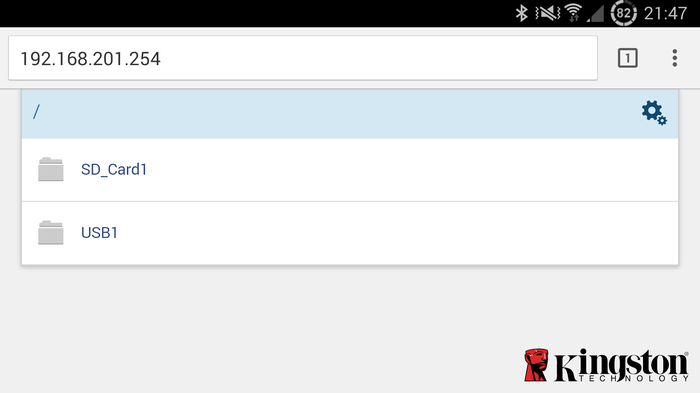 Power Bank
Hidden inside the G2 is a 4640mAh battery which besides powering the router and any connected drives, can be used to charge any gadgets connected to the USB port. A quick tap of the power button starts powering your device with up to a 1.2A charge and the battery LED flashes green, amber or red to indicate the current charge level.
I was able to fully charge the 2600mAh battery on my phone which left the G2 in the red but with a little juice to spare. Obviously there are higher capacity batteries available with this price and form factor, and so I wouldn't recommend this as the primary use of the G2 – but it's a nice touch to have this included as a bonus feature and it could save you from having to carry a separate battery on short trips.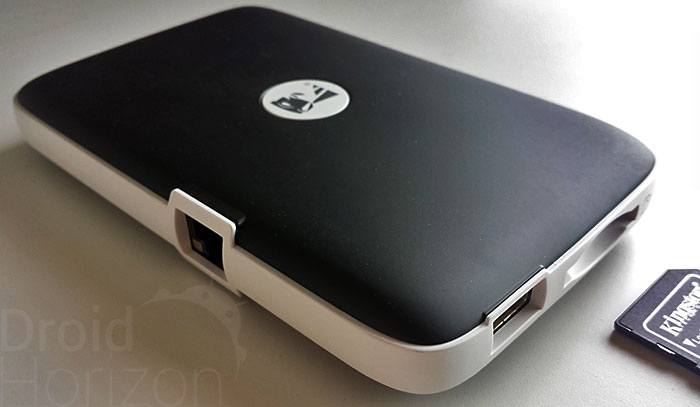 SD Card Reader
We're not quite done with the features yet. When you connect the G2 to a PC via it's micro USB port, it acts as an SD card reader allowing access to the contents of the SD card while charging it's battery at the same time.
Price
The G2 is priced at £27.99 on Amazon UK or $31.74 on Amazon US which I would consider to be excellent value considering all the functionality it provides. I previously paid £40 for one of those plug-in WiFi extenders and the G2 can do so much more for less.
Overall
It's hard to know what to expect when a flash storage company like Kingston sells a product that in itself doesn't have any storage – especially a jack-of-all-trades device that may not excel in any particular area.
I'm happy to say that Kingston have packed a lot of genuinely useful functionality into a portable form factor and at a price that represents great value for money. The only down side would be the accompanying app which admittedly covers the basics, but could use a little enhancement to facilitate all potential use cases on Android.
Having said that, it's difficult to fault the hardware performance and sheer number of features the MobileLite Wireless G2 provides, and it could very well prove to be indispensable for travelers. Even if you only see yourself using a couple of it's features, I strongly recommend you consider picking one up. You can get more details from the link below to the Kingston website…