I've always known Adult Swim as the maker of Robot Unicorn and some great television, but I didn't even realise they have branched off into Android gaming. The latest entry is Major Mayhem, a 2D gallery shooter (with 3D graphics) whose game play is a mix of Time Crisis and Metal Slug.
The game has Major Mayhem roaming through side-scrolling environments, with the player controlling his aim by hitting the screen. Tap at a Ninja and the Major pops out from hiding and shoots. Release, and he ducks behind cover to reload, much like the previously mentioned Time Crisis. Obviously you get power-ups, combos and lots of Ninjas popping up to shoot at.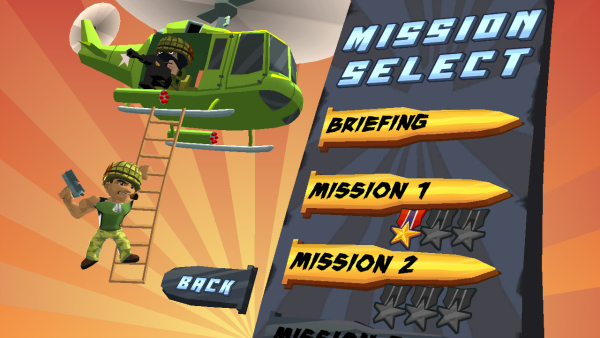 The overall game play is great, but the selling point of this game is the unique style and humour. The game is a throw-back to those 80's action movies we watched as kids, with its story line about ninjas invading "the tropics" and kidnapping the Major's girlfriend. There's more than a few other shout-outs to those movies that obviously give this game its inspiration.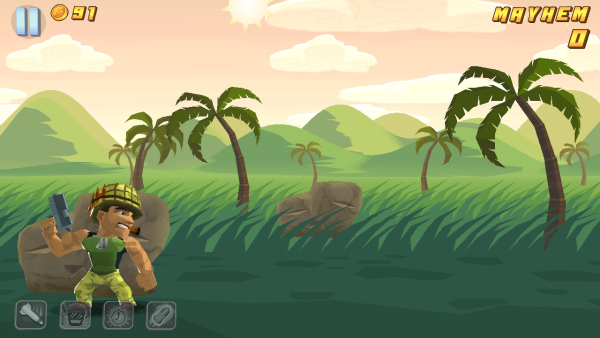 Major Mayhem will run on any Android device 2.2+, but at full whack it may tax some older phones or tablets. Luckily for those people, there's an option to reduce the resolution in the Settings menu. It's a free game with the ever growing in popularity, in-app purchases. I understand this game has been out for a bit, but it definatley worth a punt. As always here is the Play Store link, enjoy!