The Mass Fidelity Relay arrived in striking packaging, this thing is heavy, (according to the postal info it's 1KG!)
It's beautifully presented, the Relay itself on display behind the plastic window of the box, the accessories neatly tucked into a compartment with a magnetic flap.  Behind the flap,  Mass Fidelity labelled audio cables, both RCA to RCA & 3.5mm to RCA, gold plated and heavy. A power supply, shielded and including three interchangeable heads, UK/Ireland three pin, and both Euro and US two pin. One word springs to mind….quality. Even separating the bottom plate from the main housing required the use of a suction cup once the screws had been removed, so snug was the fit.
The unit itself is milled from aerospace grade aluminium, it's quite large (11.5cm x 10cm x 36cm) and weighs in at 380g. Inside it is a Burr Brown 5102 DAC. Holding down the standby button converts both analogue outs to digital. Let's get one thing out of the way, compared to the previous bluetooth DAC's I've reviewed the Relay may seem expensive, but the price is relative.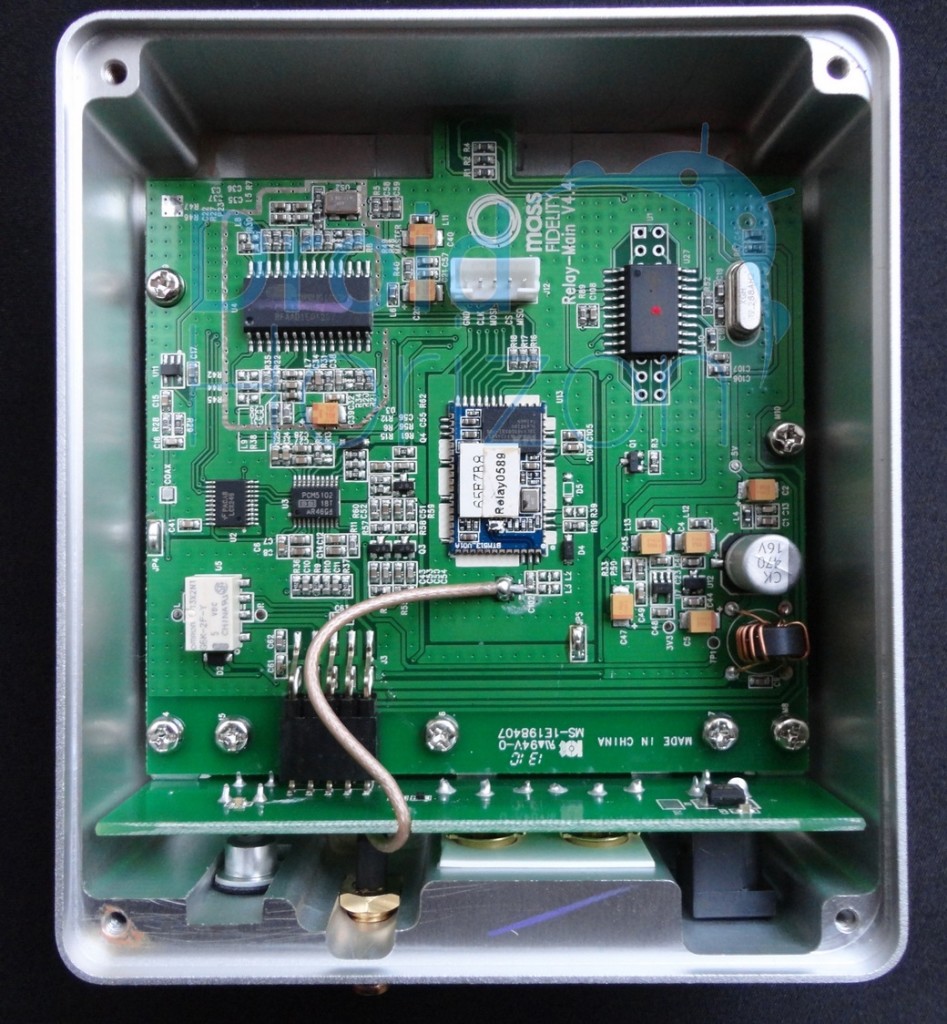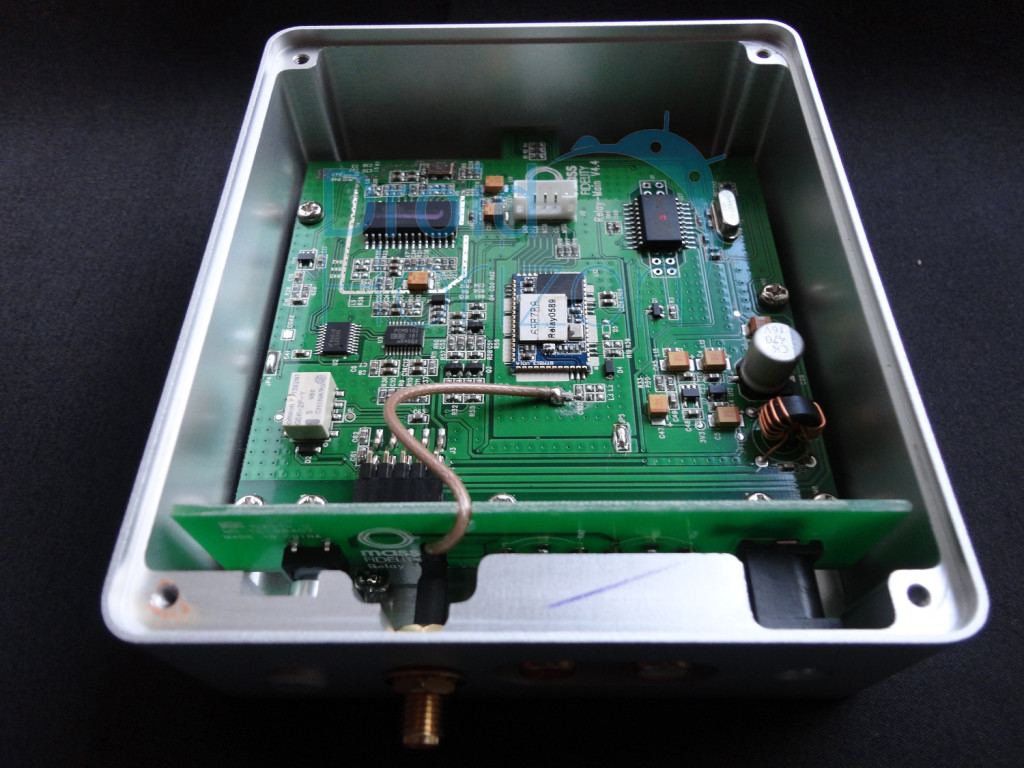 So what does it sound like? Well I rang my mate Marty and the plan was to put it through the same paces as the others were. The Relay was connected up to an Onkyo TX-8050/Wharfedale Diamond 10.1 setup using the supplied phono cables alongside the BluDAC, once again "Love Theme" (.flac) from the Blade Runner OST was cued and played back through both. Now if you've read my review of the BluDAC you'll know I think it's a great device, especially at it's price point. But putting it up against Mass Fidelity's offering was embarrasingly unfair. The Relay made it sound cheap, and harsh. Pointless to compare the two further as they are in very different leagues. The soundstage, detail and warmth from the Relay made it hard to believe what we were hearing was coming from my phone.
The Relay is aptX® certified, and though I did use it with a Samsung Galaxy Note II, the majority of use was with non aptX® devices and it never failed to impress. We also connected it up to the TX-8050 using the digital out, bypassing the Relay's BB5102 in favour of the TI Aureus in the Onkyo, and as expected when we switched back to analogue it was obvious the Relay quite noticably improved on it. Streaming 24bit/96khz .flac files to the amp from my laptop trumps playing the same files back from a thumb drive connected directly to the amp.
Out of curiosity I set the Relay up with my kitchen system, an Onkyo CR-725 and a pair of Wharfedale Diamond 9.0's, which I use almost solely for streaming either .flac's or TuneIn Radio from my Tablet. The difference the Relay made here still, even a month later puts a big grin on my face. It basically sounds like a new system. Streaming TuneIn really benefits from the Relay's presence. I went a step further and connected it up to the ancient Sony CMT-CPX1 I keep in my bedroom. Another big improvement. It even sounds good with my Teac SL-D920.
If you Google the Relay, you will find audiophile reviews where the Relay has been connected to all manner of expensive, high end hardware, and has earned itself impressive and well deserved praise, and you'd be forgiven for thinking it was something more for audiophiles with pricey gear. A specialised item.
But you'd be wrong. In my opinion the Relay would compliment systems from a great many levels, not just the high end ones, and as well as allowing for easy wireless streaming,  may also improve what you currently get from your system. Even a one box mini system like my old Sony.
Every visitor I've had since receiving it has been impressed by the Relay, even those that rarely take heed of audio quality end up commenting and asking about it. It get's used daily, for a minimum of three hours, often more. I've never experienced any dropouts, but my tablet is on static, on a stand while streaming. I've promised Marty he can borrow it at some stage, to see what it will be like with his Arcam/ATC setup, and I honestly think I'll be listening to less music while he has it…
So if like me you find yourself streaming audio files more than spinning discs, or would like to go that route but haven't yet, take a look at Mass Fidelity's Relay, there's a 60 day risk free trial according to their site. As I mentioned at the start of this review, it may seem a little expensive compared to the other solutions I've reviewed, but if you want incredible quality, hassle free audio over bluetooth, then the Relay is what you should be considering spending your money on.
Bluetooth audio has come a long way…
DroidHorizon Bluetooth® DAC reviews:
Betasphere Audio Beacon HR-120
Logitech Wireless Speaker Adapter