MEEM
To most of us a charging cable is just that, a cable. If you are feeling adventurous you might buy one that's a fancy colour, or maybe has little LED's to show the energy powering down the line. To the guys behind MEEM however, a charging cable was seen as an opportunity to bring physical backups to mobile devices without the user having to change anything about their normal usage routine.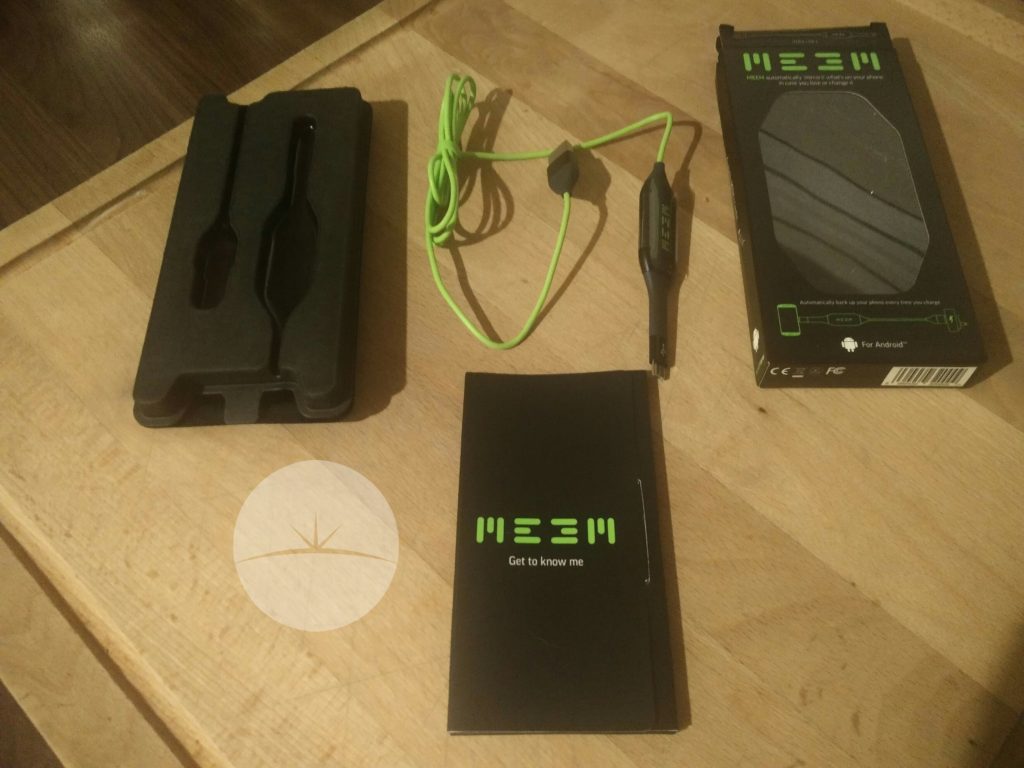 Successfully launching on Kickstarter, the MEEM charging cable stores your personal data within the cable itself, meaning every time you charge, from whatever source, your backup data is being refreshed on the fly without worry of data charges. Now you know what it is, let's find out how well it works.
IN USE
The first time you connect your MEEM cable to your handset you are prompted to install the MEEM app from the Play Store to control your backups. Once the app is installed and connected your first task is to set a security PIN to protect your data on the cable. The app interface is very simple but stylish and controlled with taps and swipes (help is always on hand by tapping the app background). By default, once connected the app will automatically begin backing up your personal data, just as you would expect. MEEM backs up contacts, calendar entries, SMS messages, photographs, videos and music files, although you can select any of the above to be excluded.
Interestingly MEEM claim that the average Android user has 1.94G of data on their device at any one time, with IOS users having 7.68G. I have no idea if these figures are accurate, but it means that MEEM offers a 16G cable for Android users with Apple iOS users getting 32G (don't worry, they do pay an extra £20 per cable for the additional space). I found this a little worrying before I first tried MEEM as I have a 64G phone and regularly find myself running low on space. I needn't have worried, because of the selective nature of what MEEM backs up, I found I actually only used about 1.5G of space. This is in part to the fact I was already using online services such as Google Photo's which will delete backed up images from my phone when space is becoming tight. The Android version is also micro USB with no option for USB C as yet. I have tested however and it does work however using a micro USB to USB C adapter.
One advantage of being selective on what users can backup is it means it is possible to backup from (and restore) multiple devices to a single MEEM cable. This has the by product of meaning that you can use the MEEM as a data transfer method between devices, something which is very handy in these days of limited SD card inclusion. As a power user however, I would have liked an expert mode that would allow me to backup additional selected folders or file types. I also find it a little strange that documents are missing from backup list when you consider how smartphones have become productivity tools.
Restoring data (or copying backed up data from another device) is as simple as pulling an icon from the backup side of the screen to the local side. Swiping down during any operation will tell you how long it estimates is remaining. Swipe up on the central bar will show you much MEEM memory has been used. All very simple to do.
Your MEEM cable is not intended to be carried with you everywhere, it's for your overnight charge so the additional bulk on the cable isn't a big deal. Neither is the fact that for me, my phone charged slower using the MEEM than with a standard cable, but it is worth noting that this is the case.
The MEEM only works when connected to both the phone (obviously) and a power source. While I understand the logic of that for the automatic backups, I think the ability to check and restore without the power side would be nice.
SUMMARY
Overall I find the MEEM cable to be a really well thought out and implemented product. It does what it is meant to without any fuss and the fact that it can be used with multiple devices at the same time is a bonus. Like most geeky sorts out there I have all my data backing up to cloud storage and a data plan capable of dealing with it, but I know the rest of my family don't want a load of different accounts to keep their data safe. For them the MEEM is an ideal device, not only does it backup their precious memories but it does so without them having to do anything they don't already do. My initial worries about the amount of storage on the cable have proved unfounded but an option to include documents would be nice.
I'M SOLD, WHERE CAN I GET IT?
The MEEM currently ships in the UK for £39.99 including postage, very reasonably priced for a product that you might use for years, and can be bought directly from the MEEM website.