Microgaming created the first ever online casino gaming platform in 1994, and are always at the forefront of new advances in gaming. They have adapted to changing technological landscapes in recent years and, four months ago at ICE (International Casino Expo) Totally Gaming, demonstrated that they have big plans for virtual reality. How far on are plans for these new VR casino games, and what gaming experiences can players expect in the next few years?
Virtual Roulette
At the ICE event Microgaming showcased a project they had been developing which allows the user to play at a virtual roulette table. The player slips on the VR headset and is faced with a roulette wheel and a table on which they can place their bets. The player can look at where he wants to place his bet and use his hands to increase or decrease the amount of money he would like to stake. This is a massive step towards bringing the experience of being in an actual casino to players at home. Some online casinos already offer live links to casino games: for example, on the 32Red site, there are video links to live roulette games along with six different types of online roulette options. 32Red also provides 24/7 support and various attractive sign-up bonuses like a free $10 no deposit bonus for all new players and a deposit bonus of $32 on every $10. If online casinos managed to combine Microgaming's idea of virtual reality roulette with the existing live links to casinos it could provide a highly realistic gaming experience. This type of idea could one day lead to online casinos becoming sprawling virtual reality worlds.
VR Worlds
Games based on multimillion-dollar franchises "The Walking Dead" and "Game of Thrones" were also on display at the ICE event. Microgaming already has a Game of Thrones virtual slot machine which is available to play at a number of different online casinos including 32Red. Dazzle Casino also houses the game and offers new players 25 free spins upon joining, and Betsafe gives players the opportunity to play the Game of Thrones slot while playing other games at the same time.
Once they have chosen which site to play on, the game gives players the opportunity to get into the epic fantasy mood by playing the famous music, and the symbols on the reels are related to the various noble houses featured in the show. A special feature is a bonus game in which the players travel around numerous locations in Westeros while trying to win money. This is enjoyable, but it could be made even more immersive. This is an area that VR could slot into nicely.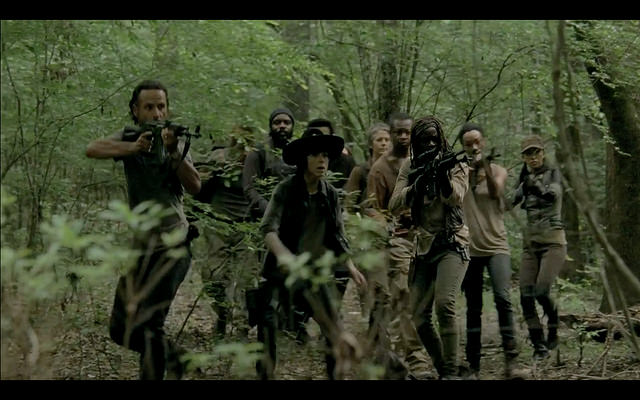 "The Walking Dead Season 5 trailer screen" (CC BY 2.0) by  Casey Florig 
Bonus games for slot machines in VR settings could really bring the games to the next level. The side games and bonus features are already considered as novelties, but to include an experience in which the player can actually enter the world of the game would be ground-breaking. Using settings based upon worlds from The Walking Dead or Game of Thrones would be sure to make dreams come true for fans of the shows. These two franchises already exist as role-playing games and slot machines, so finding some synergy between the two platforms should be simple. Perhaps on the slot machine side games players would be taken to the universe of the TV shows and faced with hordes of zombies or white walkers, winning more money as they manage to survive. Players who may find this situation rather frightening could use sports options instead as a VR side game.
Microgaming at the forefront
There is no doubt that Microgaming will be ready with state-of-the-art entertainment when VR becomes a household essential. Roger Raatgever, Microgaming's CEO, has even stated that the world record-breaking company will make sure they are at the "forefront of any technology when it comes to wearables." However, players will have to wait a few more years before enjoying a full VR casino experience. The early signs are good, though, and based on the progress made with the VR roulette game, we can assume that the brand will eventually expand their vision to whole virtual casinos. And if these virtual casinos house slot machine games that have their own built-in VR worlds then peoples' minds will be blown by this Inception-like virtual reality within a virtual reality.
Microgaming are about to create a whole new level of gaming, and it is certainly not to be missed.
Credit featured image to
"Virtual Reality Demonstrations" (CC BY 2.0) by  UTKnightCenter