So far this week, we've spent time sleeping and cleaning. Now we're in the kitchen with the Microplane Master Series; my latest 'go on, treat yourself' gadgets. I'm getting towards 30 now, and I'm starting to see the value in spending more for a superior product when necessary. Usually, it means better performance and better product-life, plus you get the aesthetic of the premium design. And what a design.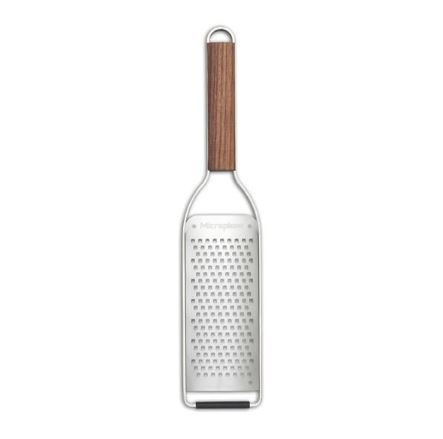 I fully expected to be writing mostly about the functionality of these products, but when I unboxed the two I picked – the coarse and rasp-style graters – there was a pleasure in the quality of the design. To start with, they are weighty; stainless steel wrapped around an oiled walnut handle. The feel in the hand is balanced and ergonomic, with the handle running clean over my palm and my thumb able to rest comfortably on the shoulder of the frame.
For this review, I think we'll need to have an hypothesis to test. Microplane says that the Master series "offers the best in contemporary styling, durability, and flawless performance." I've already run you through the styling – sleek, chic, and farmhouse-ready. The durability so far has been good; unfortunately I messed up and popped this in the sink water whilst I ate dinner, and of course a solid wood handle isn't going to love that treatment. I don't think there's any long-lasting damage from that, but it definitely needs a re-oiling sooner than I'd have liked. As for the teeth, I've been using the zester for all sorts of foods – nutmeg grating, ginger smushing, hard cheeses, and, of course, actual zesting. The teeth have stayed sharp, so I'm happy.
Claiming flawless performance from your product is a bold move, so this is where I got tough with my testing. The zester is claimed to "zest citrus at the perfect depth to only get the zest, and not the bitter white pith." so I really went to town with this. I found that as long as I used the right pressure, the zest was perfect. When I was firmer, I got a little pith – and I mean a little. The easiest way to zest correctly is to lean the little rubberised non-slip end on the surface, and zest like you're using a mandolin. That's also the easiest way to grate with the Master series graters!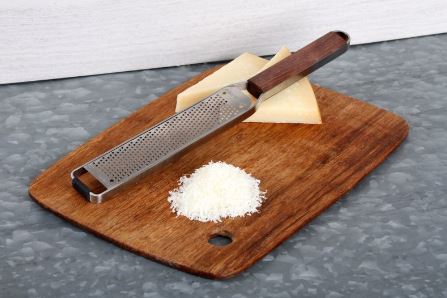 They're made of 18/8 stainless steel (apparently 18/8 means 18% chromium and 8% nickel), and the walnut wood handle is US Certified – the blades are all made in the USA and stamped as such. You get a reusable protective cover that simply slides on to protect the blade from other utensils, and your fingers from the teeth! Along with the zester, I've been playing with the coarse grater for carrots, chocolate, firm cheese, and I'm sure many other foods in the future!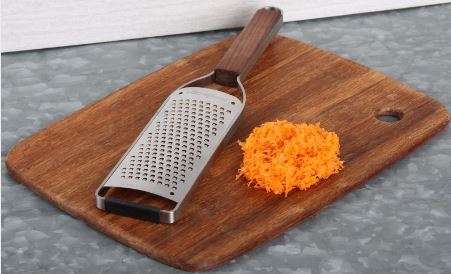 Unfortunately, I found that even the coarse grater produced a more shredded product than I'd have expected. This isn't going to give you large, long, and thick ribbons of cheese, but more of a small-shredded consistency. Nonetheless, for preparing ingredients for cooking this is entirely a non-issue; when I'm making macaroni cheese for example, I want my cheese to be finely shredded for ease of melting. I wouldn't use it for a coleslaw though. For that, you might want to check out the extra-coarse or ribbon graters which promise a chunkier cut.
The Microplane Master series graters are available in the UK from Steamer Trading Cookshop and  www.divertimenti.co.uk for £34.95.