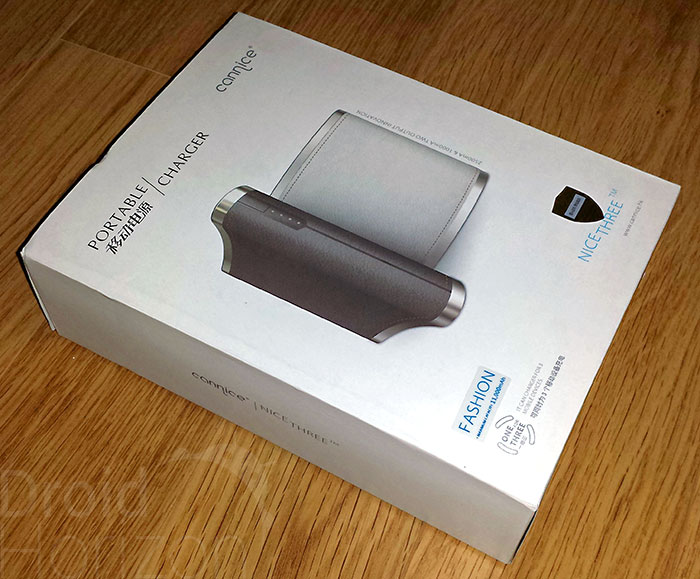 The Huntress (and Hunter the higher capacity black version) is a premium quality power bank in the shape of a leather bound hip-flask. It features two standard USB ports for output , a micro USB for input and twin LED lights so that it can be used like a flash-light.
Build Quality & Design
As soon as you remove the Huntress from it's packaging you realise that this isn't just your standard plastic slab external battery. Styled to look like a hip-flask, this thing looks and feels like no other gadget you own. The body is covered in stitched leather and finished off in chrome at the top and bottom – I assume in reality that plastics where used, but you'd never know from handling it. The most important part is that inside, the Huntress also comes with a very high quality battery. This isn't a cheap battery that will already be loosing capacity after a year, but instead can hold it's charge for a long time and should provide many years of faithful service. It has circuitry to prevent damage to the battery, but Mobile Solar Chargers also provides a 1 year warranty as standard in case you run into any problems.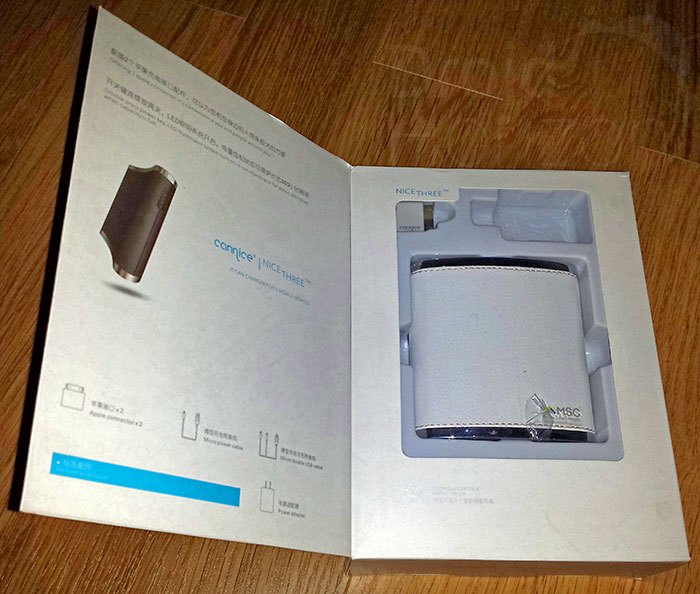 Performance
The Huntress review unit contains a whopping 11000mAh battery, while it's brother the Hunter has an even greater capacity of 13000mAh. When you compare this to the battery inside your phone or tablet, it's clear that you'll be able to get your device charged quite a few times.
For instance I was able to fully charge the 4325mAh battery of my Nexus 7 tablet (2012 edition) two and a half times before the Huntress ran out of power. Owners of this tablet will know that a full charge lasts a long time, so combined with the Huntress you will get many hours of use before you need to go near a power outlet. The Huntress was also able to power my Samsung Galaxy S4 for over 4 days of medium to heavy use, so will be ideal for use when travelling.
One of the USB ports is capable of delivering a 1 amp charge, while the other pumps out a massive 2.5 amps meaning the latest phones and tablets will charge up very quickly. The Huntress can happily recharge two power hungry devices such as a phone and tablet at the same time, and can actually manage three devices if you buy the additional dual-USB lead.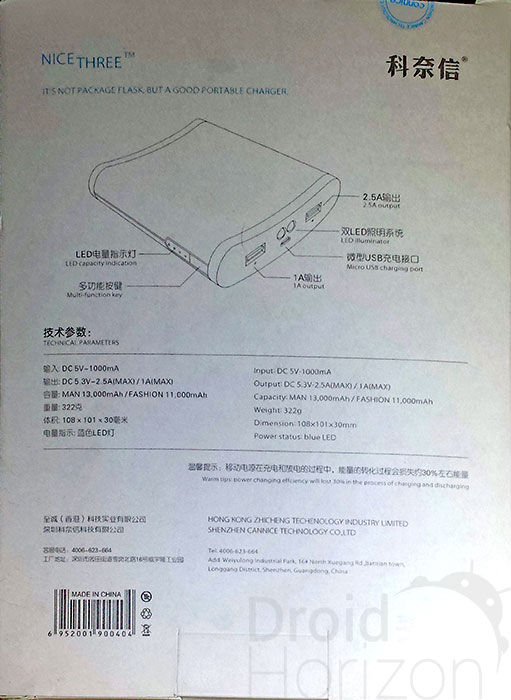 Features
Along one side of the Huntress is a single button and 4 blue LED charge indication lights. A single press of the button does nothing, so you'll be able to have this rolling around in a bag and not worry about it accidentally lighting up.
Hold down the button for a couple of seconds and the charge indicator lights up showing how much battery you have left. If you have any devices attached then they will be detected and charge will be delivered to that USB port. A small red LED lights up adjacent to the port to let you know that it's active.  The charge indicator stays illuminated and flashes during charging.  Once your device is fully charged and stops drinking current the Huntress automatically switches the ports off to save the battery.
A double press of the button switches the two white LED lights on and off, and while they're not floodlights they do provide enough light for most tasks. The advantage of being connected to such a big battery is that they're rated to last over 100 hours per charge.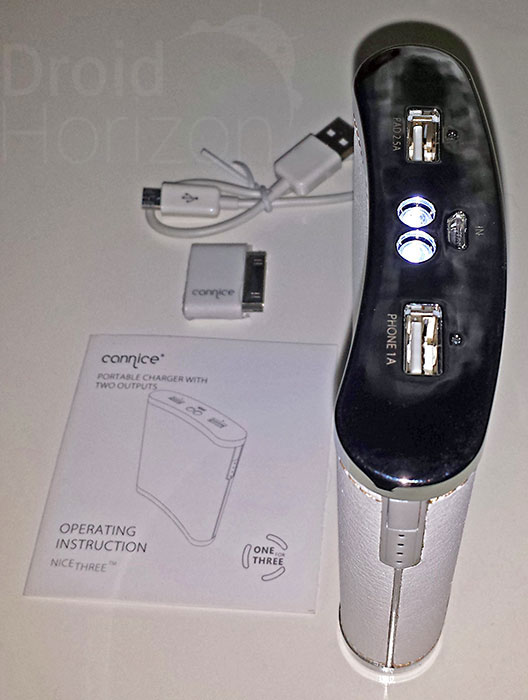 In Use
The Huntress weighs in at 322g so it's just a little lighter than the Nexus 7 and also quite wide and thick so you'll be aware you're carrying it with you. However just like a real hip flask, it's curved shape contours to your body and it's not uncomfortable to carry around. Overall considering the capacity you're getting, the Huntress is a good compromise of performance versus portability.
A 1 amp USB charger is required to charge the Huntress, so you won't be able to plug this in to the USB port on your PC which only carries 500mA. If you didn't already get a 1A charger with one of your other gadgets, they can be purchased as an optional extra from the Mobile Solar Chargers website. As you'd expect from a battery this size, it takes around 11 hours to fully recharge the Huntress from flat.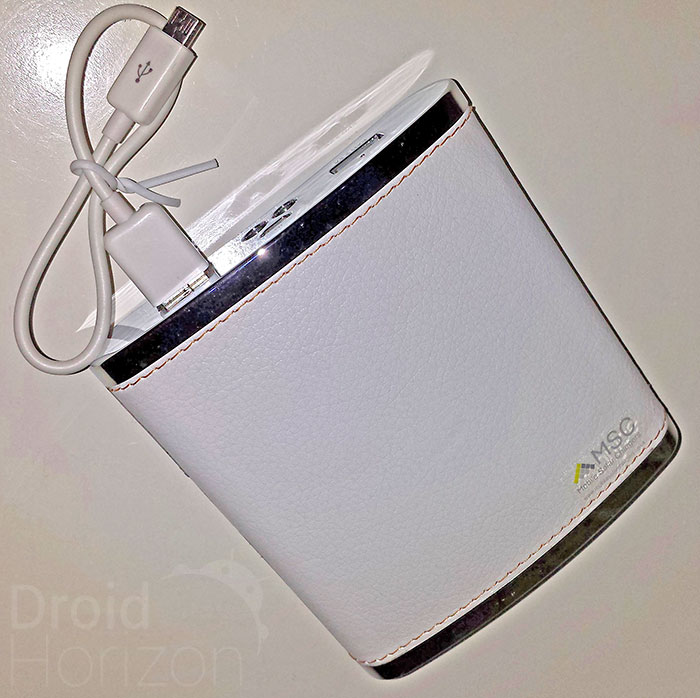 Price
The Huntress is priced at £54.95 or for an additional £5 you can get your hands on the higher capacity black Hunter. While there are plenty of cheaper power banks available, the quality, design and performance of this unit justifies the price. For a limited time Mobile Solar Chargers are including for free their Lite Solar Charger (that we reviewed a few weeks ago) so this is an even better deal.
Overall the Huntress is a premium high-capacity power bank with a unique design that's fairly easy to carry around, meaning your gadgets can keep going for days without needing to be near a power socket. If you're in the market for a power bank and would like something a bit special, then I'd highly recommend picking one up from the Mobile Solar Chargers link below…