The MONTAR universal car mount from WinnerGear is marketed as the world's best car holder, with it's U.S. patented suction cup capable of holding devices up to a 5.3″ screen size and 3.5kg weight.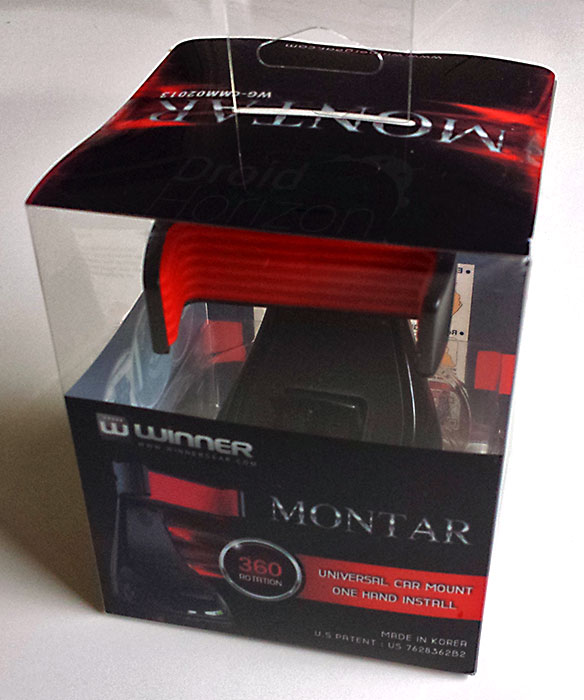 Build Quality & Design
On opening the box you find the MONTAR plus a 3M sticker for attaching to breathable surfaces that don't work well with suction.  The MONTAR is made from high quality durable plastic and looks good, fitting in well with the car interior.
Performance
The washable suction cup is sticky to the touch, and adheres well to flat surfaces.  Pushing down the lever on the base removes more air and really locks the mount in place.  The mount is almost impossible to shift until you lift the lever again.
The grip can rotate a full 360° degrees, and remains in place at whatever angle.  The screw on the ball-joint can be used to lock it in a permanent position.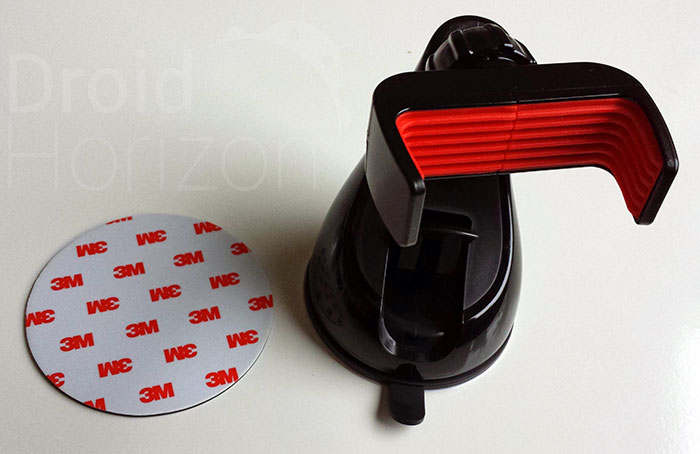 In Use
The suction cup base is just over 3″ in diameter, which provides stability but also takes dashboard real estate.  I wasn't able to find anywhere for it around the console, but could have attached it on top of the dash using the 3M sticker.  However it ended up attached to the windscreen just under the rear-view mirror.
When placing your phone in the mount, you simply use one edge to pry the rubber grip apart and then push it into place.  This can be done easily with one hand which is highly convenient when inside the car.  The use of rubber grips prevent any scratching of your phone.
Grip is very firm allowing the phone to stay in place during touch-screen operation.  There was also only minimal vibration with the car moving, which is a big improvement over other mounts I've used.
Phone cases are not a problem to the MONTAR, although (like all car mounts) it is difficult to get a firm hold of wallet style cases.
Price
Priced at $34.99 there are a lot of cheaper car mounts around, but you simply won't get the same performance.  Considering WinnerGear includes free worldwide shipping, the MONTAR is well worth the price.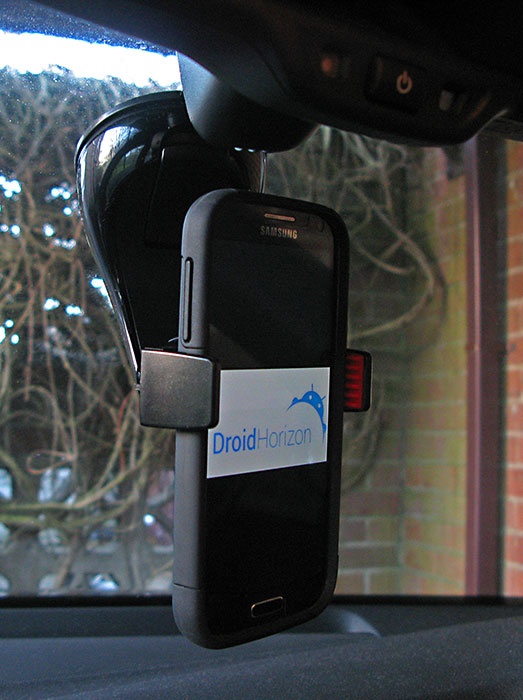 Overall I'm pretty upset with WinnerGear because as a car mount, I can't find any fault with the MONTAR and so I'm forced to begin the year by handing out my first 5-star rating.  Although it may not be the world's best, it's certainly the best that I've ever tried.  If you're looking for a car mount for your phone, then this is the one to get.
You can follow the link below to buy it, along with WinnerGear's other range of waterproof phone skins and car chargers.