In our latest review, we're going to take a look at the Nayo Smart Almighty. An almighty large backpack from a Chinese company called Nayo Smart. Do you see what we did there? As is the usual case in our reviews, we're going to take a look around the product, share some pictures and give our opinion if we'd recommend this large backpack. By the way, the company offer different models that may suit your needs better, if you're not specifically looking for something as large Nayo also offer a business and anti-theft range.
Manufactured using 600d High Tenacity Polyester with waterproof coating, the Nayo Smart Almighty will deliver durability and weather resistance for years to come. The 180° open structure makes this travel backpack easier to pack/unpack-simply unzip it like a suitcase and get whatever you need. We found this very convenient whilst packing for trips. Featuring 12mm EVA molded padding on the straps and back of the Nayo Almighty, you can carry in comfort with even the heaviest of loads. They believe in their products and back that up with a no questions asked 90 day guarantee. If for any reason you are not happy with your purchase or experience they will do whatever it takes to make sure you are 100% satisfied with your Nayo smart experience.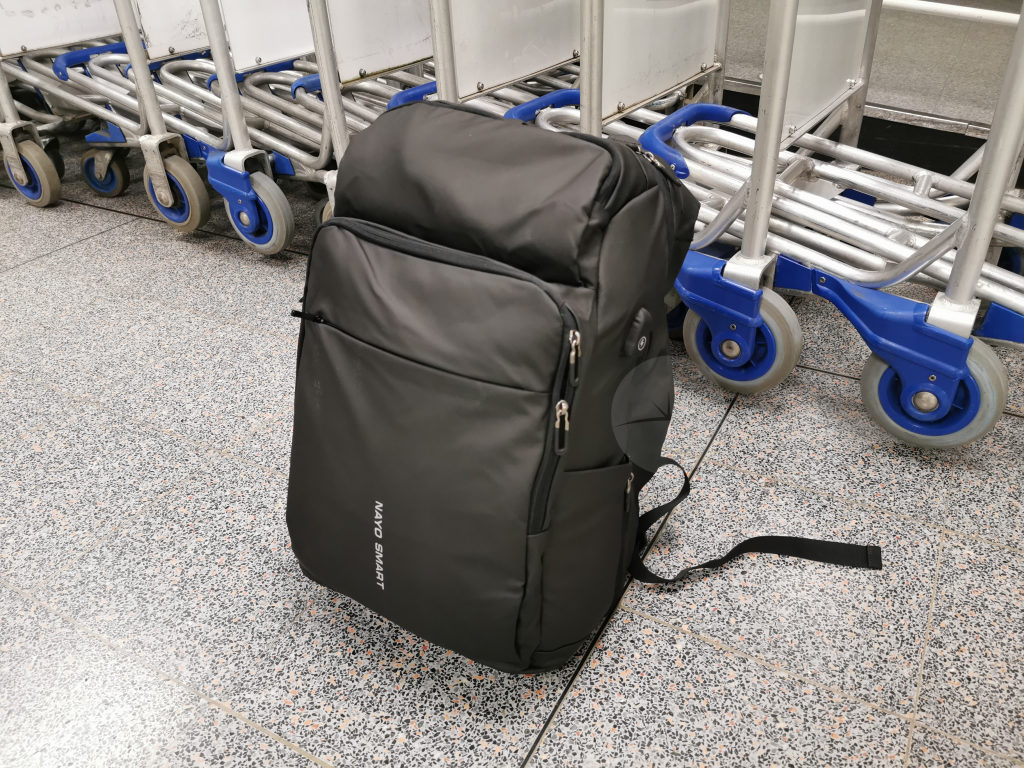 SPECS
Large size – Volume: 32L
Weight: 1.5 kg
Dimensions: 51 L x 17 W x 35 H cm
Fits a 17.3" laptop
Normal size – Volume: 25L
Weight: 1.2 kg
Dimensions: 46 L x 16 W x 32 H cm
Fits a 15.6" laptop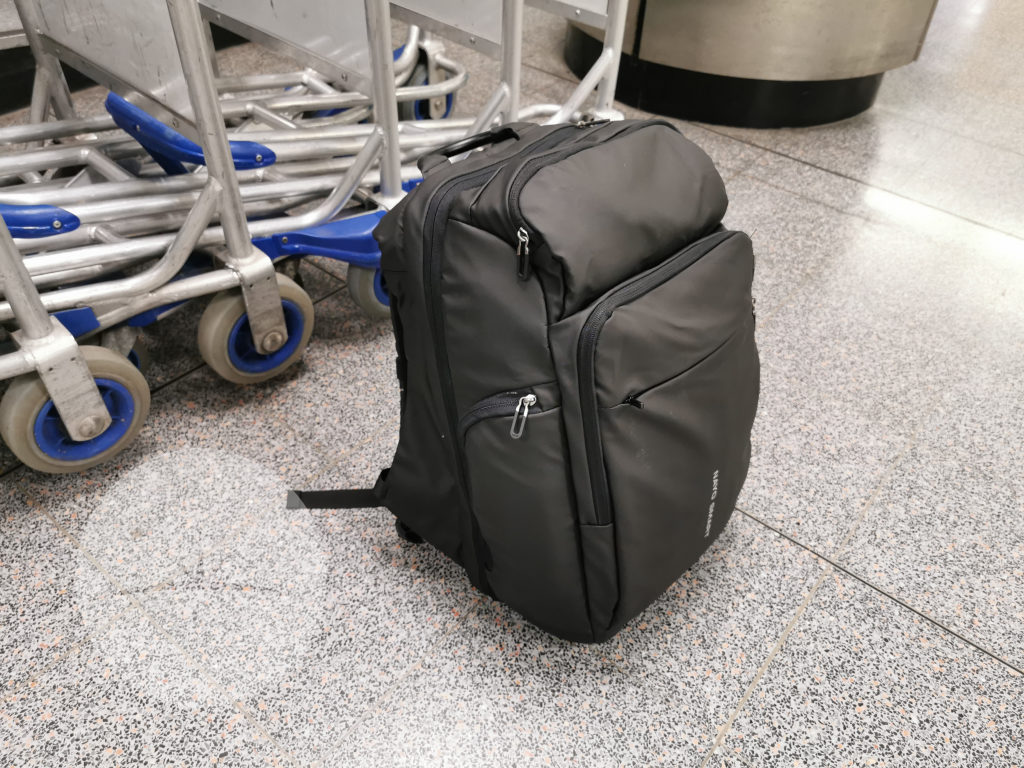 Nayo Almighty allows you to keep your
portable charging pack
safely stowed away while keeping your phone or tablet within reach. The Nayo Smart Almighty allows you to easily grab and stow your notebook and other everyday carry items and the internal security pocket for things like your sunglasses or your wallet. There's pockets, zips and pouches everywhere, these guys really thought of everything!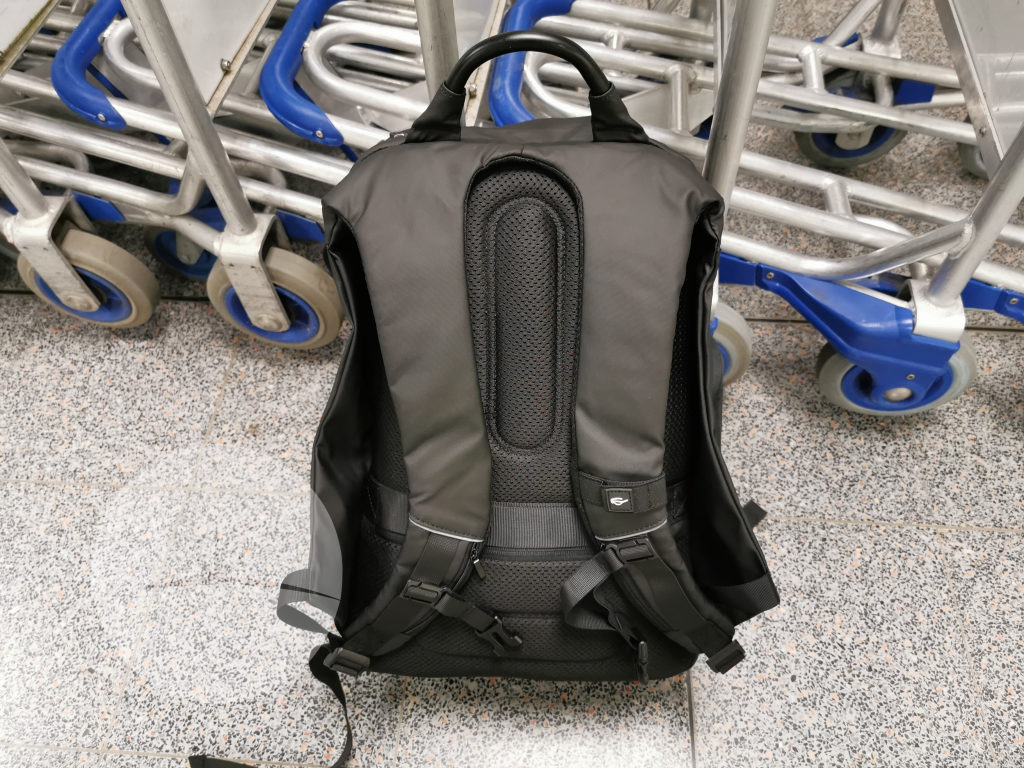 There is also heat preservation and waterproof functions. Super handy to store a bottle of water at the side and a compartment maybe for a small sandwich. Could be good too for a babies' milk bottle. The compartment / pocket on the font is a hidden zipper design, it should be difficult for someone to sneak out your valuables from behind you. A discrete, zippered back pocket to keep your travel documents and valuables hidden and safe as well. There is also a keychain ring in the front pocket so you can leave the key in the bag, you don't need to find it every time, just keep your key in a fixed position. Might be a good idea if you've parked your car at the airport and have to take your keys with you. Also featuring a strong metal handle allowing you to comfortably carry your Almighty.  There's a small pocket on each shoulder strap which gives you easy access to your bording pass or hotel keycard. The sternum strap includes a whistle for outdoor use. Possibly if you've got lost at night or something?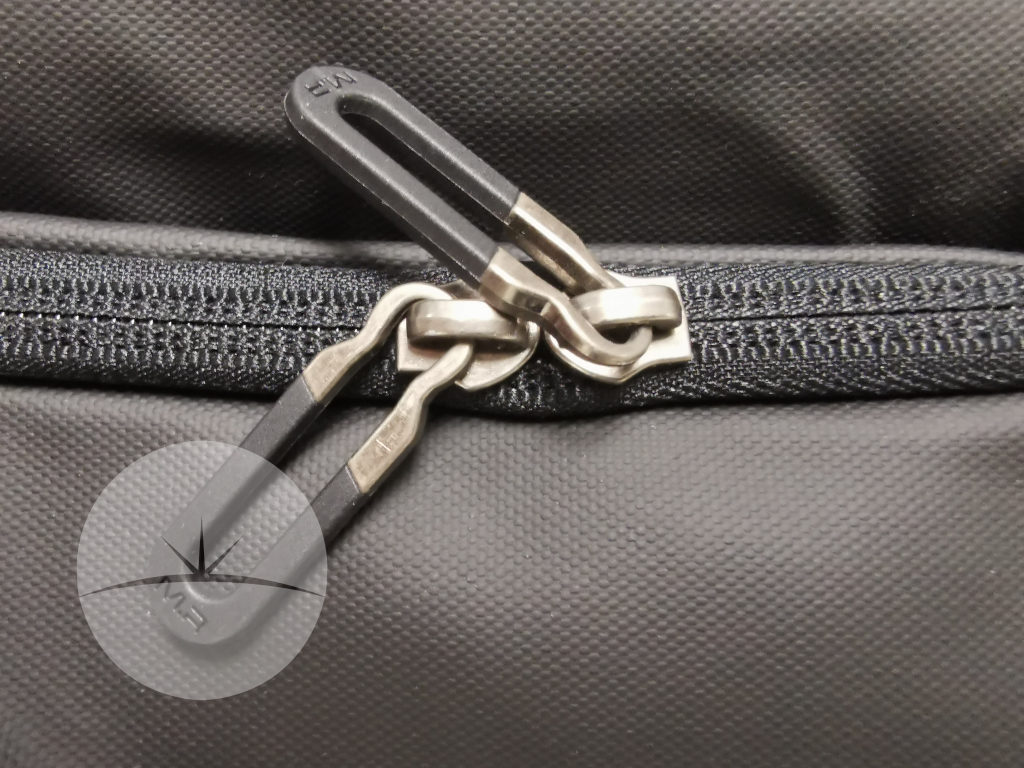 SBS zippers are designed specifically for luggage to stand up to heavy loads and frequent use. The Reversed Zipper design is precision engineered to seamlessly blend with the sleek design of the Nayo Almighty. Hang your shades on your shoulder strap too! There is also a rear strap to secure your bag to your main suitcase.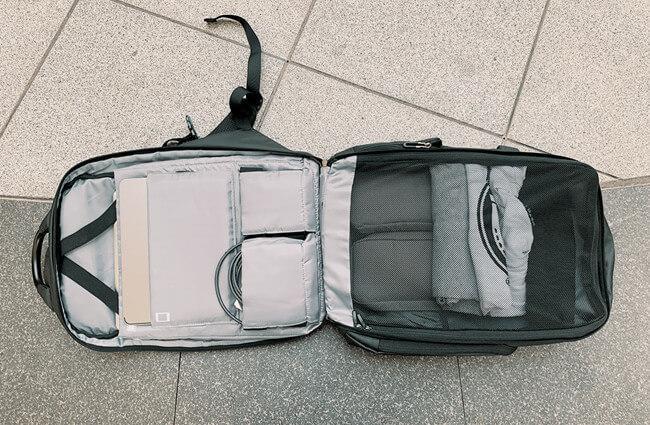 The Almighty features more than 20 pockets so you can stay organised no matter what electronics, books, and clothes you carry. The fully padded laptop compartment fits most 15″ devices and smaller 17″ devices which has double layered foam. We'd be fairly sure your expensive technology will be perfectly safe! I carried a 13″ Chromebook and tablet around with zero issues. Clothes on one side your gadgets in the other, opened at 180 degrees… Did we mention that the Nayo Smart Almighty comes with additional toiletry and accessory bag so you don't need to find additional cases to match your Almighty? I used one for vape gear and the other for liquids and toothbrush..
As we mentioned earlier, the company have really thought of everything when designing this backpack. On my second trip away I was still finding compartments and having moments of "oh, I understand why they included that. Very smart indeed." This particular model from Nayo isn't really that expensive when compered to the price of luggage that will last years. I've owned numerous suitcases, hand luggage and backpacks and I've spent a lot of money on some and bought suitcases that lasted only one trip with others.
We'd be more that happy to recommend the Nayo Smart Almighty to our readers. This backpack can be purchased direct for $89.00 down from $138.00. Be aware of shipping time from China if that's going to be an issue in an upcoming trip.