Neo-Flex Notebook Lift Stand from Ergotron
I use a laptop at work and would just have it on a box in order to get it to the right height. This wasn't safe or practical, so decided to look into an ergonomic, easy to maneuver laptop stand. The best known supplier of solutions such as this is the company Ergotron, who I reviewed a while back. Because of its low price, I was really interested in the Neo-Flex lift stand, which featured all major ergonomic functions such as height adjustment, rotation, tilting and pivot.
Out of the box, setup was an absolute breeze. The Neo-Flex came pre-built and just had to be folded out to be used. There is a "lip" attachment which can be extended based on the side of the laptop, and stops it from sliding off.
Included in the box were some rubber feet to attach to the stand, which helps prevent the laptop sliding around. There were also some cable ties, which allowed me to do some much needed cable management.
The Neo-Flex has a bend at the base and the top of the arm. These both allow for a more flexible movement, so you can always find the right angle. The wheels at the base mean it can be moved in a circle from its single point. I found this useful for showing the screen to other people, as it meant I could just swing it around, without worrying about dropping the laptop.
The Neo-Flex is incredibly light, and uses light plastic material where needed. When there is a need to be secure or a bit tougher, than they use bigger heavy duty materials. There are spaces in the back to allow air to flow through the vents in the laptop and not to overheat.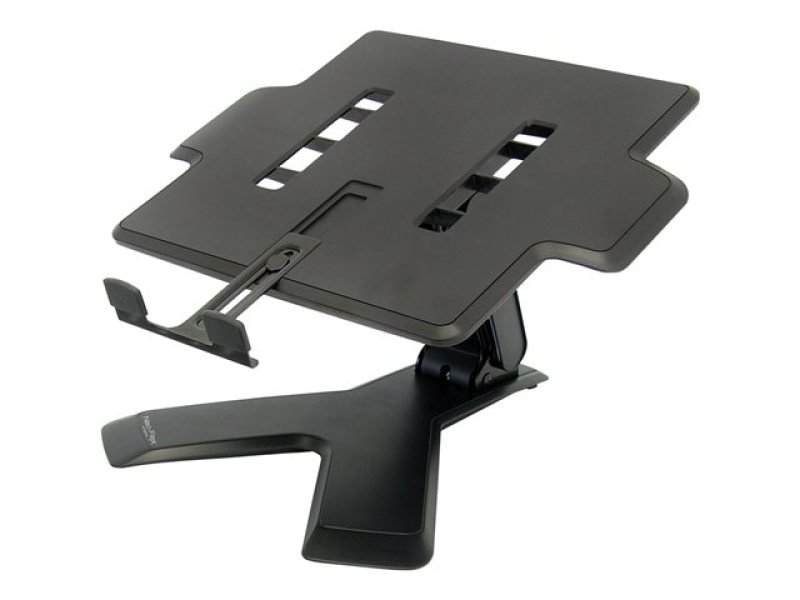 For only £54, the Neo-Flex notebook lift is a must-have for anyone using a laptop and external keyboard/mouse. The fact that the base can be moved in any direction and not effect the laptop at all is great and a lot of people don't notice they need it until they are using it.
amazon.co.uk/Ergotron-Neo-Flex-Notebook-Lift-Stand/dp/B002XIHTAG