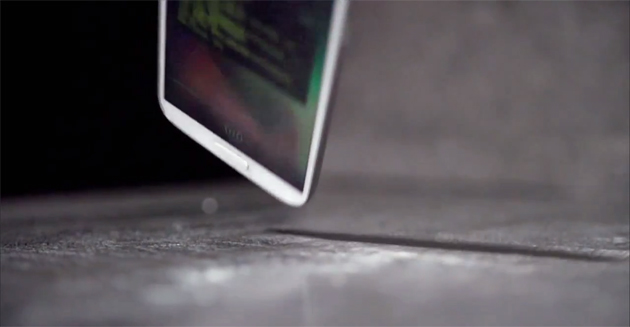 Picture via Android and Me
 New Poll – Are drop tests really needed?
We've reviewed a fair few devices now on DroidHorizon, we like to give an honest opinion on build quality and materials used in manufacturing, but, we've never threw a device on the ground to see if it smashes. In my personal opinion this kind of thing screams of one's high opinion of themselves or the company they work for. "Look at us, we're so successful, we can smash $700 devices on the floor and we don't care. My professional opinion as a site owner/ amateur reviewer is; Maybe people are genuinely interested in the worse case scenario, if readers dropped their device from waist hight, will it still work, will a direct screen impact render your new phone useless.
Take a minute after watching the next drop test. These tests aren't really situations that happen in real life. Do these tests take in to account where you go for a cigarette at work when you have to sneak round the back of the building which is covered in concrete under the emergency fire escape stairs. You pull your phone out, it slips from your hands, bounces on iron stairs, somersaults a few times then lands face down. This is the kind of crap that happens in real life, it's unfortunate but that's just the way it is.  (It may sound like this happened to me but we tried to paint a typical day an average smartphone user goes through.)
You can cast your vote below or the front page. Leave a comment if you feel strong enough a particular way or tag us on our social streams. (It's worth pointing out that a lot of people can't throw money at the next big thing. Microwaving, blending, shooting 50 cal rounds and smashing phones with sledgehammers might be a kick in the teeth for a regular guy that has to pay a monthly subsidised contract for 18/24 months.) No?
What say you?
[poll id="43″]