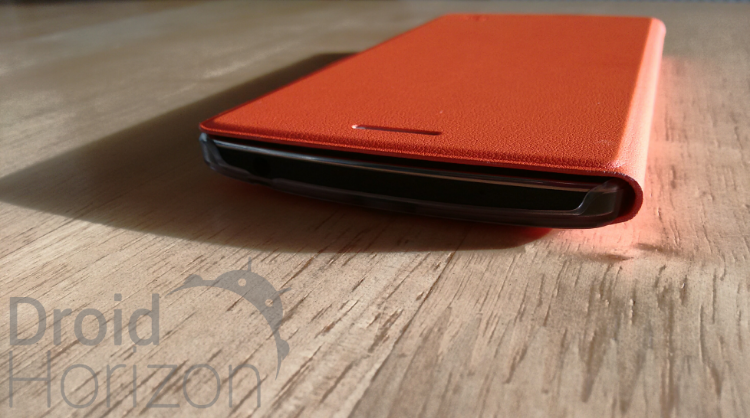 Official OnePlus One slim case – Review
We've reviewed a fair few cases and covers for a wide range of devices over the years here at DroidHorizon.com. Some good, some average and some damn right awful. Take a look back at our Not Great Shield review, the last case I reviewed for the OnePlus One. To be fair that wallet case retailed at £7 or so, I'd mentioned at the time that you get what you pay for most times regarding accessories and really in most circumstances in general. Add £20 to your budget and buy the Official OnePlus One slim case but first read our review if you aren't convinced just yet.
With the OnePlus One slim case you'll find a perfect fit, your device snaps inside the clear plastic case part which is a reassuring sign from the get go. With precision cut outs for the the camera and flash module round the back to the slight groove at the bottom to access the charging port, you'll know straight away that this wallet case was designed with care and attention to detail. The OPO slim case is an official product from the company, like the device it's self, design and aesthetics were key parts from first phase right through to mass production (at their scale) to customers' hands. You'll find the same attractive unboxing experience. Something that I really admired when receiving the phone and this smart on/off case. I did mention the smart feature already didn't I? Oops, I didn't and yes this slim case turns the screen on when opened and turns off again when closed. My most favourite feature.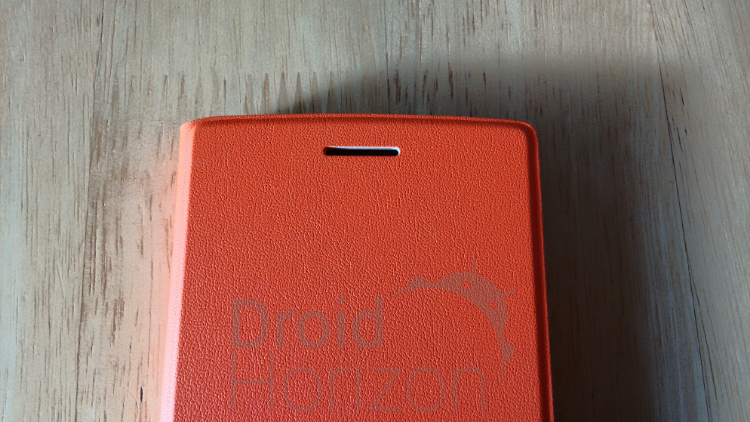 These flip style wallet cases offer fantastic protection should the worse thing happen. I haven't done a drop test because I think they are silly and kind of rub it in people's faces who can't always buy or get given the latest and greatest devices to smash  I'm fairly certain, in my everyday use, nothing nasty is going to happen but if it did, I'd be OK. I have a habit at times to put my keys in the same pocket as my phone, no problem with the OnePlus One slim case.
That vibrant orange colour has caught your attention by now, out and around and at work I've noticed people trying to catch a good look at what device I'm using. I'd gotten bored of black and gray cases and wanted to go bold, maybe a little extrovert but hey, why not sometimes. You'll see from the photo below that the company logo is etched in on the bottom right corner when closed. I like that! It looks premium! The corners are well finished with no jaggy edges in sight. The inside is finished with the same as the outside, often you'll get a material in this area which seems to catch a lot of pocket fluff and lint. The middle crease seems like it won't wear away quickly too. All positive observations from me so far!
It looks like real leather but sadly it isn't. The Official OnePlus One slim case is made out of PU leather, made to look and act like the real stuff but a lot cheaper to buy. You'll get the anti-skidding and wear resistance with subtle top-grain effect but with an affordable price tag. You'll see on the last picture the little + and – signs on the outer side. You can turn up the volume quickly without flapping around trying to find the key beneath or having to open the case up. Nice touch, OnePlus. Nice touch. This isn't something I'd seen before but another little added feature that stands out to me anyway.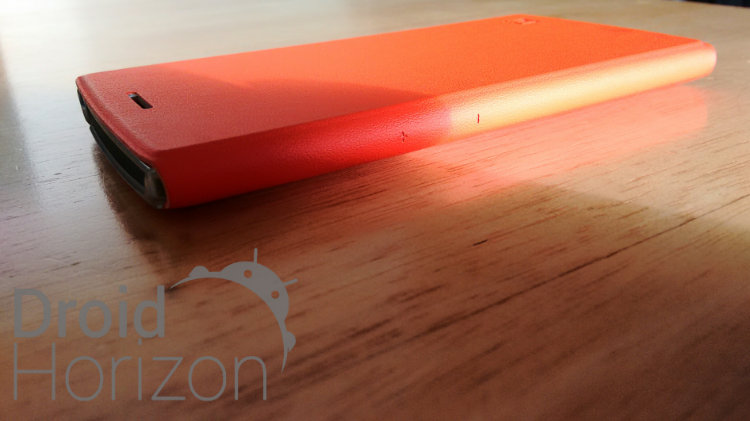 We've provided the links below to buy from Amazon.co.uk. At the time of writing we couldn't find any links for the US or even to buy direct from the company. (We all know how much of a pain that can be anyway.)
Let us know if you bought one, various colours are available….. That's nearly $40 US, which might be a little too much for some.