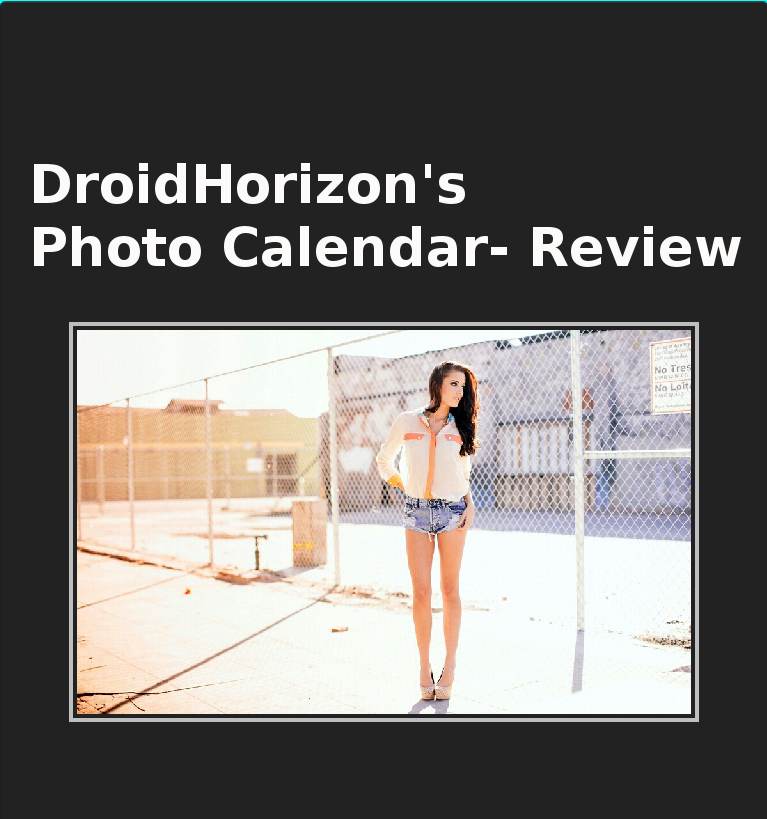 A simple and elegant calendar widget that highlights a photo every month. For your own pleasure or as a personal gift for friends and family.
My new favourite calendar widget. I even said so on my Google Play review. We recently took a look at something similar just recently and the developer of Photo Calendar contacted me to look a look at his project also. (These things happen and we appreciate devs contacting us and building friendships around the community.) We'll take a look at some of the features and what really makes it different from the rest, throw in some screen shots and our/ my thoughts as a conclusion.
In Use
Pictures can be added from various different sources. Gallery, instagram, Picasa, Google+, Dropbox and set for each month, obviously 12 months in a year. Pictures are selected by a long press, a tap, rotates the picture if you so choose.  Once generated the app gives a code to use or share and also, very usefully, copies the code to you clipboard for pasting. Very cool. This set me wondering where the application actually uploads my pictures to? I might be concerned if it's family snaps, I'm making my mother a calendar of her grand kids but the developer has responded as saying "The server side is running on Google App Engine." I'd assume they'd be safe then? Everything runs well and built in Holo. Easy to use, navigate and add all the colourful pictures you'd want.
Sharing The Code
I tested this in private and spamming my social media of choice. Basically it sends a message that you should download the app from Google Play and use the unique code provided to receive the calendar just sent. Seems to work well with most sharing options but one tester said it took a few efforts and hung for a few seconds. Not sure if this was a connection issue/ over WIFI or a slight hiccup but in testing myself, it seemed quick enough for me. I sent a lovely picture calendar of our kids to  my wife, a few select pictures I shared to Dave here and I created a nice Android one to my circles on Google Plus.  Add me over there if you haven't already.
(Codes I generated can be seen on the 4th screen shot below)
Conclusion
It's completely up to you here to be creative as you possibly can.
Think of something you like and share:
* Animals: cats, dogs, fishes, spiders, …
* Cities: New York City, San Francisco, London, Singapore, …
* Countries: Ireland, India, Finland, …
* Hobbies: Trains, Planes, Cars, Films, Architecture, Art, Photo, …
I'll be honest, the developer has been really nice and is working hard to fix and add new features but…
The background of the final product is always black, sometimes I'd have liked a different colour. (Hopefully extra choices will be added soon)
The icon and and artwork on Google Play are pretty awful. You'd scan past this in search results if you were searching for an application widget like this.  Maybe someone could help jazz it up and add a wow factor?
Still my favourite calendar widget and I fully recommend you download it free with zero adverts or funny business.
You can do so here.