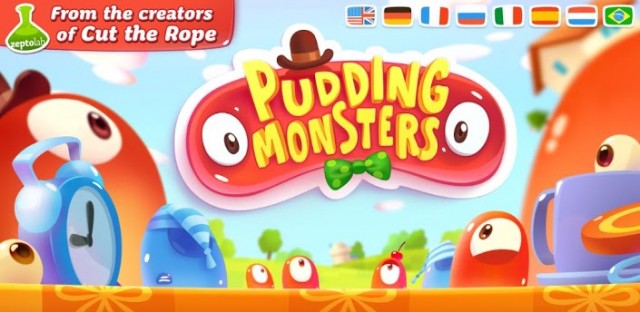 Pudding Monsters Review
As Cut the rope is one of my most played games on my phone, I was happy to see that ZeptoLab had released a brand new game. Pudding Monsters takes all the personality of Cut the Rope and mixes it with HD graphics and of course, ZeptoLab's brain bending puzzles that will have you playing for hours.
I have heard this plays similar to another popular game called Quell, where you slide your pudding monsters into one another in order to complete levels. A 3-star achievement system similar to Cut The Rope gives you the incentive to complete the levels to perfection. The back story for the game  involves the pudding monsters needing to grow large enough to overthrow the overweight "fridge owner" before they all meet an untimely end by being eaten. Levels progress as the monsters get bigger and bigger, eventually escaping the confines of their home, and into the city outside.
There are 75 levels in all, but with additional tasks once those have been completed. Having gotten the paid version I was not aware of the aggressive ad network in the free version. You not only see banner ads along the bottom of the game, but you're also "forced" to sit through 30 second ads from time to time, just to reach the next level.
For the low price of 62p I highly recommend getting the paid version and playing the game un-disturbed. As always the link to the game is included: