Quirky Converge Universal USB Docking Station – Review
Such are the first world problems these days, our batteries don't last as long as they used to and now even the average consumer has a few devices that he or she uses every day. The problem is, where can we charge these devices and possibly keep everything together in the same place. I know at home my wife complains because my phone is left charging in the kitchen, my Nexus tablet is in the livingroom getting charged and her phone is running out of juice too. The Quirky docking station may have the solution to your problem, but, it has it's drawbacks.
The accessory reviewed is white in colour and built with a glossy plastic. A pretty cheap material, if I'm being 100% honest but this reflects the non-expensive price tag. If you look at the picture above, this docking station has a grey trim which offers some grip so your device doesn't slide off. (Again plastic.) The build quality is fine with the Quirky docking station. By the looks of it, it's one piece of plastic folded over it's self to give it it's unique shape. It may even survive a fall to the floor (hopefully your devices won't be actually charging at the time.)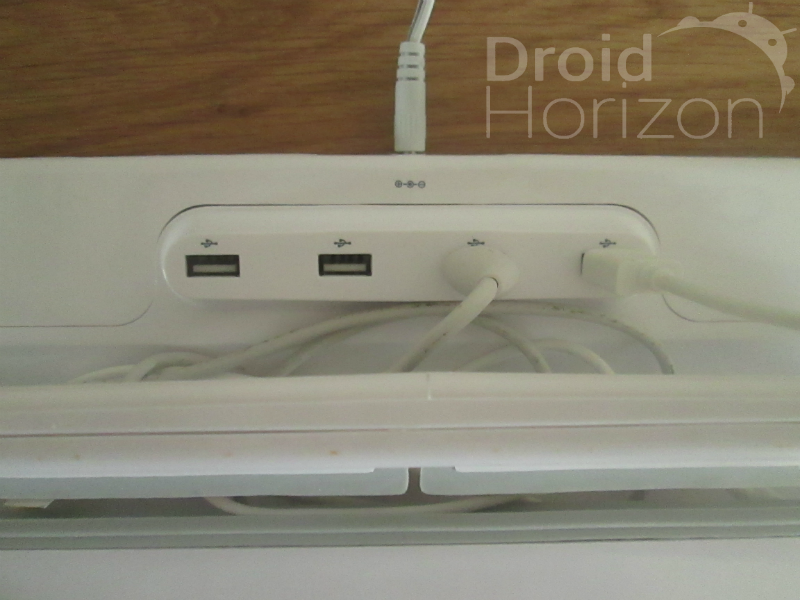 Four individual USB ports are present around the back, so the Quirky Converge Universal USB Docking Station can charge this many devices at once. This brings us to the first and probably biggest issue. 2000 MA power source to 4 individual ports only gives you 500 MA each. Don't be expecting any fast charging times here, I'm sorry….. In real world usage, I put my Nexus 5 on charge at midnight, which is my normal routine and in the morning it's fully charged. You'll have to do the math yourself and decide if this will be an issue.
What I do like is there is an area underneath to hide away the micro USB leads. (These aren't supplied but I'm sure most people will have a few lying around.) This keeps the look of the docking station tidy. I'm even starting to just set my devices on it without charging, the Quirky could be a great accessory to have at the office to just set your tech on. Still, the charging speeds are a disappointment, but, it could keep your desk tidy at the office or even at home. The convenient LED light lets you know that the dock has power going to it but it really doesn't do much else. Wouldn't it be cool if it changed colour to tell you a device was fully charged? Maybe each port was assigned a different colour?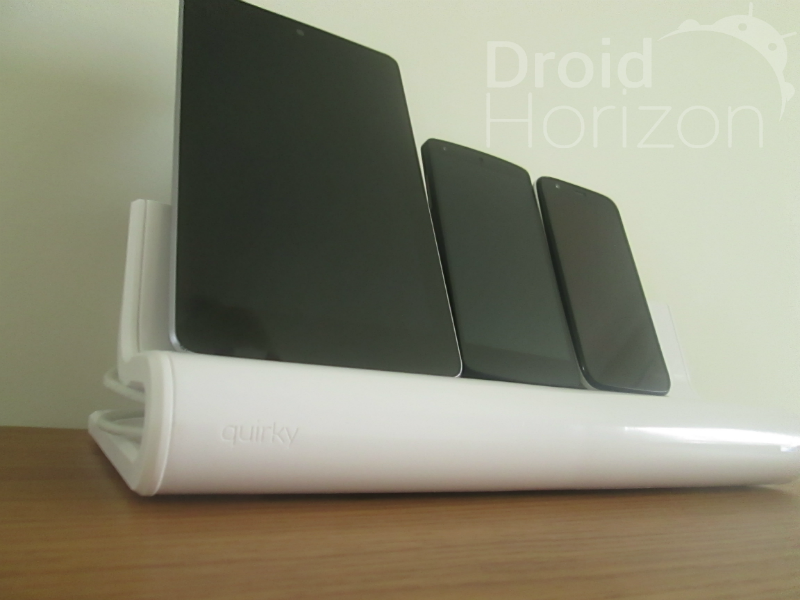 Priced at £39.99, I honestly feel you get what you paid for here with the Quirky Converge Universal USB Docking Station. If fast charging times aren't an issue and you just want to plug your device in at night and grab it in the morning, the Converge offers exactly that. It certainly looks nice on your bedside table or at the office. You just have to be aware it isn't a quick charging solution and it doesn't really offer much more than what it says on the box.
If the Quirky Converge is something you'd be interested in purchasing, can we point you towards MobileFun.co.uk, who have recently been recognised as the Best Online Retailer by the Mobile News Awards for the second time running.
Hit the image below to take you direct to the Quirky Converge Universal USB Docking Station.