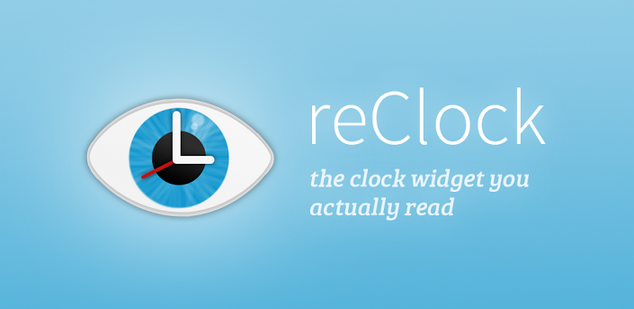 reClock™ is the text clock home screen widget that you actually have to read!
Attention is in high remand and short supply: quite often we find ourselves missing something or having to double-check. reClock displays the current time in reference to a recent or upcoming time. The result is that you actually have to read and process the text to know what time it is!
I know I've been guilty of staring at my watch when at work and then someone asks, "What time is it?." I sit with the stupidest face you've everr seen and say "U'mmm, I don't know" then look back at my watch again to tell them. It's some kind of human flaw or I could be just thick, but it happens to most people. This won't happen any longer because now you actually have to think for a few seconds to work out the time with reClock.
Essentially a clock widget but with a cryptic clue to make you stop for a quick second and think about what time it is. No more quick glances and no more silly faces on young Ste. A plethora of customisation options are available, which is a must for people like me, to design your clock and set it on your home screen or lock screen with Android 4.2.2. Even more options can be added from the donate version, which is an In App Purchase of 99 pence in my money, which I'd recommend to gain the most possible from the widget.
Colours, pre-installed fonts (Custom with donate version) layout and style options should offer a look and usability to suit all. So many options to choose from or even the standard time if you want to be boring.. Where's the fun in that? I'm happily using reClock: Text Clock Widget right now and I'd recommend to others to give it a try also.
Below you'll see a showcase of what widgets I used and below that again a direct link to download from Google Play. There's no silly adverts just a genuine In app purchase with an honest message.