aLLreLi, a supplier of mobile solutions, has sent me a car kit for review purposes. The kit includes two parts, both of which are being covered today. The first is a dual USB port charger that includes a small, calculater-esque screen gives your car's current battery charge. The other part is a magnet that holds your phone in place while you drive.
Dealing with the former first, it is comprised of black plastic, screen not withstanding. The end that doesn't go into the port is triangular, and flat where it faces out. The display sits above the two USB ports, but it's still difficult to read. The reason for this is that the front face of the charger is flat, in the sense that it is perpendicular to the floor of the vehicle, as opposed to being sloped. This makes the viewing angle tricky, since the car's charger is near the floor. Thus, I can see that it's lit when I'm in the driver's seat, but I can't read it very easily and can see only part of the display, making it effectively useless. Depending on the placement of the charger, this might not be an issue for some drivers, but it definitely will be for others. As for its performance though, this is where the charger performed at its best. The paper work claims that the total amperage that can be pushed through is 4.8, but I took that to mean that it was combining the output of both ports.
I tested my phone (Stock Nexus 6 with 6.0.1 and a 3,000 mAH battery) for around twenty minutes by itself, and again for twenty minutes with my tablet charging in the other port, and my phone was boosted the same amount both times, picking up around 17% both times, so I have no doubts about the output of the ports, unlike the other dual port charger of theirs that I reviewed. And while I personally don't see much value in having a screen attached to indicate the current charge of the battery, on the whole this is a solid charger that can easily handle two different devices.
Included with their car charger is one of their magnetic car holders for phones. The way it works is to peel the sticker off the bottom of the base, and stick it someplace where you would like to be able to view your phone. The base must then be given 24 hours to cure. After that twenty-four-hour period comma you can slap one of the magnetic stickers on to the back of the phone. There's a second magnetic piece that you put on the top of the based, and you can put it in most any direction. It is held on to both the base magnetically, and is also a magnet that will hold the sticker and phone in place, while allowing it to be positioned. If you're the type that won't mind a small metallic sticker on the back of your phone, this isn't a bad setup. Bear in mind that, despite having a 3M adhesive, it still requires a relatively flat and smooth surface. With the dash of my car being more dimple than flat, it reduced the number of places I could stick the base. Once I cleaned and found one though, it's stuck in a sturdy fashion, and the magnet almost matched it. When I had the sticker fairly centered on the back of the phone it was stable enough that it didn't need adjusting while the car was in motion. I did notice though, that when I had a charging cable plugged into the phone, there were points where it pulled on the phone enough that it would end up out of position. When there was enough slack though, it didn't prove much of an issue at all. For what I value in a phone though, this wouldn't provide much of a solution for me personally. Despite the fact that I did enjoy where I was positioning the phone, which was much closer to my field of vision has a driver, having a metallic sticker on the back of my phone nerfs my ability to use wireless qi charging pads. So, bear that in mind if your phone is compatible with that standard. You will likely have to choose between the two, if you can't find a good spot to place the sticker that won't conflict with the charging pad. All told, their phone holder kit is comprised of three or four different sized, metallic stickers. They also include a second, replacement adhesive pad for the base, should you choose to relocate it or find you are unhappy with your initial placement.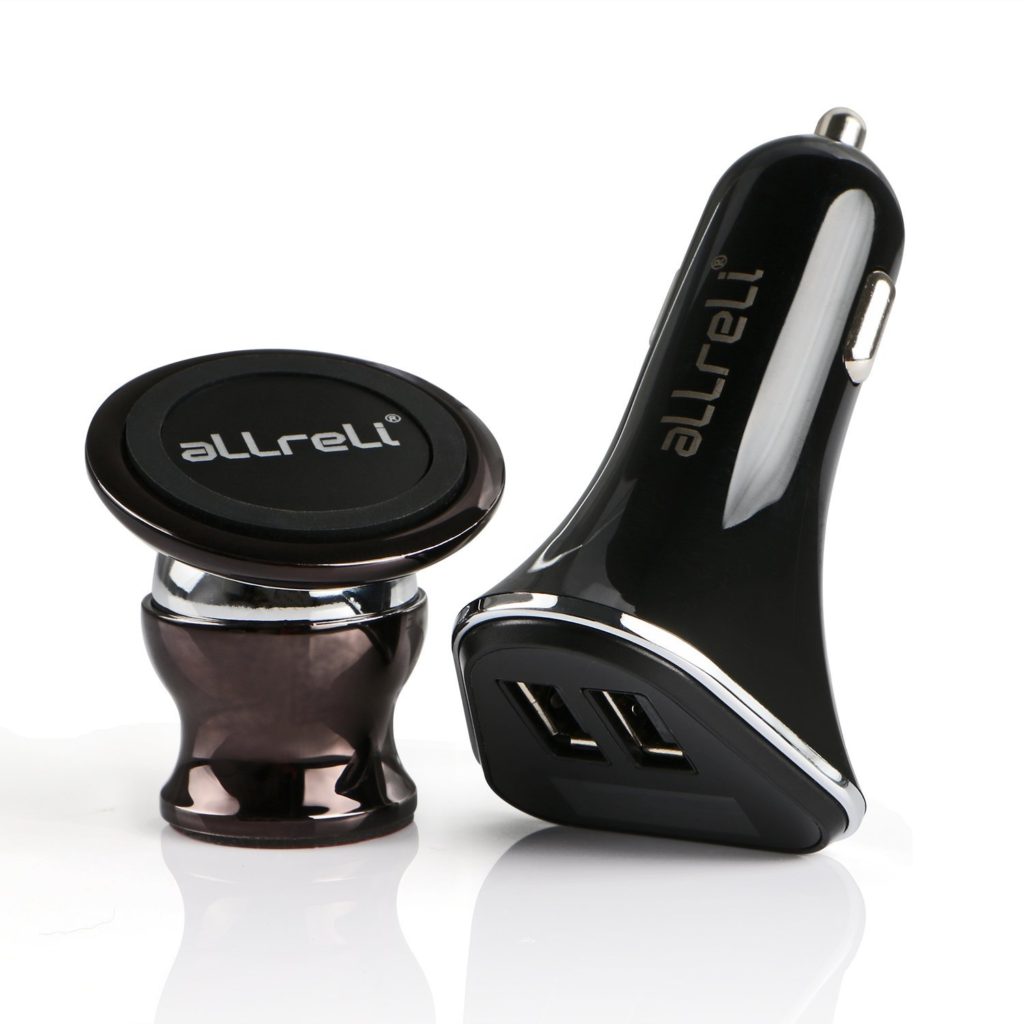 In conclusion, this isn't a bad car kit, especially if your handset can't charge wirelessly, or that isn't important to you. The magnetic phone holder is sturdy (both the adhesive and magnetism have a strong grip), and does its job if the charging cable doesn't pull on it too tightly. The USB charger works very well, even when two power hungry devices are drawing off of it. If the battery indicator is easily readable in your vehicle and of value to you, so much the better. I'm giving this kit a 7, as it's solid, but the display could've been designed in such a way as to be easier to read while plugged into a charging port. If it's a selling point for this product, its visibility should be better highlighted.