I don't think anyone can ever have too many chargers. Whether the solution be a wall charger or a portable charger. Although, we do want to have a charger that will compliment the features of our device. Feature requests for a charger would likely be fast charging, portability and a USB-C connection as most new production smart devices have, save for the iPhone line of devices of course.
Product Description
The product on hand today is the Amoner USB-C fast charger with fold-able plug. The charger was packaged nicely in a simple blue and white box. All the information you needed to know wad directly on the front explaining it's contents. The contents of the box provided everything I would need to charge my device, and charge it fast!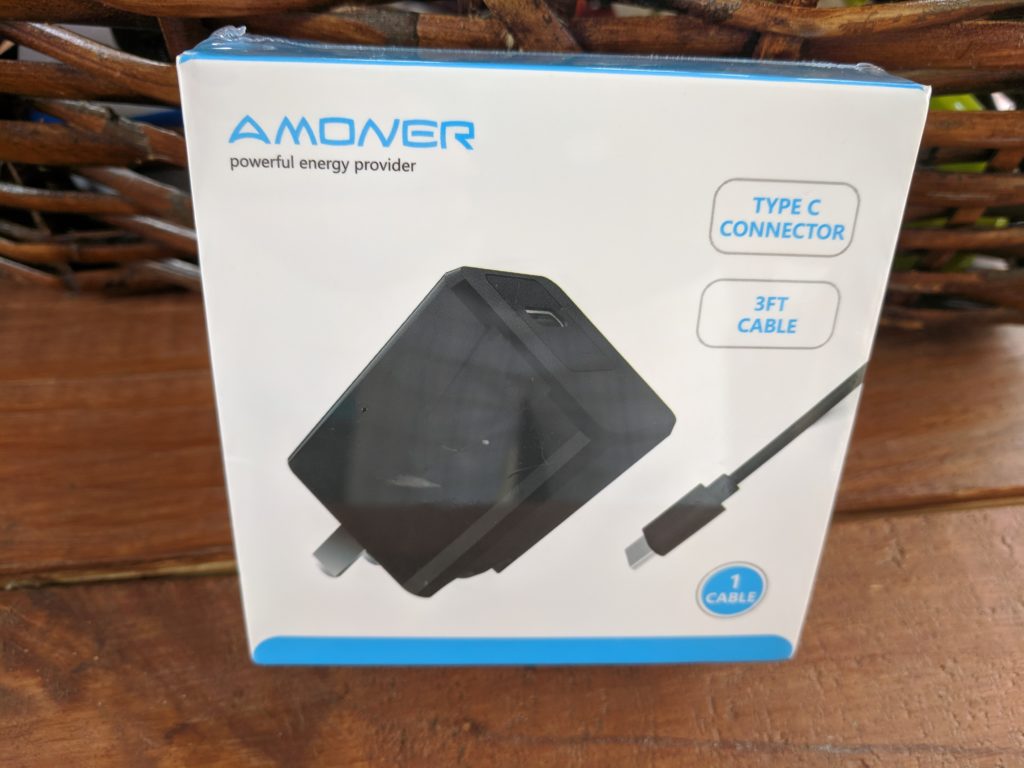 Looking at the contents below you'll see what's included. There the charging brick, USB-C/USB-C cable, and user manual.
The charging brick measured out at 43.7mm long x 29.8mm wide x 35.1mm high (1.72″ x 1.17″ x 1.38″). This size gives it a nice compact feel compared to most charging bricks out there. Don't let the size fool you. It's able to deliver 18 watts of power to your device. With this high speed charging, the Amoner charger is able to detect your devices requirements and adjust the output accordingly. Making it compatible with a wide range of devices. An additional feature of this charging brick is the type A fold-able prongs, moving them out of the way, alleviating the possibility of bending or breaking. The included end-to-end USB-C cable is 91.44cm (3′) long, making it just the right length to be manageable and compact for travel.
Overall this Amoner charging cable has been a great addition to my laptop/gadget bag. I'd recommend it for its compact size and universal fast charging capabilities. You'll also get a worry free 12 month warranty and 24.7 customer service. The price is right and won't break the bank at under $15.