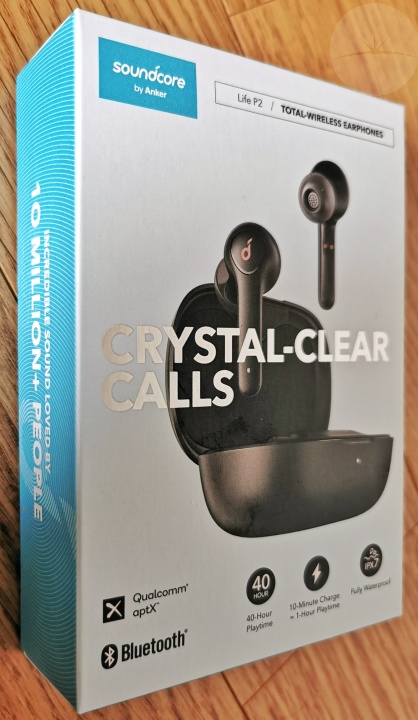 Soundcore Life P2 are Anker's latest entry in the budget true wireless earbud arena and we've been putting them through their paces to see how they stack up.
The two individual Life P2 earpieces come inside a matte black plastic clam-shell charging case along with a USB Type-C charging cable and 5 pairs of silicone ear-tips covering the full range of XS, S, M, L and XL sizes.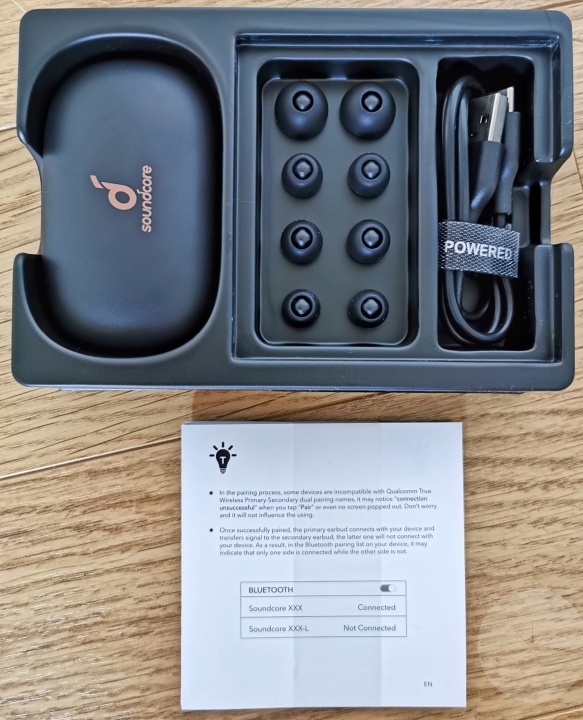 At around 3″ x 2″ x 1″ the case is on the larger side, but still very pocketable -plus at only 59g it doesn't weigh you down. The USB-C charging port is at the back and there's a small white LED at the front that lets you know when the case is charging. Build quality is excellent – the lid snaps firmly in place and we'd expect the sturdy matte black plastic to be durable and provide great protection for its earpiece inhabitants.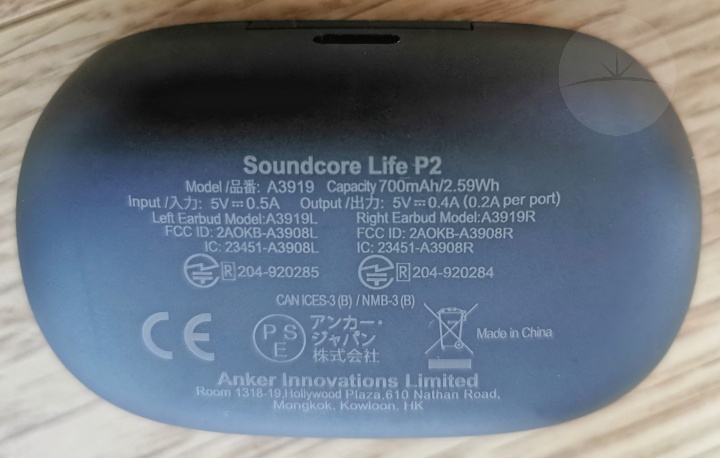 The look and feel of these earbuds are a good match for the case, with a matte black plastic shell and subtle copper Soundcore logos. You could be forgiven for thinking the P2s cost a lot more than they actually do since they give a high quality impression and the design is both svelte and stylish. They're even IPX7 waterproof so should have no trouble surviving copious amounts of rain or sweat – you could even wear them swimming (although we'd be a bit worried about losing them).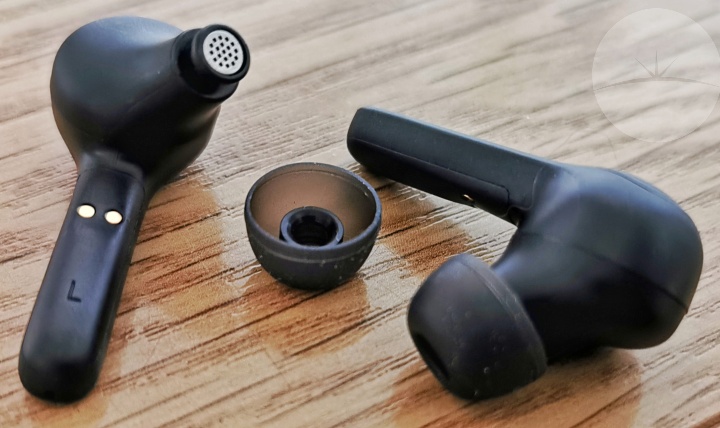 We expect great battery life from an Anker product as they are well known for their expertise in this department. Soundcore Life P2 definitely doesn't disappoint, with their earpieces offering significantly more playback time than other true wireless earphones we've tested – up to 7 hours on a single charge. You can even stick them back in the case for 10 minutes to get back another hour of use. Strong magnets snap the earpieces in place, with the stem of each showing a steady white indicator light while charging that goes off once fully charged. The case itself charges via USB-C in around 90 minutes and you'll get between 4 and 5 full charges out of it – up to 40 total hours of playback in total.
Each earpiece has a clicky multifunction button that's easy to locate by touch. You press it inwards for on/off, play/pause, answering calls or activating the phone's assistant. You can also skip tracks by double-pressing one of these buttons – the left for backwards or right for forwards. There are no other controls making this a really simple headset to use – the only caveat being that when adjusting volume we did need to go back to the phone.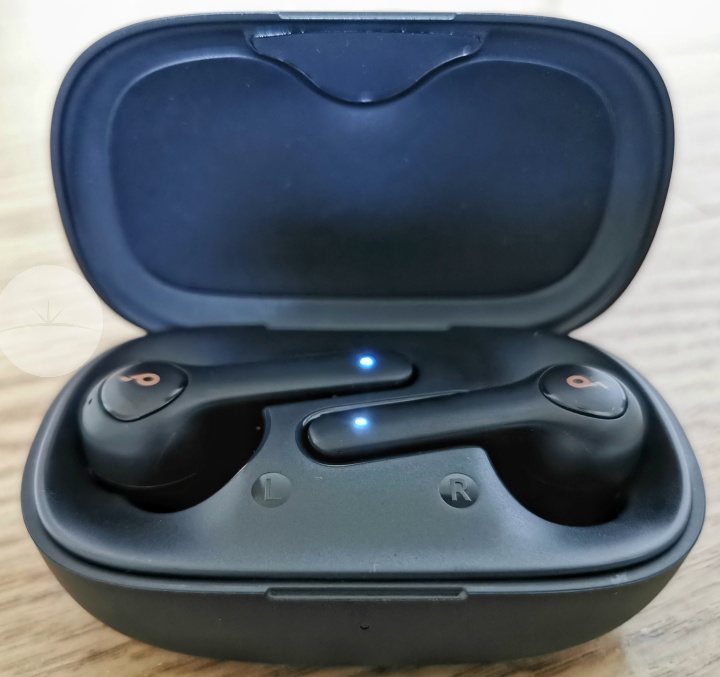 This ease of use extends further with how the earbuds interact with the case. Once removed they automatically switch on. The first time they go straight into pairing mode. Once paired they'll then automatically turn on and connect to your phone every time they're removed. For mono listening you can remove just the one earpiece and leave the other in the case. When you're done listening, just put the earpieces back in the case and they'll automatically switch off and begin recharging. We found this automatic interaction highly convenient in every day use.
In the past a common problem we've had with budget pairs of true wireless earphones was Bluetooth reception. Often we'd experience the occasional cut-out on one ear. Life P2 comes with Bluetooth 5.0 which offers better connection stability and we found both earpieces had perfect synchronisation and a rock solid connection when walking around – even when getting quite far from the phone.
The earbuds are very light and comfortable in the ears and give a nice secure fit. They never fell out accidentally (even during exercise) and we were happy to wear them for hours with no issues. There's no active noise cancellation, but the wide selection of ear tip sizes means you should have no problem getting a good seal. We were impressed with the overall level of isolation you get from the outside world and there's no discernible sound leakage.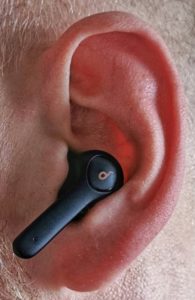 The drivers inside Life P2 are made from graphene to give better clarity and a wider soundstage. Anker's BassUp technology is also incorporated to boost bass frequencies and the aptX codec is supported for lossless transmission. The result is a crisp, well-balanced sound with surprisingly strong, clear bass for a wireless headset in this price category (even at high volume). We were very pleased with the overall audio performance – our only slight criticism being that the mids would occasionally get a little overpowered when the treble and bass get busy.
In terms of calls, Beamforming and cVc 8.0 technology are used in combination with dual microphones on each earpiece to reduce noise and enhance vocals. We found this gave decent call quality overall but the mics could definitely use a volume boost since they're a little on the quiet side.
Soundcore Life P2 currently costs £45.99 / $59.99 which represents fantastic value. Based on this we'd say that 2020 is the year you should be definitely considering a pair of these true wireless earphones. Battery life and reception issues are no longer a concern, and the extra freedom of movement and durability you get with going totally wire-free is definitely appealing. Microphone location is the only downside, making them less suitable for those that want a headset for calls. Overall however, we loved Anker's smart design, sturdy waterproof build quality and clear, bass-rich audio performance. They easily compete directly with brands costing twice the price. Pick a pair up from the Amazon links below…