Review: Arkon Mobile Grip 2
Arkon have sent me their Mobile Grip 2 and it's compatible with larger display phones. This new Mobile Grip 2 will fit any phone or phablet with a case in width of 2.4″-3.6″. I find these great for using on the car, when using the phone as a GPS, or when putting my phone on my desk, as I still think car mounts are great for desk mounts.
Although the packaging is a plastic bag and nothing special, this in no way should be seen as a foreshadowing on the quality of the mount itself. Normally I would think that low grade packaging may be a bad sign of a company's quality, but with Arkon's 25 years in the industry, this speaks louder to me then some packing. In the package was the mobile grip 2 holder, a mounting stand with adjustment ring, and 80mm adhesive disk along with an alcohol cleaning pad. The stand is designed with a multi-surface suction base and an adjustable mounting arm with an universal 17mm ball joint connection. The model I am reviewing came with a deluxe enhanced suction base which I found to be the strongest I have tested. I found I could stick it any direction, to a range of surfaces and it would be stuck there like cement, and if it felt like it was losing its stick, warm water and it's back to full strength.
The mounting arm has a multi-angle adjustment which is locked in place by easy grip thumb screw, and the universal ball joint connection allows 360 degree rotation and even compatibility with other accessories using the same kind of ball joint. I was seriously impressed by the Mobile Grip 2 holder. It's probably one of the most minimalistic mounts I have ever tested. The spring loaded mechanism allowed me to stick in my phone one handed, by inserting the phone angled and pushing to extend it. The grips are made out of rubber, which with the added grip benefit also means that I can't scratch my phone/case. One problem I have seen in ball joint holders, is the ball joint can rub and wear down the plastic. Arkon have pre-empted this issue and added a rubber ring, this'll take on some of the strain and avoid those issues.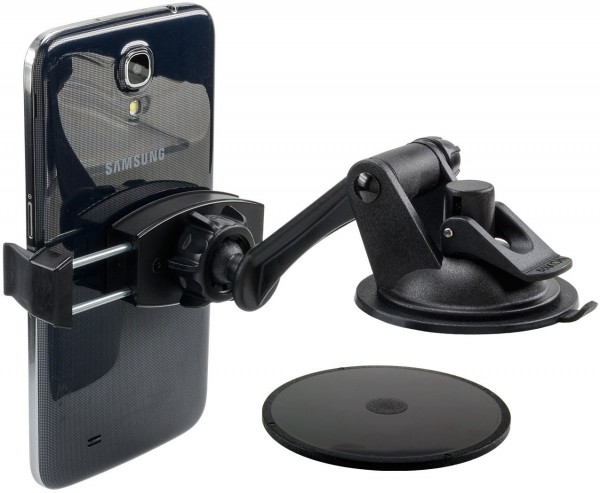 You can clearly see they paid attention to every single detail on this mount, and the whole design feels very solid. Overall, I was really impressed with the Arkon Mobile Grip 2, and for the price of under $20 it's great value. It's slim minimalistic design, build quality, easy one hand operation, the ability of keep your rear camera unobstructed, and flexibility to route power cable and having all the power/volume buttons in the open puts it on my list of high recommendation.