I know what you're thinking: "Look another review of a pc mouse….meh". Well I had a similar reaction when I received this device by mail. Although, upon opening it, i realized I was way off base!. This is a BESTEK fast charging adapter/splitter. It's a great option for your numerous devices while on the go. The device plugs directly into your cars cigarette lighter receptacle, immediately giving you 2 additional cigarette lighter inputs, plus 3 USB ports.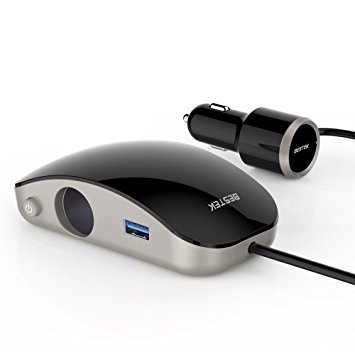 With a max output of 5V/4.8A, this adapter/socket support 3 USB charging ports, 2 of which are reversible USB. Also supporting 2 cigarette lighter sockets. The LED display is red and easily visible behind the black transparent glossy plastic housing, even if you get the occasional glare. It give the adapter a great finished, upscale look. The LED display switches automatically between monitoring your car batteries voltage and the charging current. I can sit and watch that battery voltage readout all day, it's mesmerizing!
The BESTEK adapter/splitter comes equipped with smart charging technology by detecting the device, and fast charging as needed. Being dedicated to protecting your favorite, quite expensive mobile devices the product has built in to the design, a fuse with protective circuits to keep the charger and the devices connected to it from overheating and overcharging. That right there is definitely something to look for in a charger!
After using this BESTEK 2-socket adapter/charger for a few week, I've determined that it's a great addition to any vehicle. Definitely consider it if you need to charge multiple devices on your family trips and commutes.