The current selling price of Blitzwolf's BW-VP1 video projector is $85.99 – significantly less than the thousands you'd typically pay for a top-of-the-line projector. Can those on a budget really expect a projector costing this amount of money to satisfy their needs?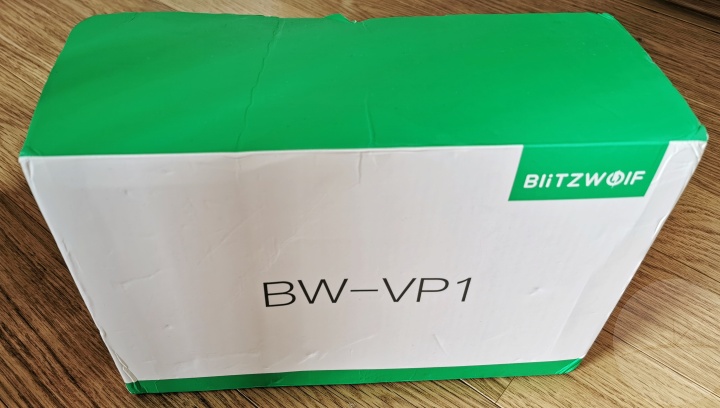 One way Blitzwolf keeps their costs down is packaging, with the projector coming in a plain green and white cardboard box. This box won't be winning any design awards, but personally I'm happy to save a few bucks on something that'll end up in the bin anyway. Inside you find the projector, an IR remote control, power cable (available with EU or US plug), RCA adapter cable and an instruction booklet.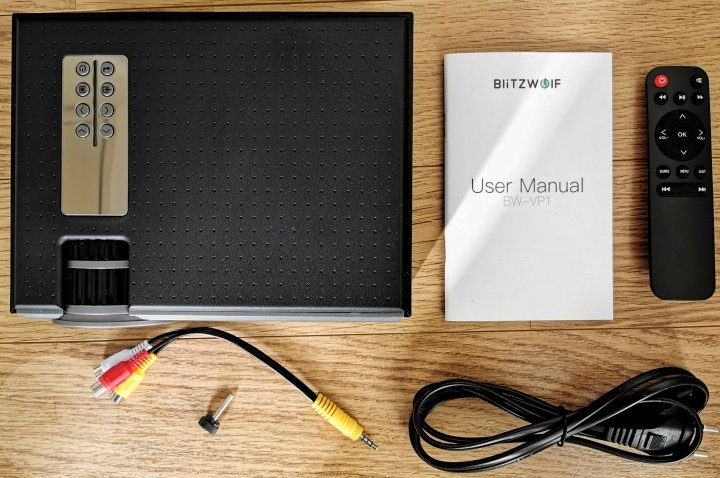 The projector itself is a small black box just over 7" long with a sturdy matte black ABS plastic shell. The front has a large projector lens and an IR sensor, while the back has the mono speaker, a "figure 8" power socket and another IR sensor. It's great having IR sensors at both front and back, allowing the remote to be recognised from any direction.
There's a standard tripod mount on the base, while ports are located on the left side. For inputs we have VGA, HDMI, USB and a RCA composite socket (for use with the adapter cable), while the only output is a standard 3.5mm headphone jack.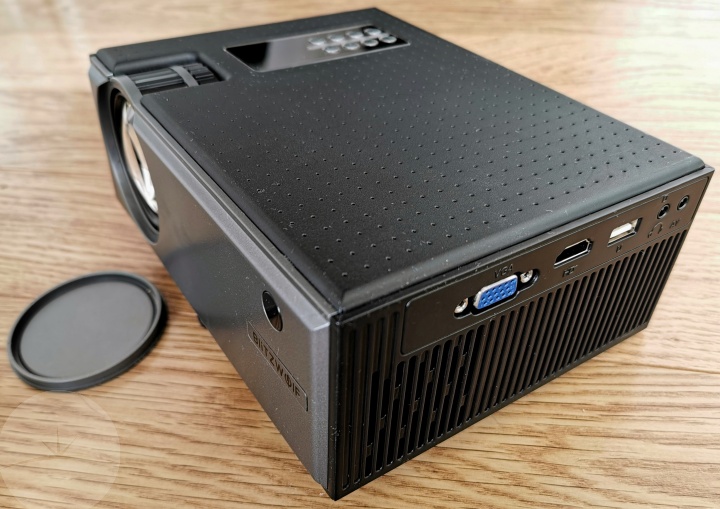 On top are 8 control buttons that cover powering the unit on/off, menu navigation and input selection. These controls are also duplicated on the remote control which is powered by a couple of AAA batteries (not supplied).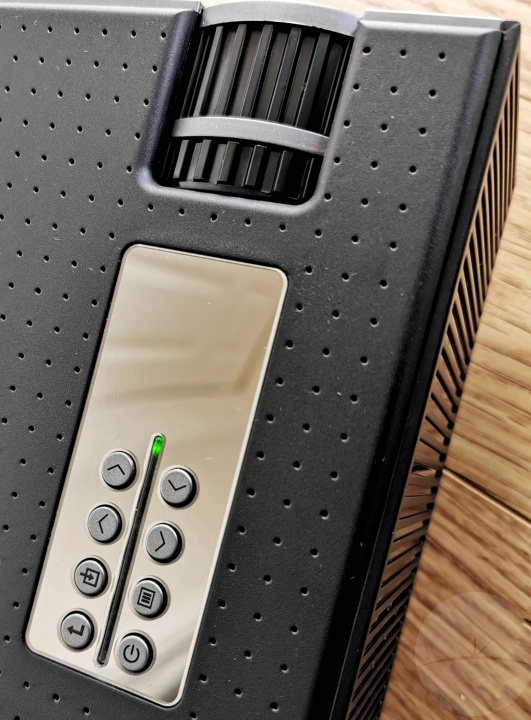 Also on top (above the projector lens) are a couple of wheels that make it easy to get a sharp, rectangular picture on the wall by adjusting focus and keystone correction. BW-VP1 works at a distance of between 1 and 3 metres from the wall, giving a screen size of between 28″ and 100″. The display is driven by a 720p LCD panel and so this gives you a nice sharp picture at lower screen sizes, with things obviously looking less crisp and bright as you approach 100″.
It's been a few years since I've reviewed one of these budget projectors, with brightness and fan noise being my main issues with them in the past. I'm happy to say that by taking advantage of advancements in LED technology, Blitzwolf have made been able to make great improvements in both these areas.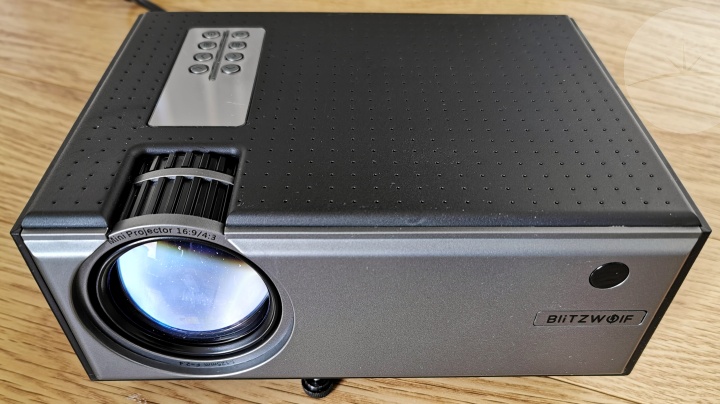 On switching on the BW-VP1 you'll notice the fan, but not to the extent that it drowns out the unit's speaker. I'd liken it to the noise generated by a desktop PC – i.e. you probably won't even hear it once you have audio playing. Likewise this projector is capable of outputting a brightness of 1800 Lumens. As you'd expect, this does still benefit from being in a darker environment but doesn't really need to be in a pitch black room to get a reasonable picture.
Of course you'd need a proper projector screen for the best picture quality, but even shone against a white painted wall gave an impressive result from this projector. The 2000:1 contrast ratio means the whites look bright white and blacks are just barely visible. Colours are well saturated and give a nicely tuned, natural appearance.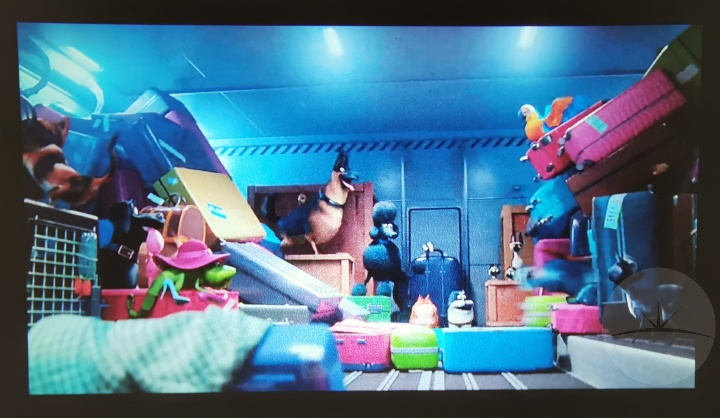 Don't expect Dolby surround sound from that rear-facing mono speaker, but it can be cranked pretty loud without sounding distorted. With decent bass and distinct vocals, I found it perfectly adequate for bedroom listening. For larger spaces you may want to consider a sound bar or other external speaker system.
Downscaling a 1080p HDMI input source to the projector's native 720p worked flawlessly, as did playing movies in a variety of video file formats directly from USB flash drive. Navigating the menu is straightforward but it can be a little sluggish when choosing from a long list of video files.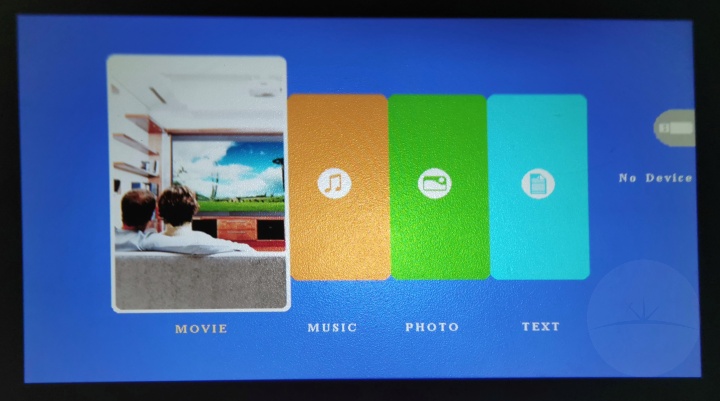 If you're looking for a projector that will be permanently installed in your living room then I'd say you may want to consider saving up for a brighter, 1080p model. However you can easily pay 10 times the price for what many would consider to be marginal improvements in terms of performance.
Blitzwolf's BW-VP1 offers a great cinema-like big screen experience for the money. It's output is highly watchable, making it ideal for anyone on a budget that's looking for a handy bedroom / portable projector. You can buy one from the BangGood link below and also check out their 13th Anniversary celebration page to get a wide range of discounts for their other products.