In our latest hardware review, we take a look at the Aquaris X5 from BQ
The mid-level range of attractive smartphones has certainly heated up recently, whilst everyone's favourite the Moto G slipping down the list, companies like Huawei (honor) and OnePlus have really stood out and offered fantastic devices for around the £200 price tag. Up steps BQ to take a slice of that market with one of their well made devices, the Aquaris X5. (This particular model ships with Cyanogen OS installed. Be aware of the different versions.)
It's a likely assumption that most of our readers outside of Europe haven't heard of BQ, you may remember the manufacturer was in the news recently announcing a partnership with 02 here in the UK and running on Cyanogen OS. We've been testing the Aquaris X5 for over a month on Three UK and 02, we have to mention, our first review sample stopped working on the second week. The company sent us another straight away to carry on where we left off.
The Aquaris X5 is certainly a handsome handset that looks and feels more expensive than it actually is. A one-hand-friendly 5″ panel with a very unique capacitive navigation bar. The company use their logo for the home button light up. I'm usually a fan of an on-screen arrangement, but, in use, I could happily use the capacitive keys and make use of the smaller screen real estate. (Capacitive / on-screen can thankfully be changed in the settings menu. We like having choices.) The edge of the display chamfers to a metal finish that surrounds the device and adds a certain style. Like the recent iPhone or HTC One M9 there's radio bands times two on the top and bottom. Top right side is a pull out micro SD card slot, below is the one button volume rocker which is nice and tactile as is the power on/ off button sitting just below. Across the bottom of the Aquaris X5 the main speaker is to the left of the micro USB charging port with the phone call mic to the right. Running up the left side is bare until I reach another pull out SIM card slot  which fits two nano SIMs if you choose. Top centre to the right sits the 3.5mm headphone jack with another mic just beside.
The back is a soft touch plastic but still manages to feel premium. A little slippy if you set the device on your lap, but in the hand, the metal band that frames the device adds a better safe feel.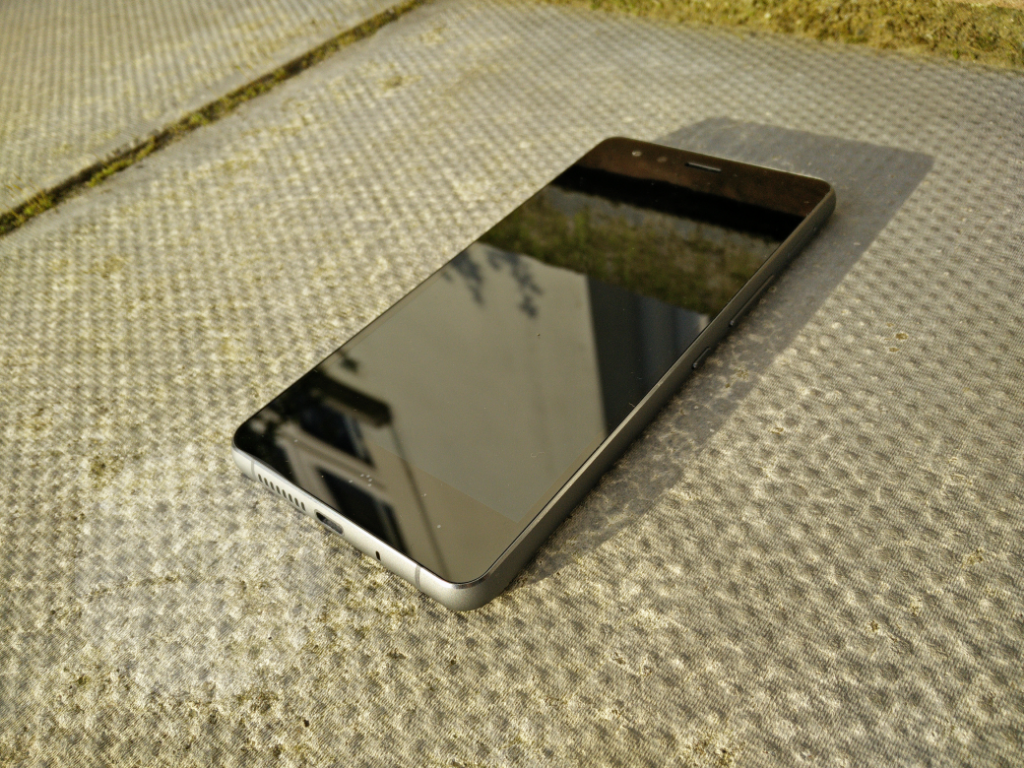 The Aquaris X5 is well built, there are no creaks when you give it a little squeeze. Solid and premium for a device in this price bracket, the automatic reaction for any review, is to see where corners have been cut to keep the price down. With the Aquaris X5 we wouldn't say that would be the build quality most certainly. Not exactly high-end materials, the device wouldn't take a crash to concrete very well sadly.
Maybe corners have been cut slightly in the specs department, although performance wise there are some slow downs in the recent apps, the 2GB of RAM is certainly useable. Some tweaks could be made via the OS to launch apps quicker. The Snapdragon 412 does a good enough job in an every day usage scenario but not lightning fast either. Having tested the device for over a month, there has been a few times when the Aquaris X5 froze completely and only a hard reset would bring it back to life.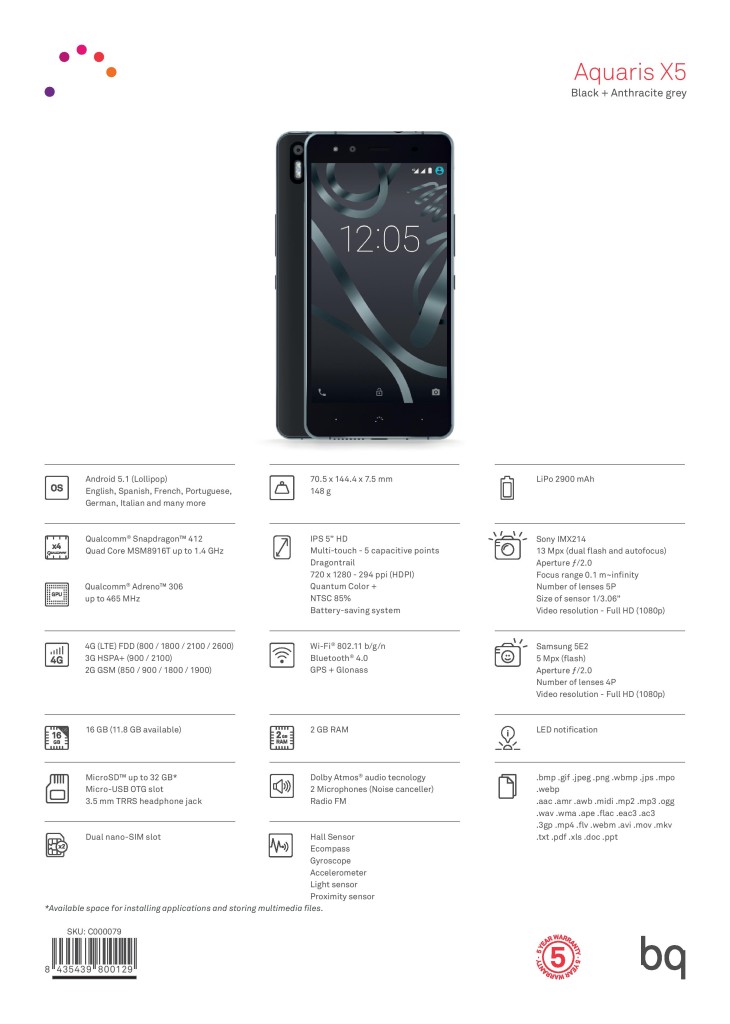 You'll have noticed that the Aquaris X5 is still running on Android version 5.1.1, after a month of bashing the software update there has been no update unfortunately. This may be down to Cyanogen OS or BQ themselves. The Android security patches which are released monthly hasn't been updated since February either. Have they launched and forgotten about the device already?




The BQ Aquaris X5 offers a dual SIM experience, very convenient if you have a work phone and personal. Pop them both into the left pull out tray and expand your storage using a micro SD on the right. The version we have at DroidHorizon HQ is the Anthracite Grey (16GB – 2GB RAM)  which retails for £179.90. A 32GB model is available for £199.90 in Anthracite Grey or Silver only. Something to be aware of again when going to purchase. Maybe if Marshmallow (Android 6.0) ever does arrive, you could format your SD card to all internal but that would be in the hands of the gods if they allow it sadly.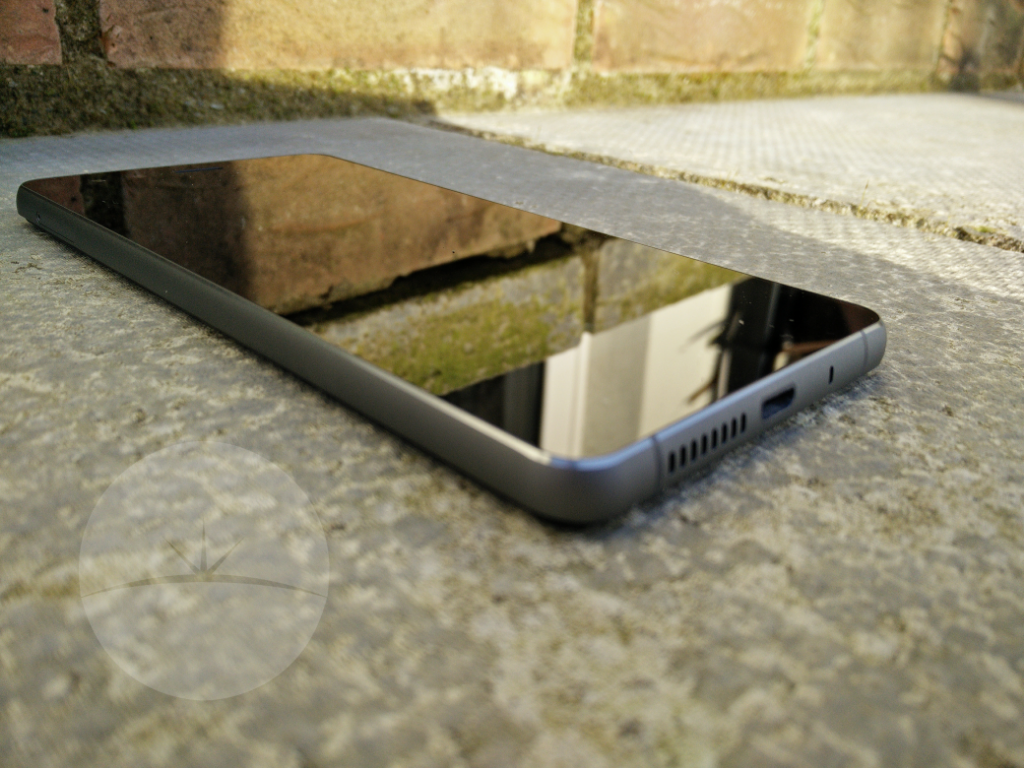 The user interface will be familiar to millions. The new Cyanogen Theme Engine includes a unique BQ theme, this is similar to what the OS makers did with the WileyFox if you remember we had a look at the Storm in this review. Themes are my most favourite feature on Cyanogen OS and CyanogenMod, everything is customizable. I've likely spent a few hundred pounds on themes, icon packs and custom wallpaper apps. Change nearly all aspects and areas of the UI, pick and choose from various styles and settings to make your device stand out from the rest.




At 720 x 1280. 294 HDPI the screen is usable in most scenarios, step outside in a sunny day though and you'll have to crank the brightness to maximum. The operating system offers various modes like an automatic day or night mode which sets the back light for you. This can be turned on or off in settings. Not a killer resolution if you watch a lot of YouTube videos or live in California but the low dots per inch along with the screen size of 5″ your battery will last a day. Dragontrail protection glass is included instead of Corning's products, after a month of heavy use we've experienced no scratches on the panel thankfully. (Although we're extremely careful.)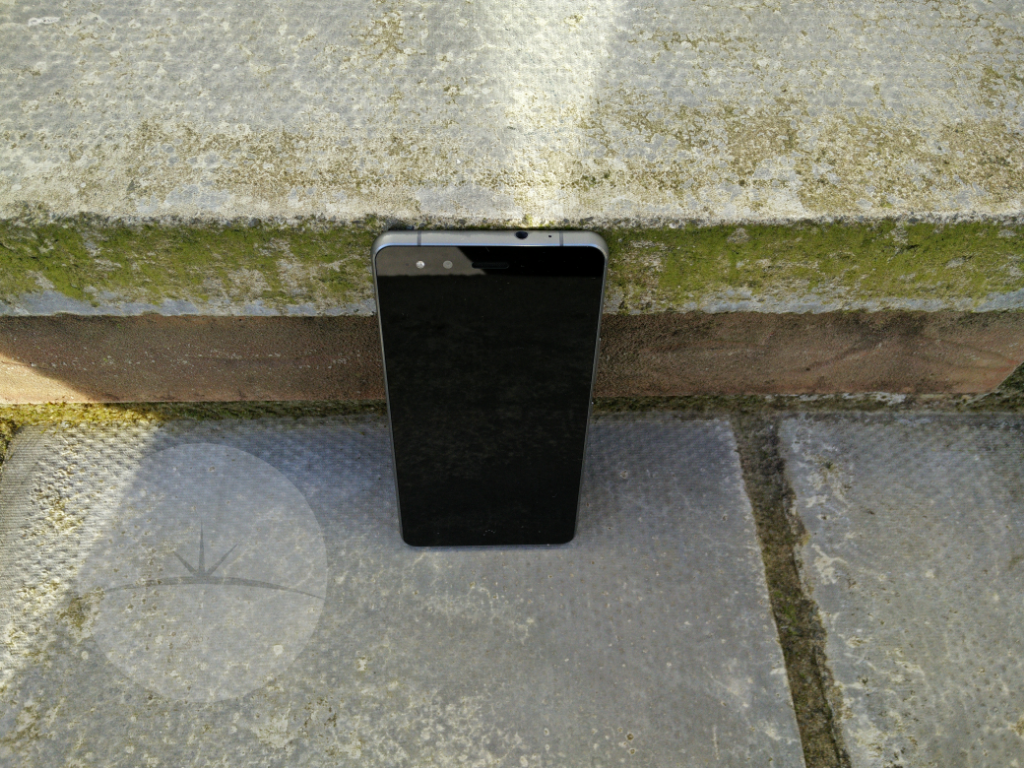 There are a number of included features and pre-installed applications with the Aquaris X5. Boxer email, Calendar and Truecaller being the most prominent. The Boxer apps can be uninstalled easily but Truecaller is included inside the dialler app at system level. It's up to the user to take advantage of these services or carry on using their prefered alternative. Truecaller requires the user to sign in to a Cyanogen account to see who is calling and block nuisance callers. Again, you have a choice to use the service or not.
Strangely, two camera applications come installed out of the box. One is the BQ "stock" camera and Cyanogen OS's. Both have easy to use interfaces while the Cyanogen version offers a little more settings and slightly better results. We still had lots of blurry shots though with not a lot of detail or depth. Our photos were far from crisp and colour reproduction was pretty poor. The Sony IMX214 13MP rear camera offers a rather mediocre picture, maybe we were hoping for a bit better. The 5MP front facing isn't fantastic either for all you selfie fans. Maybe the lack of any image stabilization is to blame for all my blurry shots? Low light captures weren't great in the off chance I was trying to take a photo.
Colour reproduction seems mute. Colours nor details look sharp. Everything looks flat and a little blurry.
Sound quality isn't great unfortunately either nor very loud. I'm sad to report that I missed a few calls when the Aquaris X5 was in my pocket. AudioFX is built in but offered very little with that tiny speaker at the bottom, OK, listening to Spotify playlists with my
headphones
on was a fine but missing notifications in a normal environment just isn't on. Imagine if that was my boss or I was waiting on news from the doctor or hospital. Profiles can be set in system profiles but the default should be loud enough.
In conclusion, I'd actually be happy to recommend the Aquaris X5 if some of the kinks were ironed out. I'd love to see the manufacturer and Cyanogen fix the slow downs and maybe fix the camera a little. Being on the latest Android version likely isn't important for someone walking into a shop and buying a well priced device, but I'm sure security patches are, well would be if the average consumer knew about such things. I like the small screen form factor and capacitive navigation bar possibly because it only seems different to me because I've been using larger devices with on-screen keys. £179.90 from
Clove Technology
or on
contract via 02
certainly buys you a good handset actually only let down by the software side.
Cool short video of the BQ UK launch
[youtube id="zPbCC87Es-E" align="center" mode="normal" maxwidth="720″ grow="yes"]