In today's review we'll take a look at a 5″ curved display digital alarm clock. I used this alarm clock for this review. Last time I used an actually alarm clock that wasn't my smartphone was many, many years ago, before smartphones were actually a thing. Although, I may not use a dedicated stand-alone alarm clock myself, I have no doubts that there's a large market for it. For those that like to keep their wake-up devices separate from their communication devices.
My Thoughts:
The product showed up in a simple minimally marked brown box, nothing fancy. Which is fine as I was looking to see what was inside. I pulled out a 5″ curved display desk clock. Holding it in my hands, it was lightweight and felt a bit cheaper than I had hoped for $29.00. The housing is made of molded plastic, with a sleek curved clear display and chrome feet. On top you'll find all the buttons needed to set up the alarm clock to your liking. There's one USB charging port, and an FM antenna included.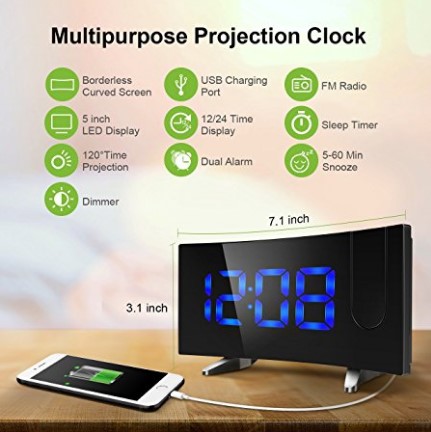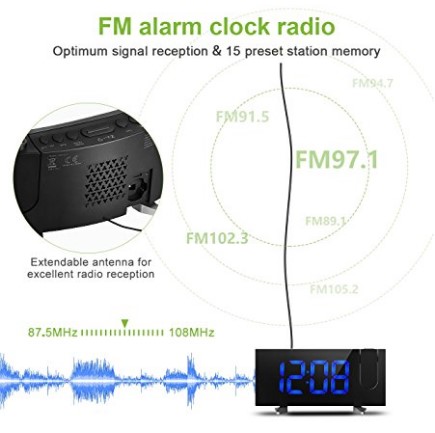 Upon plugging it in, the large bright blue LED display lit up. There's no mistaking the time on this clock. I was easily able to set the time which allowed for 12/14 time display. I set up two alarms. Allowing for more than just two alarms would be an improvement on the product. I set the dimmer of the main display lower so it wouldn't disturb me through the night.
The special feature that makes it stand out from others, is the versatile time projection. To the right of the display is a small lenses that will swivel at 120 degrees and project the time on the ceiling or walls as you would like up to 2-3 meters. This projections of the time can serve as a night light, and will make it easier for you to check the time when you wake in the middle of the night. Open your eyes and look at the ceiling, and there's the time! Along with adjusting the dimness of the main display you can also adjust the the projected display.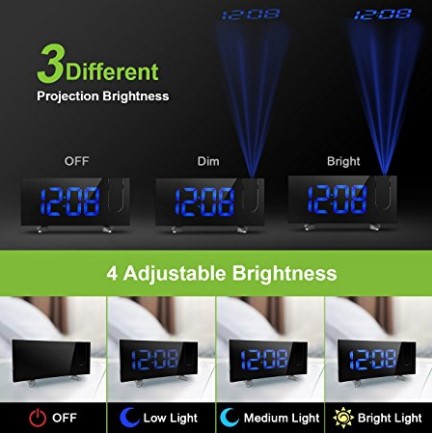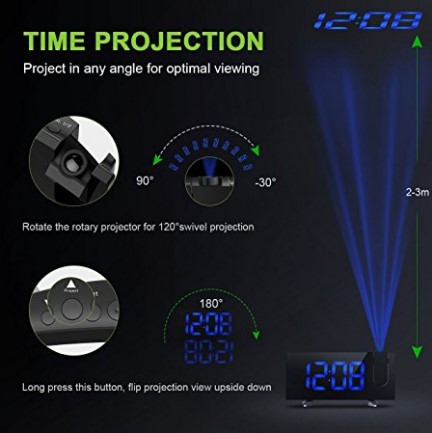 Overall, I'm impressed with some of the features of this Pictek digital projection alarm clock. The projection of the time is a nice touch, and the curved display with the large digital LED readout is also nice. If you're looking for a simple easy to set-up and use alarm clock with a few bonus features this could be for you.