Earfun Air True Wireless Earbuds are a great addition to anyone's gadget bag. I've had the opportunity to review these earbuds for the last few weeks, and got a pretty good feel for how they sound and function. I've been very impressed with them.
The Package
The device came nicely packaged in a sturdy white and yellow box, with plenty of information on the outside. Everything you see below comes packaged in the box. you'll find a pair of wireless bluetooth earbuds (Model: TW200), a compact charging case, 4 different sized ear tips, USB to USB-C charging cable, and a user manual.
The Details
These EarFun Air earbuds have a similar design, like that of the Apple AirPods, without the high price. I haven't used AirPods, but the EarFun Air design makes them much easier to handle than others, I would consider way to small. I just grab the pair out of its charging case, and by the "handle" of each earbud slip them into the ear comfortably. Not only does it use USB-C to charge, it's also wireless charging compatible! These earbuds allow for 7 hours of play time, and with the charging case, a full 28 hours.
The composite drivers with-in this design, offer excellent sound quality. Hitting play on your favorite music app, you'll experience, very clear highs, and nice deep bass, that doesn't overpower or distort the quality of the music. Included also, In-ear capacitive detection technology so they react when you put the earbuds in or remove them. The EarFun Air are rated IPX7, EarFuns SweatShield™️ protection, meaning they are waterproof against sweat during workouts, and even the possibility of accidental water immersion up to one meter.
These earbuds use bluetooth 5.0 for a stable and quick connection to your devices automatically. The touch controls work well, and didn't take much time to get the hang of the controls. Calls on the EarfFun Air earbuds are nice and clear, utilizing enhanced 4-microphone and noise-cancelling technology.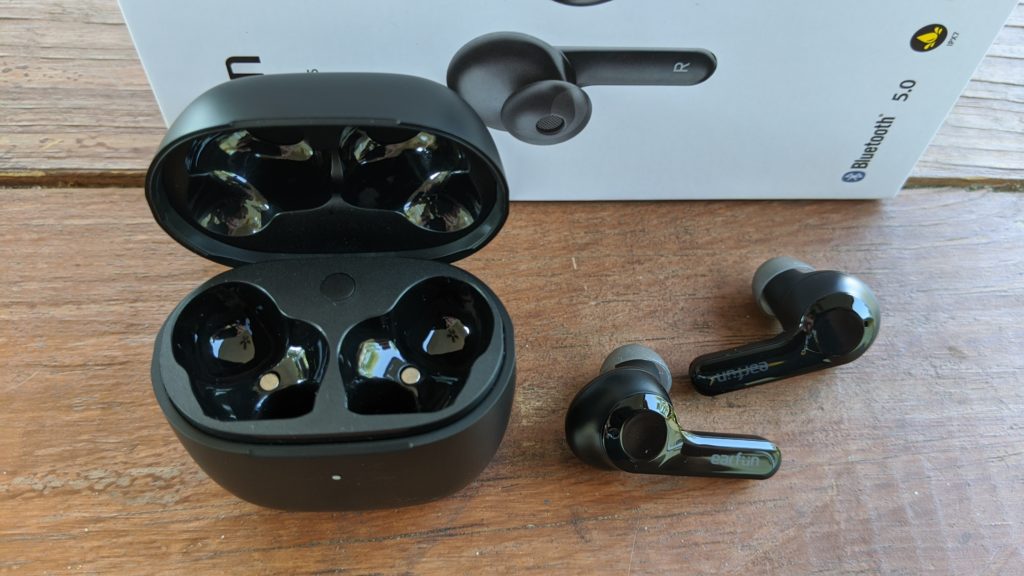 Conclusion
EarFun is a technology award winning company. I own a couple EarFun products, and they've been very impressive, and are being used today in my home. As an audio tech company, EarFun came away from CES 2020 with an Innovation Award, and also an iF Design Award this year.
I regularly used these earbuds, and I enjoy them to this day. They are at the higher end of the spectrum, when it come to "budget" priced devices, but they perform well, and are certainly work the price. You can find them at the Amazon link below!