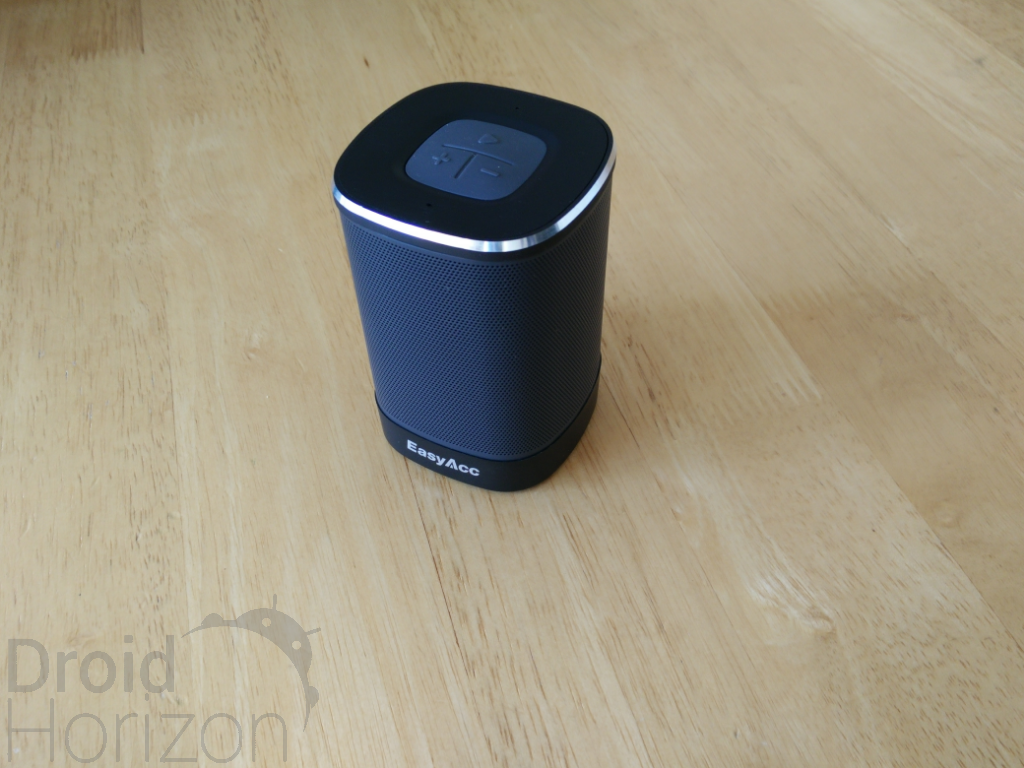 Review: EasyAcc DP100 Bluetooth Speaker
With a million and one Bluetooth speakers already on the market and the seven hundred fifty thousand we've already reviewed, in this piece we turn our attention to the EasyAcc Dp100. A solid performer at the lower price bracket but looks like a certain high end speaker by Sonos, namely the Play 1. (We'll share the Amazon link description at the bottom where you can read about the speaker referring to it's self in the third person and even mentions the striking resemblance to the mentioned speaker.) Very strange marketing indeed, but, doesn't deny the fact either. Anyway…
The EasyAcc DP100 is solidly built, once un-boxed you'll notice a little weight. I always prefer a bit of heft you could say. A more cylinder shape, with a nice metal band around the top. Size wise, think the same as a 330ml can of coke or soda but not as tall. I'm more than happy with the quality of construction, I'll mention solid again here to get the point across. I'd guess if it took a fall from a table, it might not be bad news. Would you cry into your cornflakes every morning if you broke a $36 speaker? Probably not.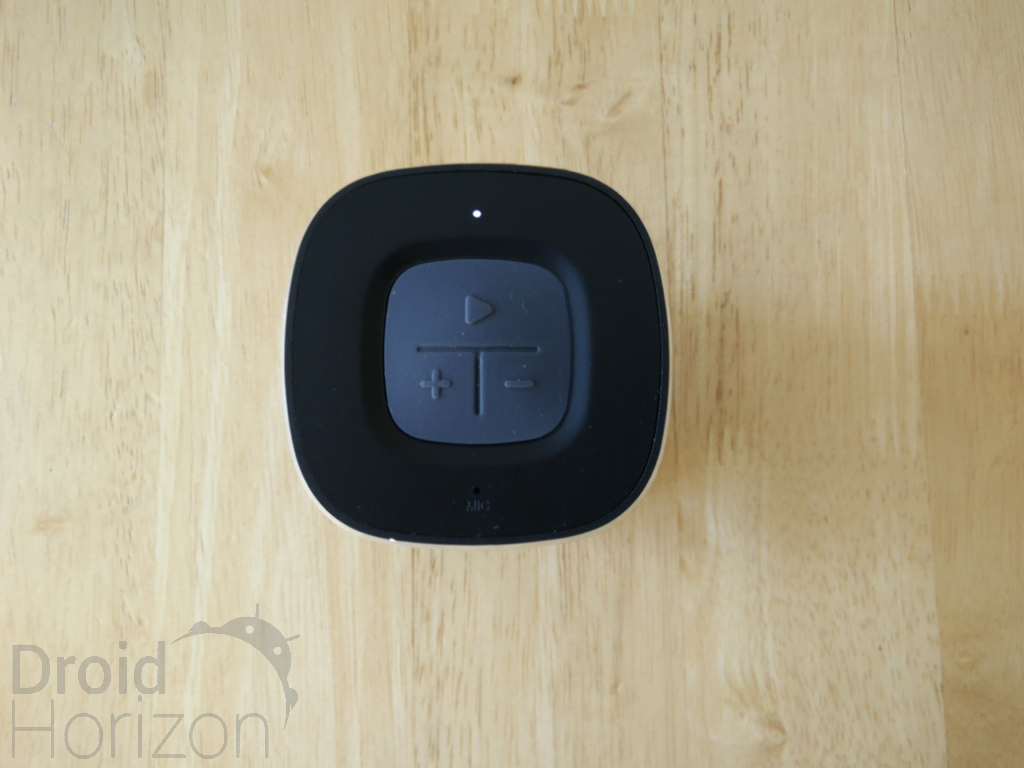 So what does the EasyAcc DP100 sound like? Yeah, not great but one wouldn't expect it to be even close to more expensive Bluetooth speakers. With a 4W audio driver, the Dp100 is certainly loud for such a small accessory but it's not a great noise at full volume unfortunately. EasyAcc didn't make the speaker bass heavy. Mids are fine-ish with the top end being a bit flat. An okay sound for the price point though. I wasn't expecting a great sound experience if we're being honest here.
At this point, I want to share a few things that aren't great aside from the audio experience. Item description mentions that the EasyAcc DP100 comes with Bluetooth 4.0 and CSR 8615 technologies. Yes, the device connected quickly with nice audio tone alerts but drop outs from 10 feet away are a common occurrence. (Tested on a few devices to make sure.) The forward skip and volume up are the same button. Skip forward with a quick tap, raise volume via long press. How many times I skipped a killer track that came on rather than turning it to 9 and a half, drove me bonkers. Best interact on your phone or tablet I reckon.
Rather surprisingly EasyAcc provide a nice unboxing experience, I was pleasantly surprised to find good packaging and a few extras.
Included
EasyAcc DP100 Bluetooth Speaker,
Charging Cable, (micro USB)
3.5 mm AUX Cable,
Grey pull-string cloth bag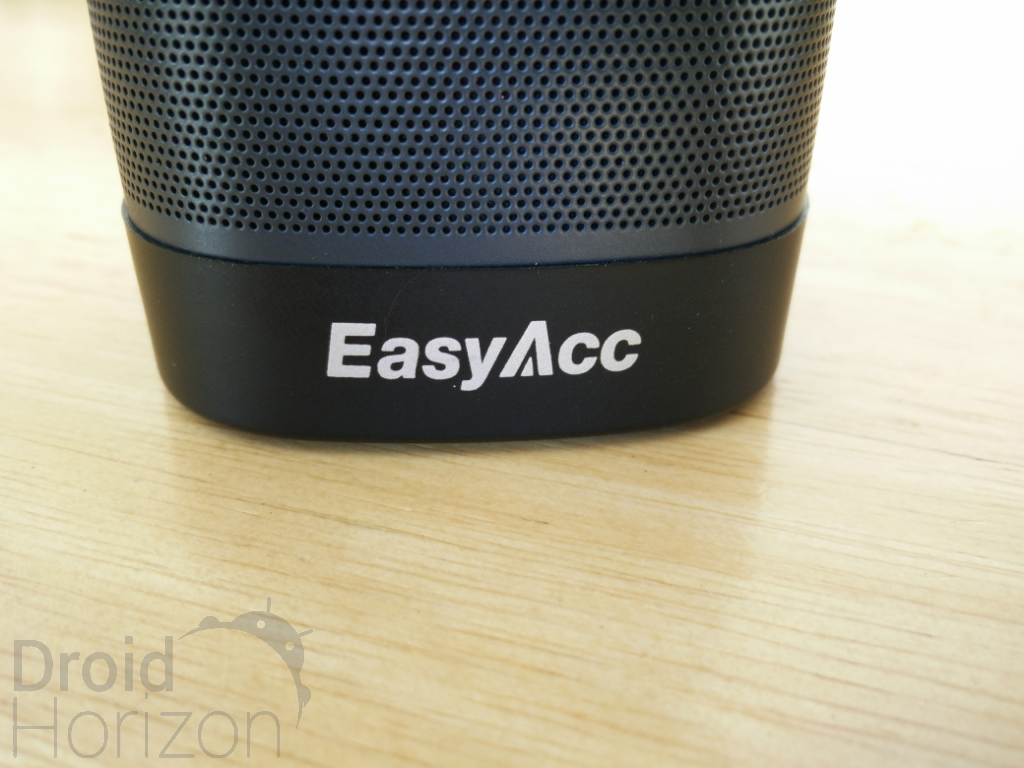 Would I recommend buying the EasyAcc DP100? Well, at this price point it's nearly a throw away item. I'd take it to the poolside (there's no IP rating so don't get it wet,) I'd throw it in my hand luggage if I'm going on a trip (inside the pull string bag included.) If I wanted to use a 3.5mm jack (possibly from an old MP3 player lying around), the option is there to do so as well. You get what you pay for with the EasyAcc DP100 a solidly built Bluetooth speaker with an audio experience you'd expect at the price point. A worthy mention of battery life is needed too. I've been using the device for the last two and a half weeks, nearly every night. The quoted 25 hours playback and 2500 mAh capacity is pretty accurate. I was impressed by this, most nights I was reaching for the charger only to find that night wasn't the night it needed charged. I haven't tested phone calls over the speaker because reasons starting with silly and ending with feature.
Where to buy EasyAcc DP100