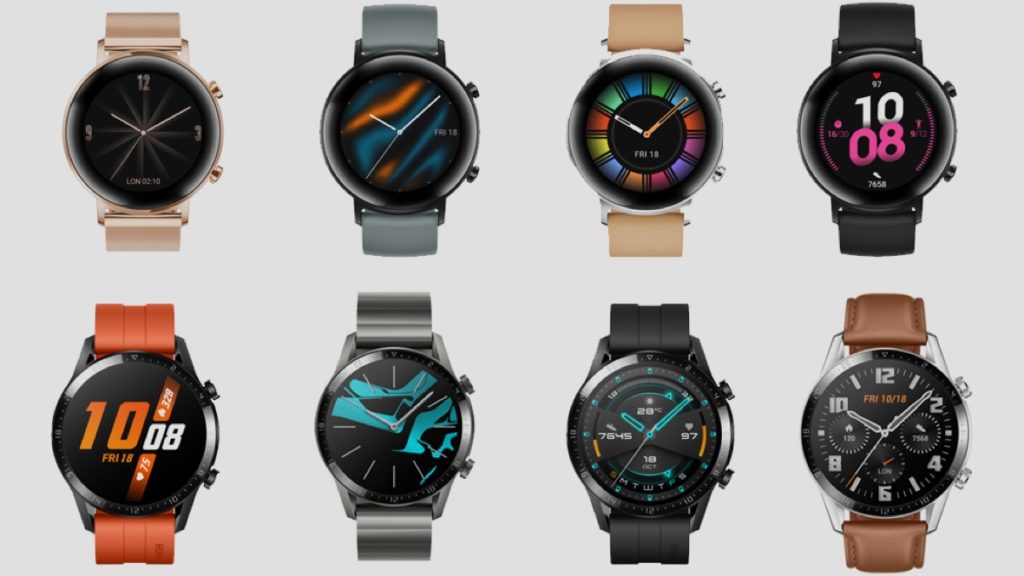 Huawei have updated their popular GT smartwatch with a new GT 2 line. These watches are releasing this month in a choice of three different editions and two sizes…
| | |
| --- | --- |
| 46mm 1.39″ (22mm strap) | Sport (Silicone Strap) |
| 42mm 1.20″ (20mm strap) | Classic(Leather Strap) |
| | Elite (Metal Strap) |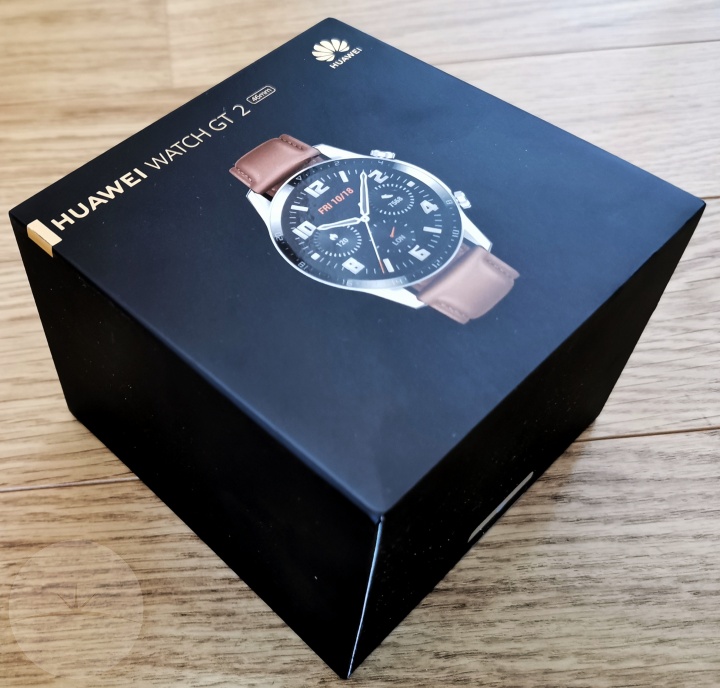 Thanks to Huawei I've been able to spend the last few weeks with the 46mm Classic edition. Keep reading to find out what it's like having this stylish and cutting-edge piece of technology strapped to your wrist.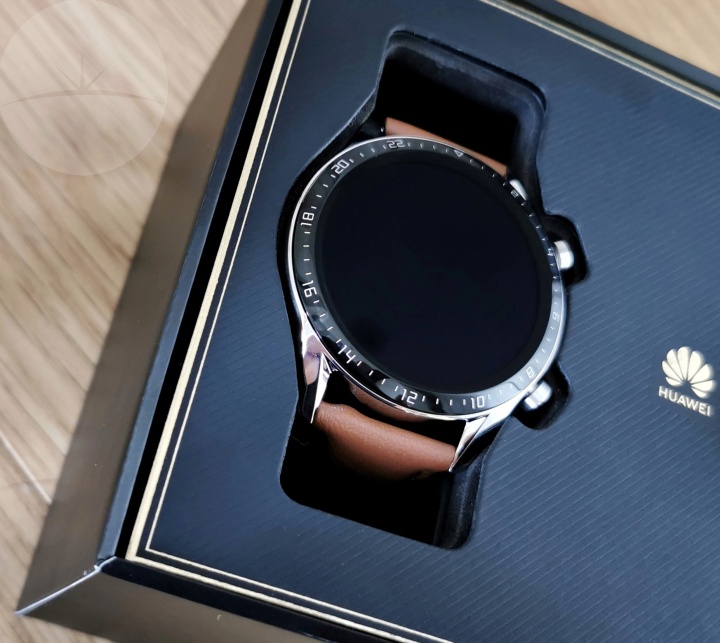 Design & Build Quality
Straight away on opening the box you're presented with the GT 2, which (apart from the black face) looks like a classically designed timepiece with sturdy stainless steel case and "saddle" brown leather strap. Delving deeper in the box reveals a circular magnetic charger with a standard USB Type C port (for use with the included USB-A to USB-C cable). Finally to allow this Classic edition to retain its waterproof sports credentials, you get a spare "graphite" black silicone strap that can be quickly swapped for the leather thanks to the use of quick release pins.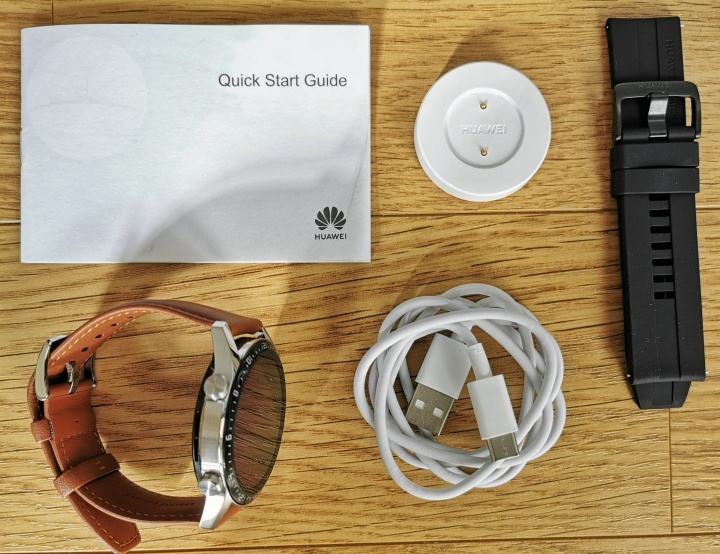 At the front of the watch, a seamless layer of 3D sculpted glass completely covers the screen and bezel. High quality matte black plastic has been used for the back, dotted with the optical heart-rate sensor and Pogo charging pads. There's also a couple of stainless steel push-buttons on the right side – the top button is used to activate the watch, switch to the app list or navigate backwards. The lower button can be configured to quickly activate your favourite function.

The materials used all seem top quality and overall I'd say that there's very little to differentiate the look and feel of this smartwatch from other classic premium watches on the market (apart from that display of course). Indeed what really gets the GT 2 noticed is the beautiful 1.39″ 454×454 resolution AMOLED touchscreen. It's sharp and vibrant, remaining easy to read in all lighting conditions and without glaring the eyes at night thanks to those pure blacks you get from OLED displays.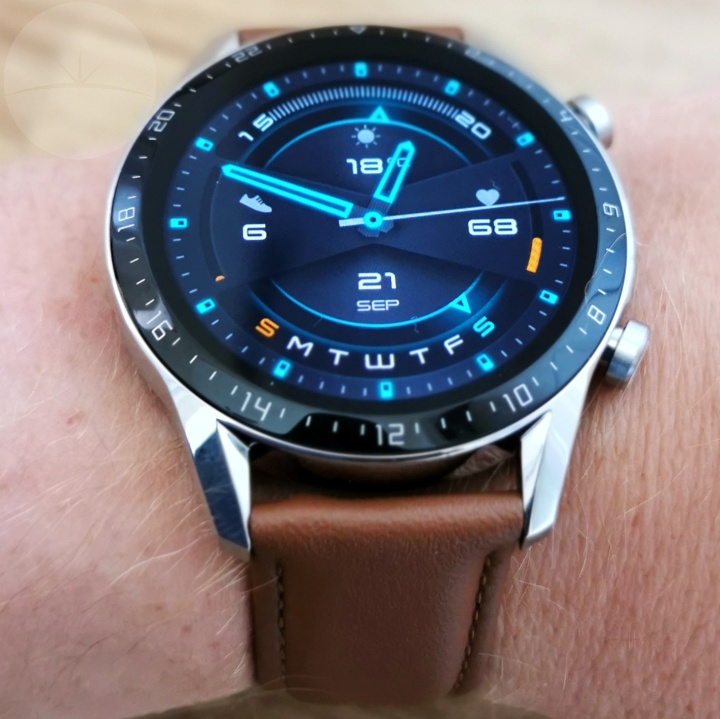 Features
With the previous GT model, Huawei abandoned Google's Wear OS for they're own lightweight LiteOS – and it's no surprise that it makes a reappearance here (especially considering the problems Huawei currently face getting permission to load Google software on their Mate 30 phones). With LiteOS, Huawei have been able to optimise the software for what it feels is important in a smartwatch – performance, fitness tracking and notification functionality rather than a full app ecosystem. For instance this 46mm version of the watch runs on just 32MB of RAM (only 16MB on the 42mm version).
Huawei announced their new Kirin A1 chip for wearables at this year's IFA conference, and the GT 2 is one of the first devices to make use of it (along with their Freebuds 3 earphones). This chip combines an advanced Bluetooth processing unit with an ultra-low power consumption application processor to offer enhanced wireless range (150M) and battery life.
Huawei state that this A1 chip only uses 10uA/MHz compared to the 30uA/MHz industry average, which combined with their lightweight operating system translates to a very respectable 1 week battery life for the 42mm version and up to a 2 weeks for this 46mm version. This is impressive for a watch with this much functionality – especially considering that you're lucky to squeeze a few days out of the main smartwatch competitors.
For fitness tracking the device has it's own GPS and heart-rate monitor, which combined with the accelerometer and gyroscope allow you to track a wide range of sporting activities including walking, running, climbing, cycling, hiking and swimming. Sleep and heart rate can also be automatically tracked with optional alerts that trigger when your resting heart rate exceeds a set limit for more than 10 minutes. When you're not exercising it can perform stress tests based on fluctuation in heart rate and even give you guided breathing exercises to calm you down.
The GT 2 has a built in speaker and mic that allow phone calls directly from the watch via Bluetooth connection to your phone (no separate SIM). There's also 4GB of internal storage allowing up to 500 MP3s to be stored directly on watch. These can then be played without carrying your phone – either through the speaker or by pairing your Bluetooth headphones to the watch.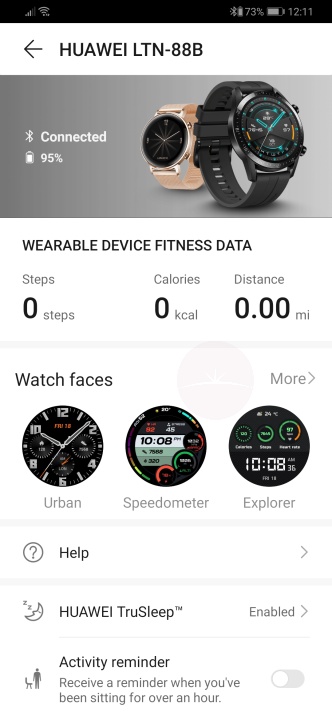 Huawei Health
Setting up the GT 2 with your phone is a breeze thanks to the Huawei Health app (available for Android and iOS devices). You need to configure your profile with the usual gender, DOB, height and weight info and then it leads you through a very straightforward process to connect to the watch.
A few simple settings can be selected from the watch but most of its functionality is controlled via this app. The app also lets you select which of the apps installed on your phone are able to send notifications to the watch.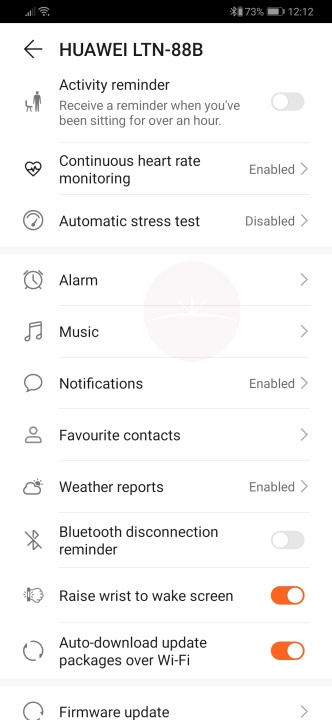 Simple day, week, month or year charts let you track your activity, heart-rate and sleep by time. From my testing the stats seem accurate and the app also analyses this data and provides professional advice. The Android version of the app I tried is also capable of automatically sharing this data with Google Fit and MyFitnessPal.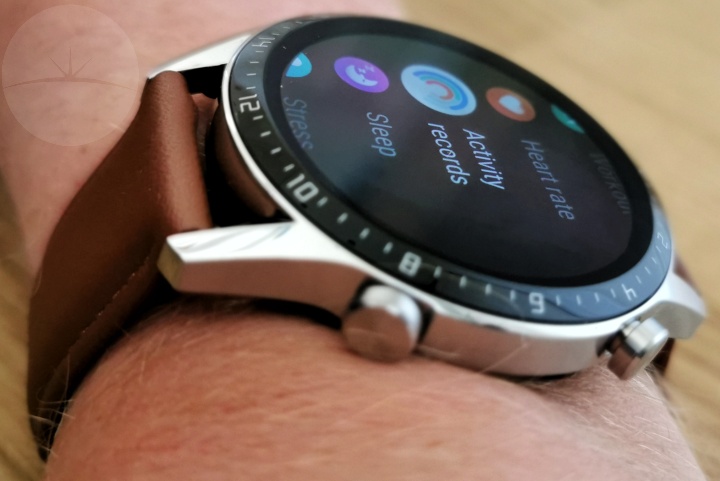 In Use
The GT 2 was comfortable to wear and didn't feel overly large or bulky on my wrist. It also feels significantly lighter on the arm compared to those smartwatch competitors I've tried. The UI is smooth and responsive with no noticeable stutters or lagging.
From my testing, battery drain was around 10% per day. This was when sticking pretty much to the default settings (smart heart rate and sleep monitoring, raise wrist to wake screen) and without tracking any activities using the built-in GPS. By adding a lockscreen (an optional always-on mode with the choice of either an analogue or digital face) this increased to around 15% per day. As you'd expect, using the GPS also drains the battery much more quickly but you can still get as much as 30 hours out of it.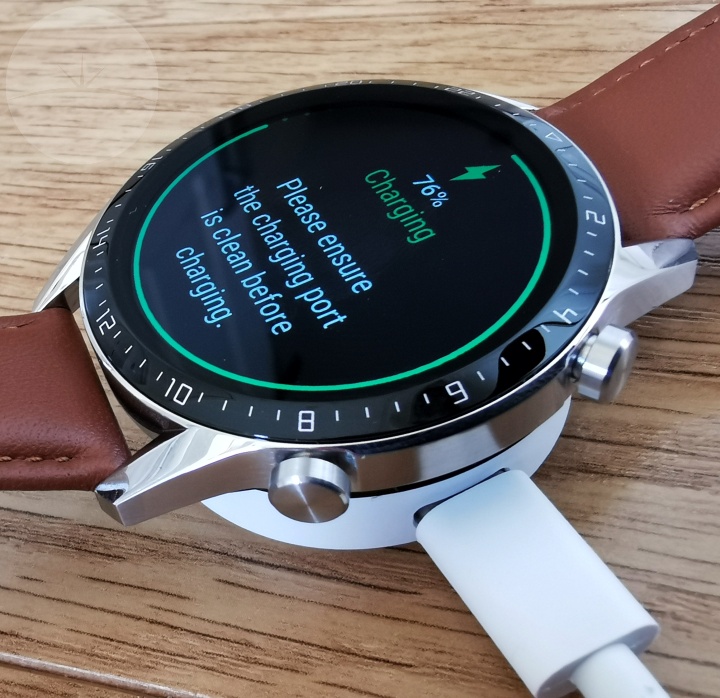 When it comes to charging, the white plastic USB-C charging disc automatically snaps magnetically to the back of the watch in the correct orientation. The lack of Qi wireless charging is a little strange considering Huawei's recent flagship phones offer reverse wireless charging. However (thanks to the magnets) the watch stays firmly connected to the contacts and I found it only takes around 1.5 hours to fully charge the watch.
While using the GT 2 as a speakerphone probably won't be suitable for public use, for those times when you're not concerned with being overheard it does work surprisingly well. The speaker is very loud and clear and there's no problems being heard on the call. The watch maintained a strong Bluetooth 5.1 connection with my phone at all times. With my phone in an upstairs bedroom I could even answer calls from the kitchen downstairs – a feat few Bluetooth speakers can match due to it being a notorious signal black-spot in my house.
I don't expect a lot from a watch's speaker, but Huawei have done a great job here – the GT 2 sounds better than some low-end phones I've heard and even makes a respectable attempt at music playback. I also found using this watch to control the music on my phone very convenient and now have this function mapped to the lower push button for quick access.
Having used a smartwatch with Wear OS in the past, I have to admit that after the initial novelty period wore off, I ended up rarely using the various apps available. I like being able to quickly check the importance of a notification by glancing at my wrist, but for more complex interactions it's just easier to get your phone out. With the GT 2, a subtle buzz on your wrist alerts you without becoming annoying and the message is presented clearly thanks to the large screen real estate. The only downside is that you do need to go back to the phone for any kind of interaction with the message (such as replies).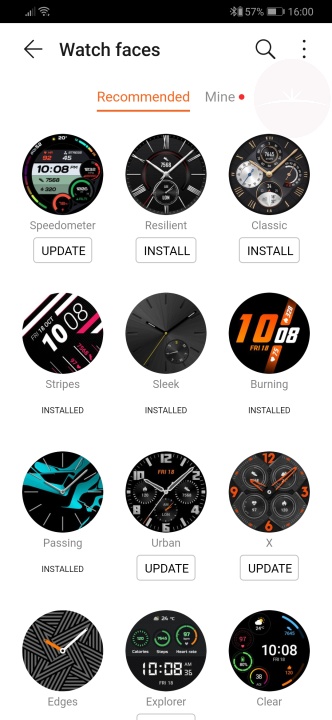 For me the other big smartwatch perk is being able to keep things fresh with a choice of watch faces. At the time of writing there are 22 faces available for the GT 2 – a decent selection with something for everyone. However I'd like to see these expanded further – maybe allow you to add your own photo as a background or even open up watch face development to third party designers.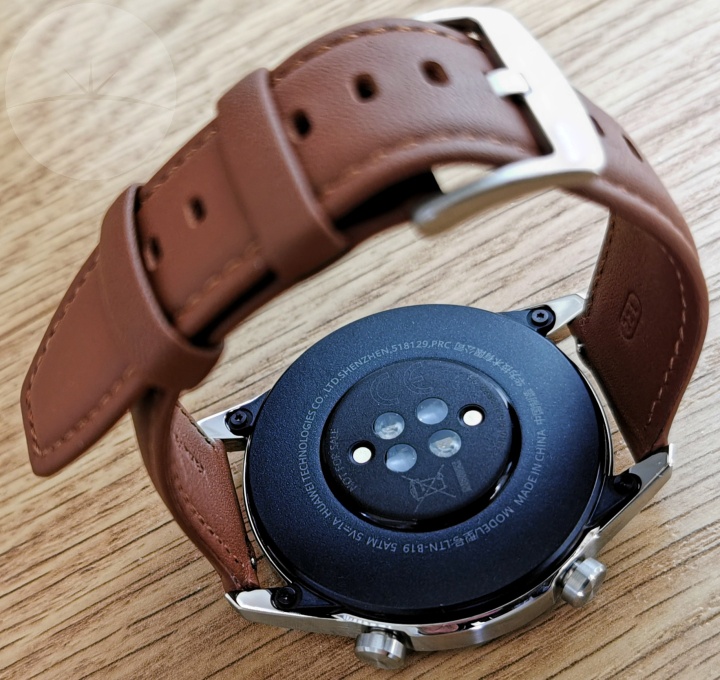 Conclusion
With the GT 2, Huawei have packed all the most useful functionality from a wearable into a high quality, stylish smartwatch. While they've trimmed some of the fat in terms of more advanced smartwatch features, I feel this is a good trade-off considering it has allowed them to deliver a device that runs smoothly, has a big, beautiful screen and killer battery life.
The €249 European selling price is very competitive in the world of smartwatches, but there are of course fitness bands available that offer a lot of the same functionality for less. The big difference is that the GT 2 looks like a premium timepiece and this makes it just as suitable for a night-out as a trip to gym.
The Huawei Watch GT 2 46mm Classic Edition looks and feels luxurious while offering extensive fitness tracking, notification, music and speakerphone functionality in a device that won't have you always running for the charger. If like me this covers what you're looking for in a smartwatch then the GT 2 does the job flawlessly and I can highly recommend it.