While road warrior writers have traditionally carried a notebook or laptop, if you're already carrying a tablet (or even phone) then adding a Bluetooth keyboard may be enough for your needs. If it's really portability you're looking for then how about a keyboard you can fold up and stick in your pocket?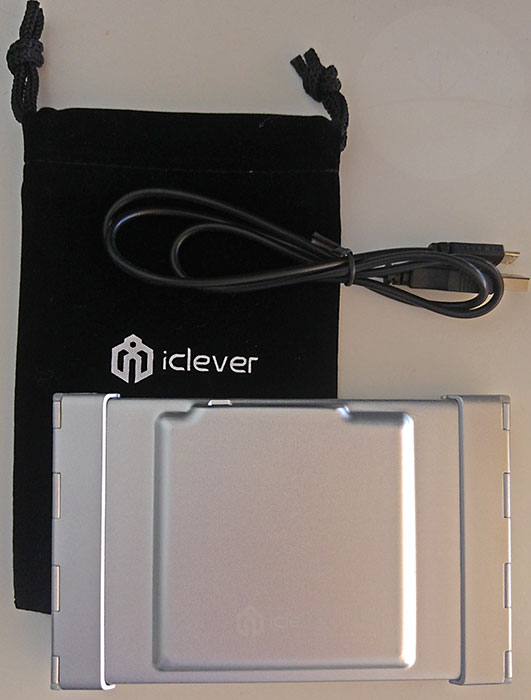 Build Quality & Design
The IC-BK03 has been constructed with an aircraft grade aluminium alloy shell which gives an impression of high quality and durability. A soft-touch draw-string carry pouch is included.
When folded it's highly pocketable at about the same length as my (5.5″ screen) smartphone, a little wider and around half an inch thick. Obviously when it's unfolded the length is doubled and the width halved making it a fairly slim little keyboard. At 180g the keyboard is pretty light-weight and you won't notice it when carried in a bag.
The hinges have been designed extremely well, snapping the keyboard securely in it's folded or open position but at the same time providing just the right amount of resistance to make folding and unfolding effortless.
Rather than have a wide gap in the keyboard along the hinges, it splits around the keys meaning that when unfolded this looks just like a normal chiclet keyboard – certainly a clever design from iClever.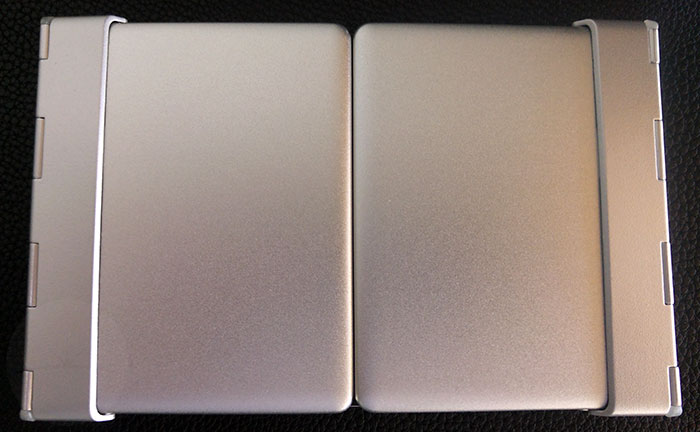 Features
This keyboard is compatible with Android, Windows or iOS which can be selected from a function key combination. This maps the keys correctly for your choice of operating system.
The top row of keys also double as function keys on Windows, or media and mobile controls on iOS or Android.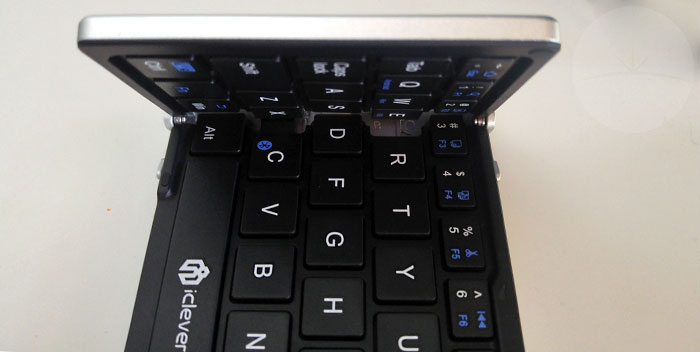 In Use
Pairing was an easy process, again initiated with a function key combination. Afterward the keyboard automatically switches on and connects every time it's opened and shuts off as soon as it's closed. I find this really convenient with no need for fiddly on/off buttons or switches.
Typing is your standard chiclet keyboard affair. Apart from the top row, all the keys are full size and give a pleasant typing experience that hasn't been compromised by the keyboard's portability.
Keyboard layout doesn't seem to vary by country with the unit shipping in the UK having a US layout. I've gotten used to this from other keyboards over the years and so for me it isn't a big deal, but those hunting for a £ key will be out of luck.

Performance
Bluetooth keyboards tend to use very little electricity and the IC-BK03 is no exception. I've given it quite a bit of use already and the lithium battery is still going strong. The keyboard will automatically shut down when it hasn't been used for a while, and a standard micro USB port is located at the top of the keyboard for when you do need to charge.
The usual 10 metre range is also supported by the keyboard making it a great option for media centre PCs.

Price
The current price for this keyboard on Amazon UK is £23.99 and $34.99 on Amazon US.  While this is by no means extortionate, there are cheaper Bluetooth keyboards available – some with integrated trackpads. What you're paying for here is the portability and build quality that set this keyboard apart.
Overall
iClever's IC-BK03 foldable Bluetooth keyboard has a fantastic design and impressive build quality. For those that would prefer a trackpad or don't mind carrying a larger device then there are certainly cheaper options available. However if you'd like to be able to slip a highly usable keyboard out of your pocket whenever creativity strikes then this is the one you want.
For more details check out the Amazon links below…