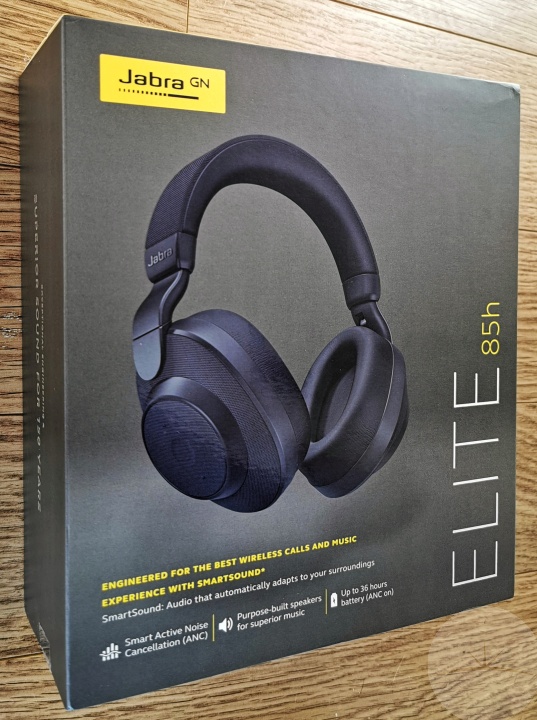 Jabra's Elite 85h are Bluetooth over-ear headphones boasting great sound and battery life along with effective noise cancellation that can automatically adjust to your environment.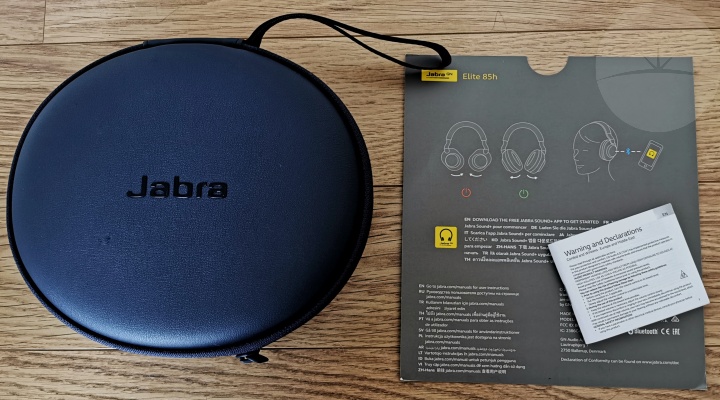 Jabra have created an Elite 85h colour for everyone, with five solid choices available – black, titanium/black, copper/black, beige/gold or navy blue (pictured). Packaging is on point and inside you'll find the headphones folded up inside a high quality zipped storage case along with both USB-C charging and 3.5mm aux cables plus a 2-prong flight adapter.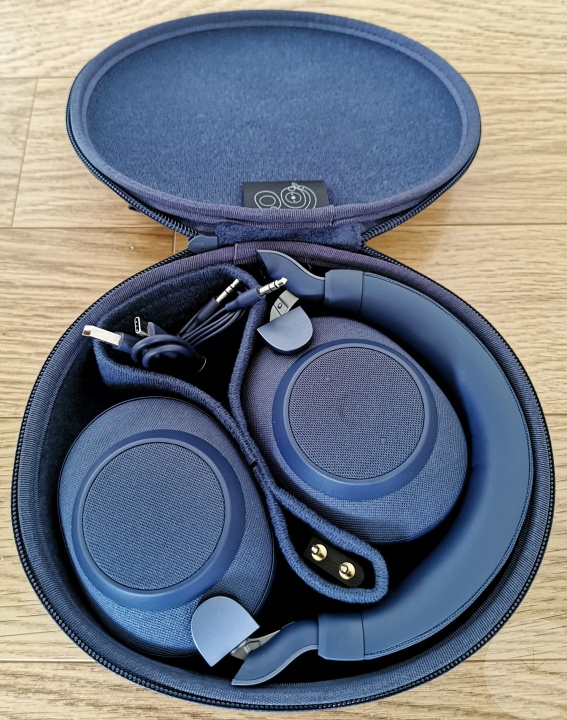 Although these headphones have a plastic construction, they feel well built with a premium feel thanks to fabric covering key areas. Internal components also have a rain and dust resistant nano-coating that Jabra backs up with a 2 year warranty. Overall I really like their understated look and the subtle Jabra branding at either side of the band.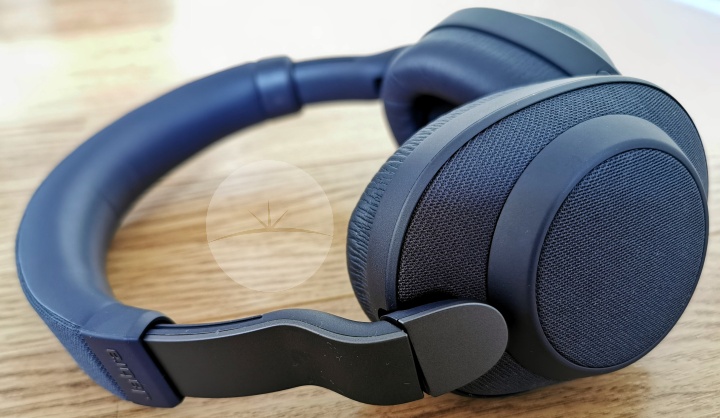 Both headband and ear-cups are well padded with soft foam covered in a high quality faux leather material. The headband extenders are easy to adjust as desired, while staying firmly locked in place the rest of the time. The oval cups fit over the ears nicely and feel secure on your head thanks to the pre-tensioned headband. Weighing in at 295g, these headphones are on the larger and heavier side, but I found they gave a good fit and felt very comfortable to wear for extended periods of time.
Having reviewed quite a few pairs of wireless headphones in my time, I'm used to them having loads of little control buttons scattered around that can be difficult to locate and prone to accidental activation (don't get me started on touch controls). Here Jabra have greatly simplified the controls, making Elite 85h very simple and convenient to operate.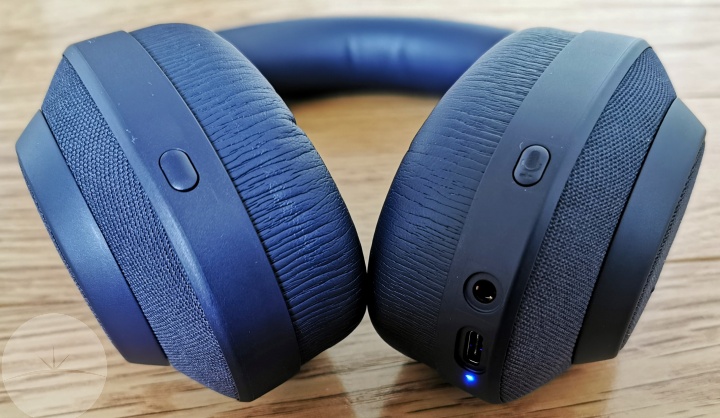 You won't find an on/off button since the action of simply unfolding / folding these headphones powers them on and off. There's a multi-function play/pause/answer/pair button hidden beneath the fabric of the right earpiece, with a volume button above and below. Raise your hand to either ear-cup and your thumb can easily locate the single button on each side – left to change the noise-cancellation mode and right to activate your choice of digital assistant (Alexa, Google or Siri). Finally there's an on-ear sensor that automatically pauses audio playback when you take the headphones off your head and resumes when you put them back on.
The convenience of these controls were illustrated when wearing these headphones in bed at night. Unfold to switch them on and a small LED on the right earpiece flashes as they connect to your phone so you know which way around to wear them (even in the dark). Accidental button presses were a thing of the past – even when laying my head sideways on the pillow. Half asleep and done listening? No need to wake yourself searching for fiddly controls – simply remove them from your head to pause audio playback and then fold to turn them off.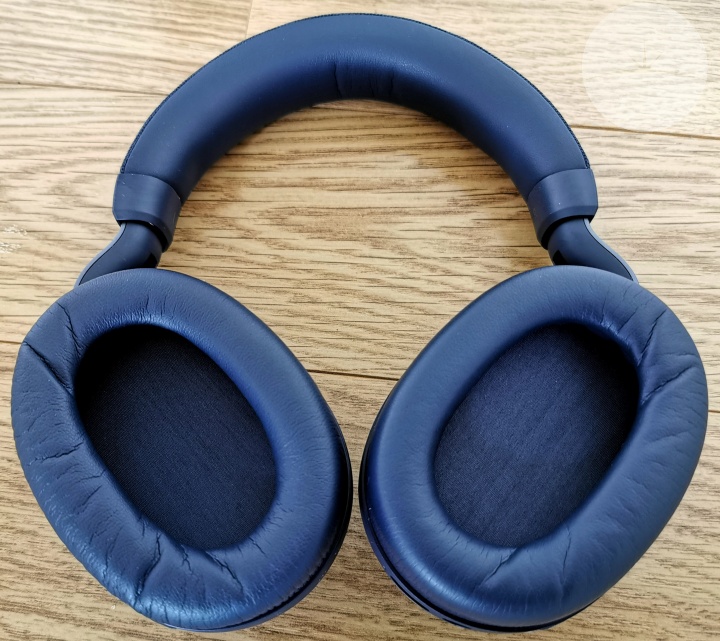 My one criticism of the controls is for those who like to wear headphones around their neck when not it use. When worn this way and with the headphones turned off (cups folded sideways), they do feel a little tight and restrictive.
Pairing to my phone was quick and easy. Bluetooth 5 reception was particularly strong, with playback continuing uninterrupted while walking far from the phone – around and even outside my home. Another useful feature is that the Elite 85h can also easily stay paired to two devices simultaneously, automatically connecting to the two last used without the need to fiddle with Bluetooth settings.
Another stand-out feature of Elite 85h is battery life, which is rated to last 36 hours with ANC (41 hours without). That's too many hours for me to accurately keep track of, but I can say that these headphones had still over 40% charge after a week of what I'd consider to be fairly heavy use. Even when they eventually run out of juice, a quick 15 minute charge with the USB-C cable will get you another 5 hours of listening time. A full charge takes up to 2.5 hours with LED colour changing between red, orange and green to indicate progress. You can even recharge while listening (although the supplied cable is a little short for this).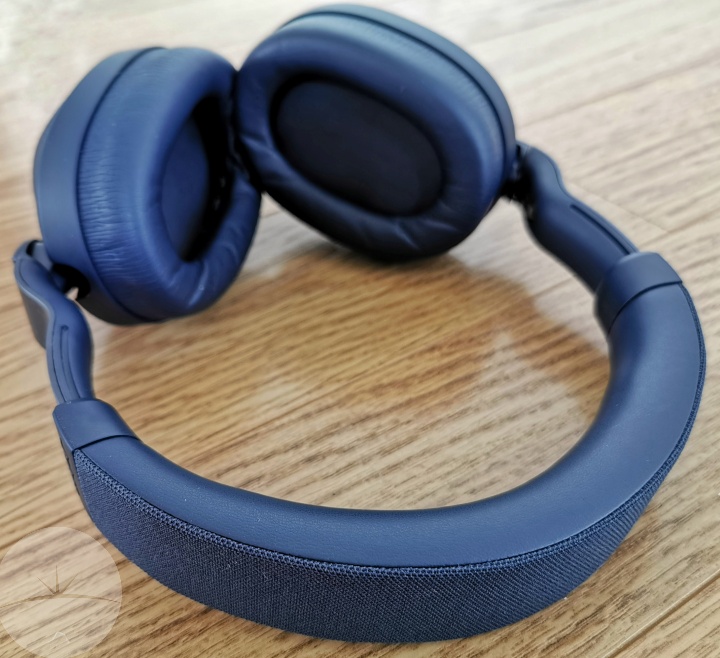 Elite 85h doesn't disappoint in terms of audio performance either, with a clear, accurate response right across the board. Bass is clean and natural. Mids are well balanced with excellent instrument separation. Highs are crisp and bright. Phone calls were also crystal clear, with no less than 8 microphones helping to reduce wind and background noise.
While the padded ear-cups provide a decent level of isolation, in noisy environments you'll want to enable ANC mode to block low frequency background noise. I found this noise cancellation impressive as it makes a significant reduction to ambient noise levels without degrading sound quality. HearThrough mode effectively does the opposite for those times you need situational awareness or to talk to someone – blending the headset audio with sound captured from its microphones.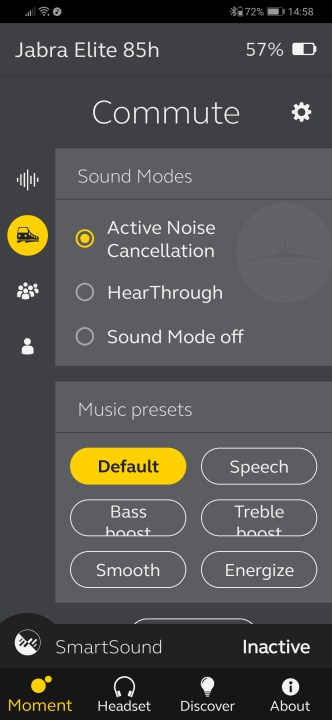 While these headphones deliver a sound consistent with what the artist intended, Jabra's accompanying Sound+ app allows you to tweak the EQ to your personal preference. A selection of presets are available or you can manually modify a response curve chart to give any signature you want. The app also acts as a user guide and lets you adjust certain headphone settings.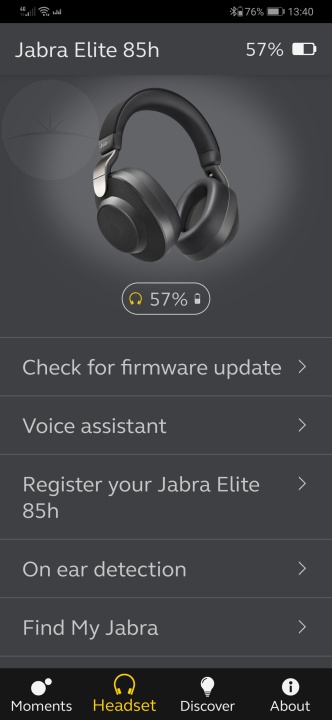 Within the Sound+ app, EQ and noise-cancellation settings can be saved under 4 different profiles that Jabra call Moments. You can hold down the left button to switch between these sound modes depending on your environment – Commute, In Public, In Private or My Moment (for custom settings). Alternatively a feature called SmartSound can auto-switch Moments for you by using the headset's microphones to analyse background noise. This works pretty well most of the time, but I ended up disabling the voice alerts that interrupt your listening every time a switch occurs. Personally I preferred to just switch Moments manually as desired.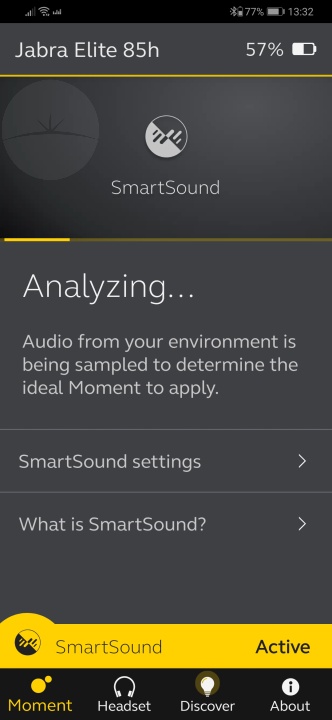 Overall I was really impressed by what Jabra have done with their Elite 85h headphones. Simple controls make them convenient to use, while sound quality, noise cancellation, comfort and battery life are all fantastic. The current selling price of $300 / £225 is also very reasonable for headphones in this class. I highly recommend you check out the links below for more details…