Some manufacturers are now making waterproof smartphones, but these models usually come with some compromises and unless you work in water or regularly engage in watersports then water resistance probably isn't top of your list of features when choosing a new phone.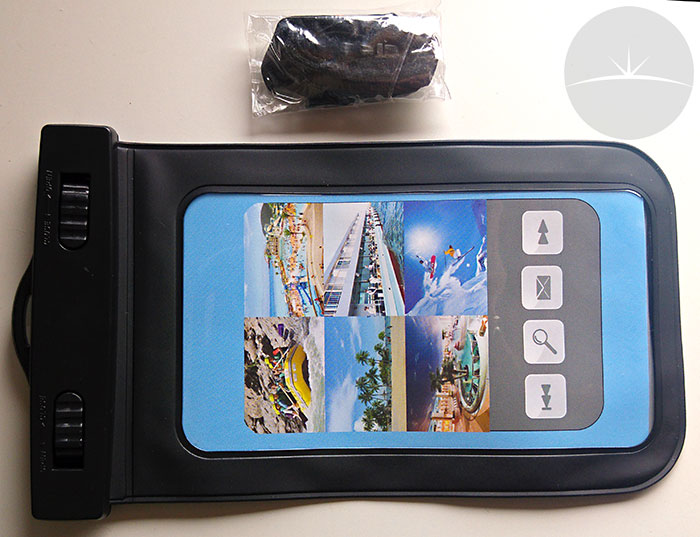 That's where the Kinzd waterproof cellphone pouch comes in – a one size fits all solution that allows you to seal your precious phone away from the elements. It could also be useful for protecting other valuables that you don't want getting wet like licenses and credit cards.
At just over 4" wide and 7" tall this PVC pouch is just big enough for the larger sized phones that are the trend these days. Of course small phones will still fit but may slide around within the pouch.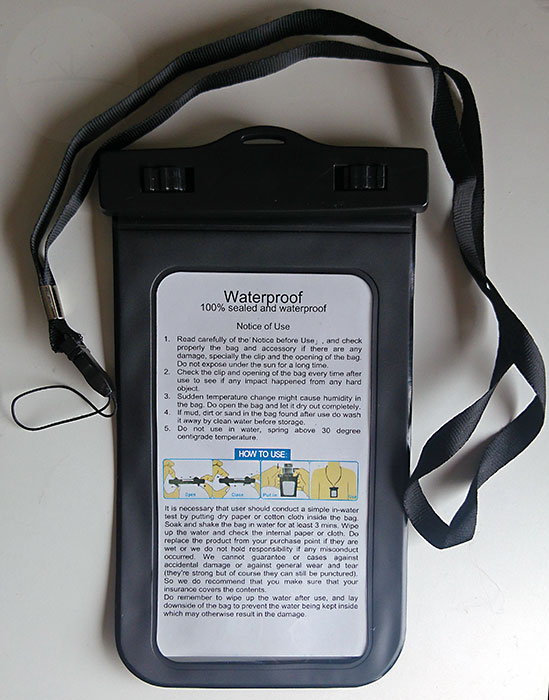 I tested it with my LG G4 which has a 5.5" screen and it fitted nicely – even with a case on it. The PVC on both the front and back are transparent allowing you full access to the screen and camera on your phone. Accessing side buttons may be awkward but as the G4 has it's buttons on the back this wasn't a problem for me. While the touchscreen sensitivity was reduced going through that extra layer of PVC, I didn't find this too bad and overall if you apply a little extra pressure then all the functions of the phone were still perfectly usable.
The opening at the top of the pouch has two plastic bars that clip together clamping the two sides of the pouch like a vice and thus preventing water seeping inside. The clips have a simple twisting mechanism that are easy to open and close once you get the hang of them. They seem secure once closed and I don't think there's much chance of them opening accidentally.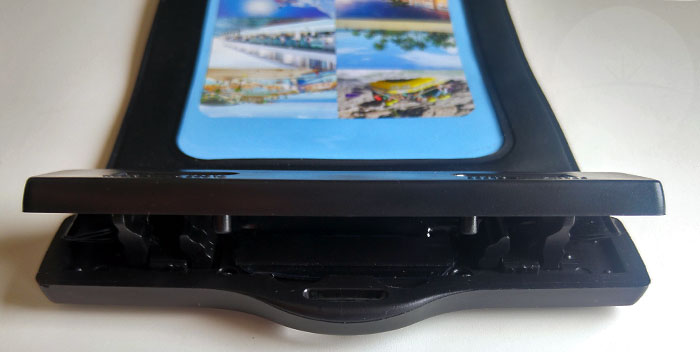 At the top of the pouch is a bar where the included lanyard can be attached for wearing the pouch around your neck – presumably when you're wearing speedos and don't have any pockets. If you're active with the phone hanging around your neck then it does tend to flail around. While it's fine for walking around the beach it may not be the best idea for more active sporting activities. I found having the phone upside-down in the pouch worked best so you can flip it over and use it with the lanyard at the bottom.
The manufacturer rates this pouch as being IPX8 waterproof which basically means it should be good up to a depth of around 3 meters. However the packaging comes with warnings about checking the pouch for damage, not keeping it in the sun for a long time and testing it with paper inside before use. While I realise Kinzd need to include these warnings to avoid being liable for accidental damage, they didn't inspire me with a lot of confidence.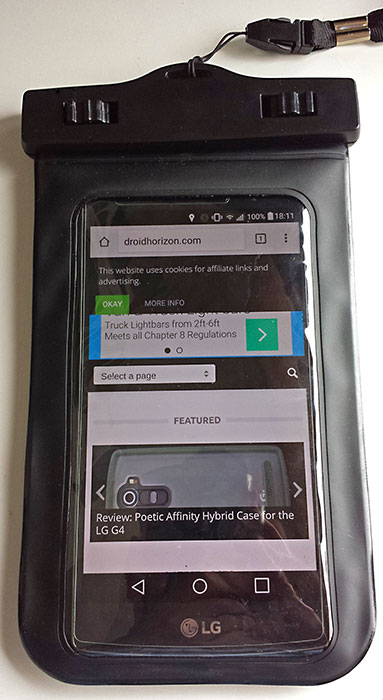 However my confidence improved when I tried the paper test and the pouch worked great at keeping out all traces of water. The only issue I had was with the lanyard which while strong and easy to detach, does absorb water making it a little uncomfortable to wear and taking a while to dry out.
I'll be going on a beach holiday in a couple of weeks and will definitely be bringing this pouch. Although the manufacturer says it can be used for swimming, I don't have insurance so I'd still be a little nervous. However it'll definitely give peace of mind when hanging out at the beach. Grains of sand can get stuck in ports or scratch up the glass on your phone, and as you know an accidental splash or drop into water could kill your phone dead.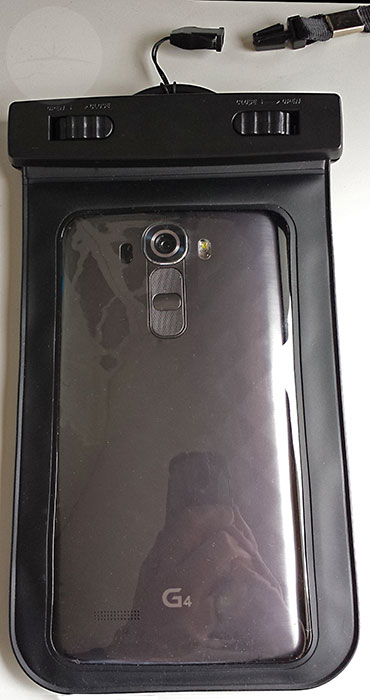 I wouldn't consider the current price of £6.99 on Amazon UK / $9.99 on Amazon US as expensive, especially compared to trying to get a water damaged phone fixed.
Although it's not something you'd want to be using every day, if you're going to be hanging around water then Kinzd's waterproof cellphone pouch is a handy accessory for protecting your phone from the environment.  Check it out from the Amazon links below…