Review: Become a walking disco with KitSounds Sonar Bluetooth Speaker
KitSound have made a name for themselves by making some great looking and sounding speakers and headphones. Some have come in  some weird and wonderful shapes. It used to all be about the sound, but not anymore. As now you can have an 80's disco in your own living room, and it's all down to the Sonar Bluetooth Speaker.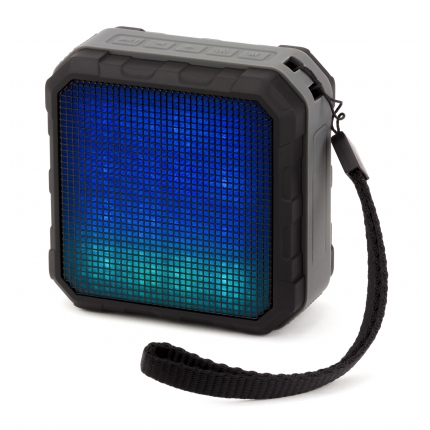 Most people use the rule "speakers should be heard and not seen", so they hide them away in the corner. The KitSound Sonar Bluetooth Speaker adds a whole new dimension when listening to your tracks. Now not only can you listen to Scorpions – Wind of Change, you can now see it represented in a miniature light show.
On the front of this tiny speaker is a panel of LED lights which change colour and flash along to whatever songs you are playing though it. There are five LED themes which blink happily away in different modes, with my favourite being the four-square block theme. This reminds me of school discos and dancing to the Spice Girls. These modes can be switched to, by pressing the top "mode" button, which cycles through all 5 light themes. Along with the "mode" button are the standard play buttons including play, skip etc.
The 4W Sonar speaker does a really good job at pumping out music. I picked up on that it especially loves heavy bass.  I understand that small battery-powered speakers like the Sonar are never going to blow you away, but it does produce a "room filling" sound, but only if you have a smaller room. I especially loved using it when out and about, when we went to the beach its perfect to listen to some music with, without annoying other people around us.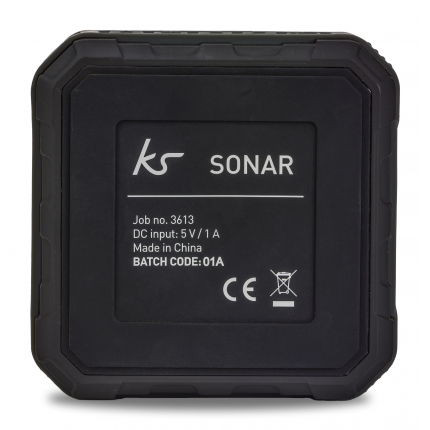 Specifications:
 Play time: up to 6 hours
 Bluetooth range: 10 m
 Output RMS: 4 W
 Frequency response: 100 Hz – 20 kHz
 Water-resistant rating: IPX4
 Aux IN
The IPX4 rating means that I can also use this in the shower, but not as a floatation device in the pool or bath. It works really well as a bathroom speaker, as the small room and tiles are perfect for the sound to resonate through. I love this speaker, and using it constantly normally when getting ready for work.
http://www.kitsound.co.uk/product/KSSONAR