The Lite Solar Charger is a 1500mAH external battery with an integrated solar panel.  Designed as an emergency battery to get your phone going again when you're off the grid, the high quality battery can hold it's charge for up to a year while the solar panel will provide a trickle charge letting you make a call even after just 30 minutes of direct sunlight.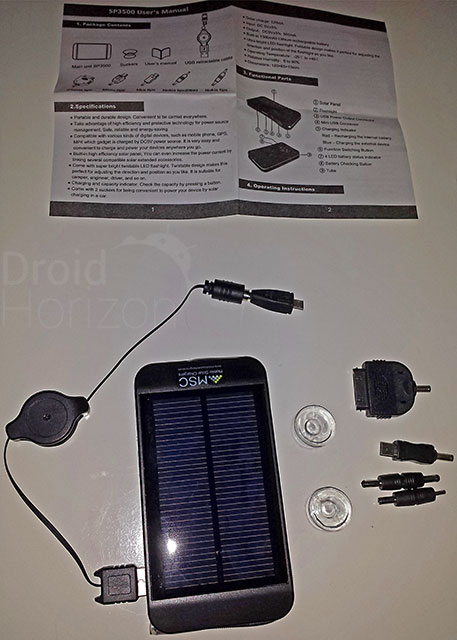 The charger comes with 2 transparent suction cups to allow it to be attached to a window, and a retractable charging cable with interchangable heads for Mini and Micro USB, Apple 30-pin connector and a couple of older Nokia models.
A nice bonus of this charger is the integrated white LED light that's attached to it on a flexible stalk.  It can be repositioned to any angle but folds nicely around the edge of the unit when not in use.  While brightness doesn't compare to a proper flashlight, it gives enough light for navigating in the dark and could be very useful in an emergency situation.  You could even use it as a little light switch by attaching the unit to a window where there's no electricity.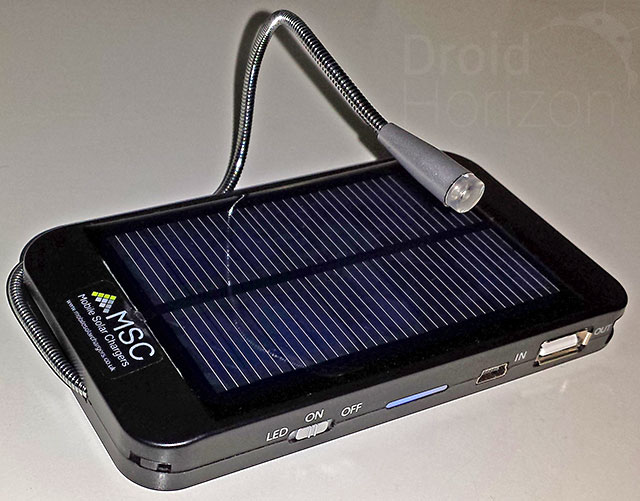 Along one edge there's an ON/OFF/LED switch, a status LED (red for charge going in, blue for going out), a mini USB port for input and a standard USB port for output.  Chances are if you are reading this then your phone has a micro USB port, so the inclusion of the older mini USB port means when you want to switch between input and output you can't use the same cable (or have to keep swapping heads on the retractable cable supplied).
Underneath the charger there's a button to check how much power you have left – holding it down illuminates up to 4 of the green 20%, 50%, 80% and 100% LEDs.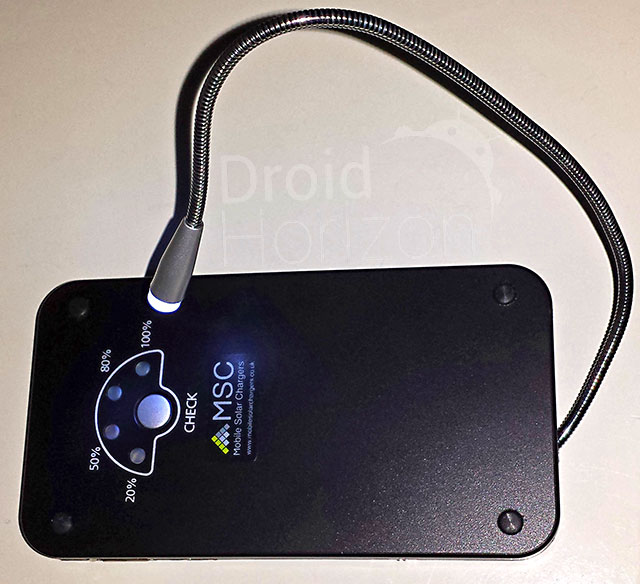 I found that charging my Samsung Galaxy S4 using the supplied retractable cable was slow and during heavy use battery levels could continue to drop.  The reading from the faithful Galaxy Charging Current app. showed that the cable only supplied ~380mA.  Swapping for a different cable improves the situation by giving the 520mA that the battery is rated for, but these days a 1 amp charge is more useful.  Fully charged this 1500mA battery was able to increase my S4's 2600mA battery by 39% in 1 hour and 40 minutes (screen off during charge).
We don't get a lot of sun where I live, and I'd become a bit sceptical about the usefulness of solar gadgets.  However this solar panel works really well and sitting on a window-sill on a cloudy day it was able to bring the completely flat battery back to reading 50% in just a couple of hours.
With it's lower capacity, low charge rate and older connectors the specs of the Lite Solar Charger seem a little dated for use with modern smartphones.  However it's a compact and robust little unit and with it's long charge retention and excellent solar trickle charge you can leave it stuck to a window and forget about it until the need arises.  At £14.95 it's relatively inexpensive and if you're stuck without electricity and badly need your phone (or an emergency light) then the Lite Solar Charger could prove very useful.  You can pick one up from Mobile Solar Chargers by following the link below…