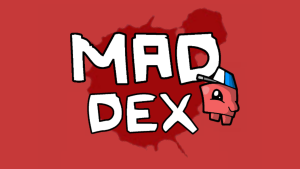 I don't make it a secret on my social network  feeds that I love indie games, of any description, and one of my favorite on the PC is a little game called super meat boy and I had been left hoping that it would be bought over to the android and ios platforms but alas no such luck, yet !.
However Mad Dex by Game guild have shall we say made their own version and well it's pretty damn close to the original Super meat boy.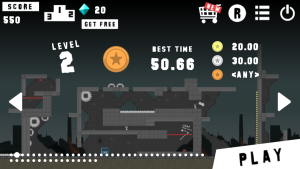 Now many of you that have read my reviews in the past know I'm not in the business of lying to you guys and this is no exception……. I didn't get far, in fact, level 3 is as far as I got, now for those who are not familiar with either mad dex or super meat boy the story goes like this, your girlfriend has been kidnapped and you have to make your way past saws and spikes and missiles collect keys to release her from her cage.
To be honest its the classic platform scenario which over the years has been tried and tested, the old saying goes if it's not broken don't fix it and I'm glad game guild have left the formula alone but at the same time added a few tweaks here and there to bring it up to date like a leader board which is time based per level ( a nice touch game guild ) it is, of course, an offline game excluding uploading your score and purchasing gems, yes that right IAP's those dread 3 letters we can no longer escape from.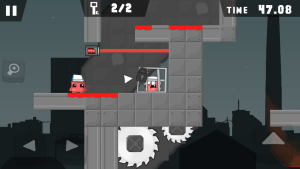 The gems can be earned in game depending on your end of level time and seem to be reasonably achievable but like I mentioned IAP's which range from  $0.99 to $2.99 and a $1.99 to remove ads ( which with indie games I always encourage people to pay to remove the ads at least to help the developer) so it's not badly priced either, and you can obtain free gems by watching a quick video play a wheel of fortune type mini game to win a max of 1000 gems.
But what do I do with them I hear you say well honestly not much other than skip levels.
Controls very very easy, virtual buttons left for left, right for right and jump pretty easy for everybody to play
This is free to download so go check it out im sure the dev would love to see those downloads rise you can get it from the link below.
And as always let me know your thoughts on it, what were your pros and cons to the game and don't forget to follow our social media streams