Review: Minix z64 Review
MINIX are a good guy company in my eyes. Each box I have been sent has been great, and I haven't had a single issue. This month Minix announced the latest addition to their device lineup. It comes in the form of the Minix Neo Z64 Mini PC. This name is fitting as this small device rocks the stability of Minix with PC-grade performance.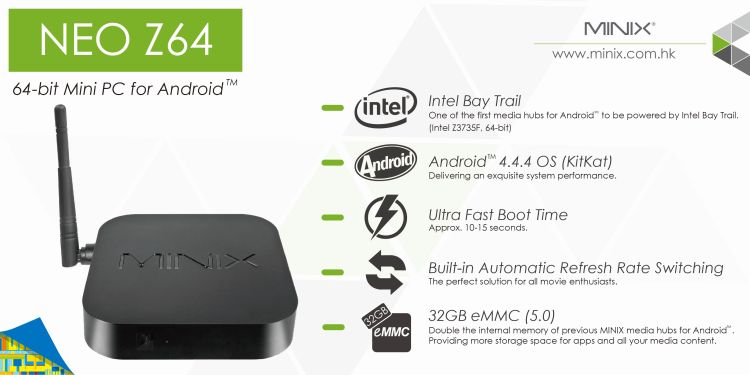 It's powered by an Intel Z3735F 64-bit processor with 2MB of cache and a Turbo clock of 1.83GHz. This is the same processor that powers most of today's Windows-based tablets.
Also in the tiny Z64 body, there's 2GB DDR3L memory and 32GB of eMMC storage. This should be plenty for most users purposes, but for those of us that want more space MINIX has also thrown in an SD card slot and two USB 2.0 for further expandability. Much like previous releases on theres nothing on the top or bottom except the Minix logo. The ports run along the edge including the already mentioned USB and SD card slots, a HDMI 1.4 for video output, 10/100 Mbits LAN, a headphone jack and a power DC IN on the rear. It supports Full HD output and playback and is also equipped with a 802.11n wireless card, hence the included antenna and finally it supports Bluetooth 4.0.
I was a bit disappointed to not see a gigabit ethernet port, and even more so to find there was no USB 3.0. Though this will only annoy a couple of people, as most will be happy with the spec.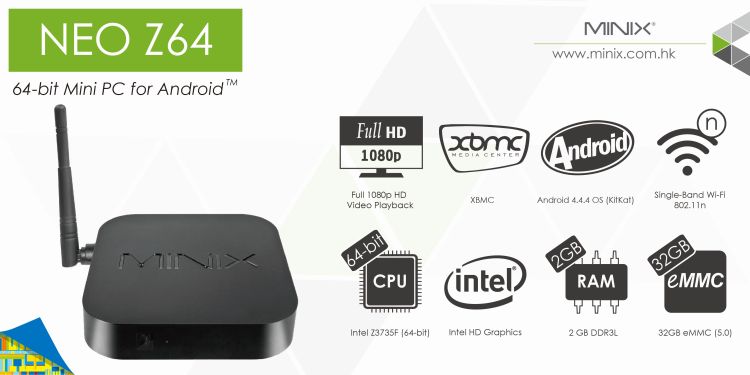 Currently the MINIX NEO Z64 is available in two variants one with Android 4.4.4 pre-installed, while the other with Windows 8.1 for £116 and £137, respectively. When looking at the prices bear in mind that the Windows box does include an OEM license for Windows, which I think is pretty darn good at that price tag and both include a remote control. The Windows box is also future proof, meaning it is Windows 10 ready.
I found the MINIX NEO Z64 to be a solid choice it handled any multimedia tasks I threw at it. While the specs may not be anything spectacular, the level of freedom to choose the OS is impressive and the built-in Intel HD graphics chip is more than enough to power Android gaming. I tested Steam on the Windows variation and found it capable of playing a large number of games without any issues.
The Android box also includes an FOTA system, meaning any updates are pushed automatically to your Android box. This brings with it new features, stability and any bug fixes. The Android 4.4.4 OS runs flawlessly and is almost vanilla except for a couple of Minix additions. There's little to no bloatware installed and the Metro launcher works really well on my big screen tv.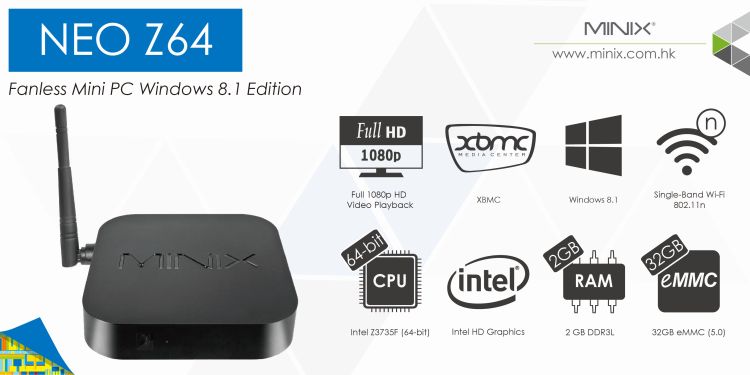 The housing of both boxes are a bit different from its predecessors (the X7 and X8). There is a slide for the IR remote mounted and the power led much more visible as its predecessors. The Minix Neo X6 and the Z64 received the same enclosure.
I currently have both of these hooked up to my TV. The Android box is my media centre, using the included Minix version of Kodi to watch all my TV shows and Movies. The Windows box has replaced my laptop and used for "arcade" gaming.
When I turned on my Windows box I was surprised to find nothing installed, as in no bloatware whatsoever. It is a fresh barebone system that is awaiting your input. This is a fresh approach from the laptops and tablets sold with a load of crapware bloatware installed.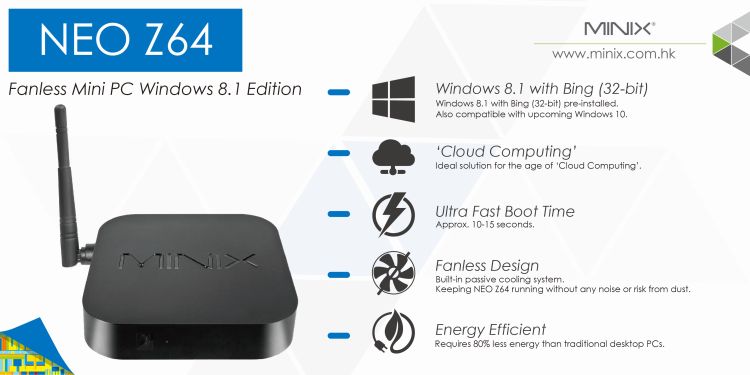 Overall both boxes performed perfectly. Minix have given you a choice this time around, allowing you to pick the OS you want running on the box. Or you can get both and have the power of two boxes!
Check out Minix for more information – www.minix.com.hk/Products/MINIX-NEOSeries.htm
Both boxes are available on Amazon: