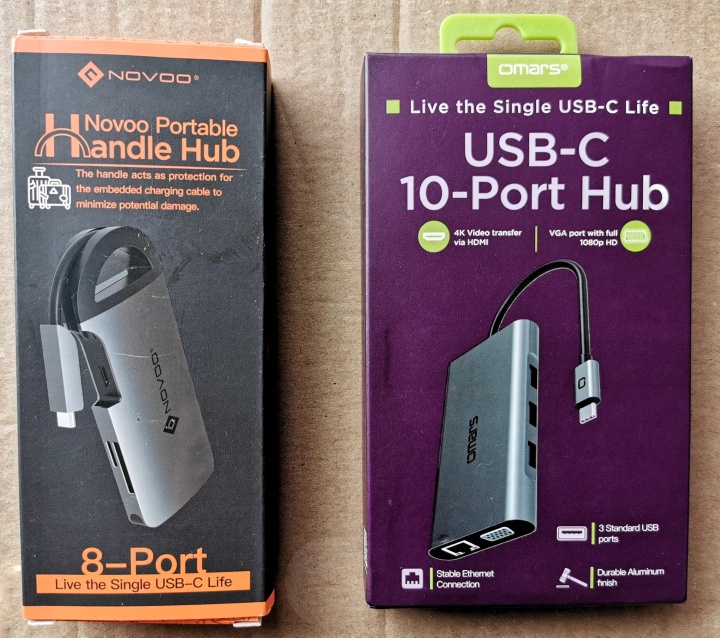 Laptops no longer need a bulky, proprietary docking station thanks to the power of the USB-C port. Today we're taking a look at a couple of USB-C hubs that will allow you to quickly add USB 3.0, Ethernet and video ports (along with a couple of memory card slots) – all from a compact accessory that takes very little space in your laptop bag.
Novoo Portable Handle 8-Port Hub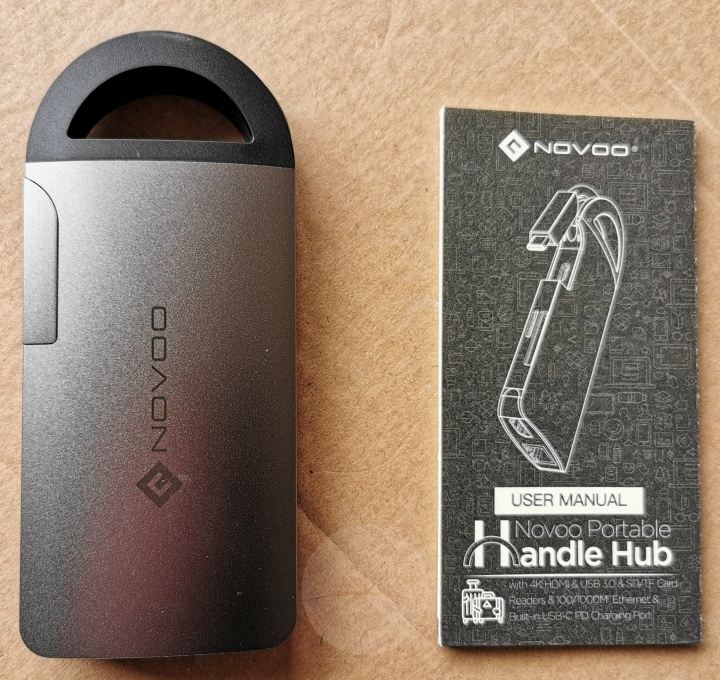 The design of the Portable Handle hub from Novoo has been optimised for portability by adding a D-shaped carry handle that also doubles as protection for the integrated USB-C cable. When not in use this cable's connector feeds in along the handle and into a special storage slot on the side.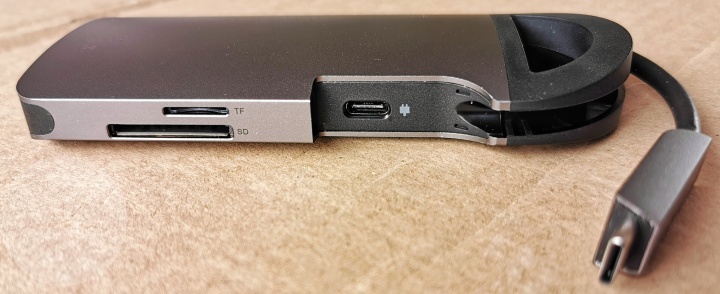 Behind the cable storage slot is a USB-C PD port that can be plugged into a Power Delivery compatible charger to deliver up to a 60W charge once the hub is connected to your laptop (assuming it supports PD). Also at this side there are SD and Micro SD card slots, while along the opposite side you get three USB-A 3.0 ports. Finally on the end we have the Ethernet and 4K HDMI display ports.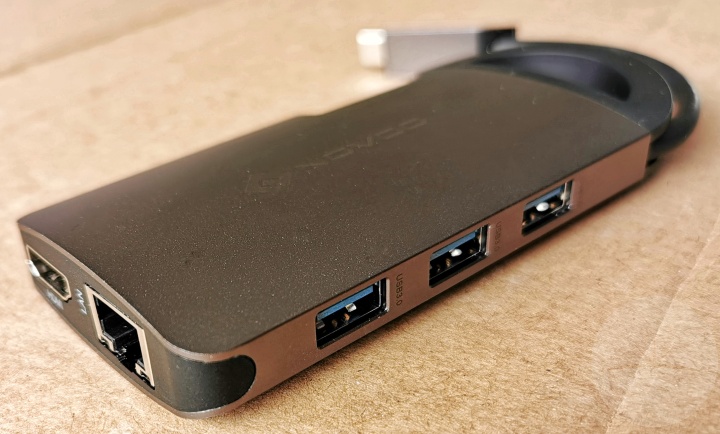 Omars USB-C 10-Port Hub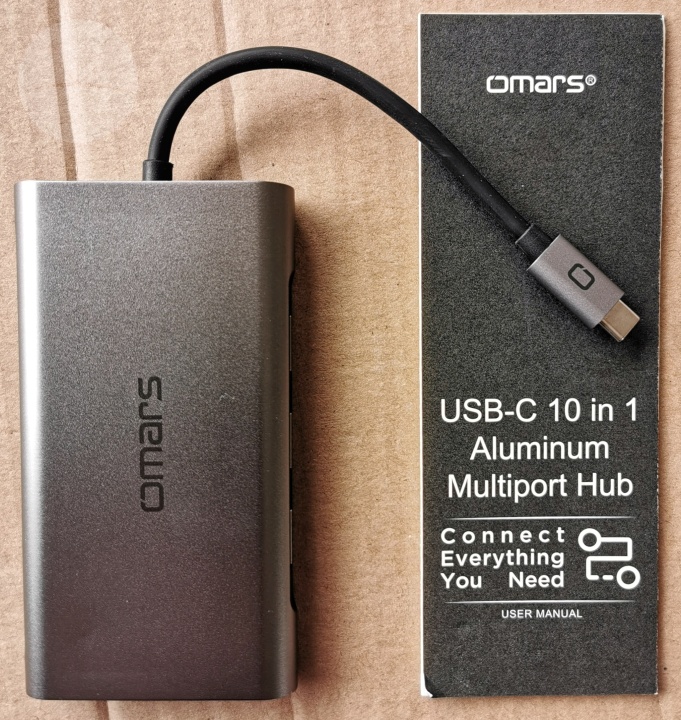 You lose the handle / cable protection with this slightly larger Omars hub, but otherwise it has a very similar design and build quality. Again there's three USB-A 3.0 ports along one side with a USB-C 60W PD port and both SD and Micro SD card slots on the other. However the card reader side also houses the 4K HDMI port plus a 3.5mm audio in/out jack that's not available on the Novoo model. Ethernet stays on the end but this hub also adds an extra VGA monitor port.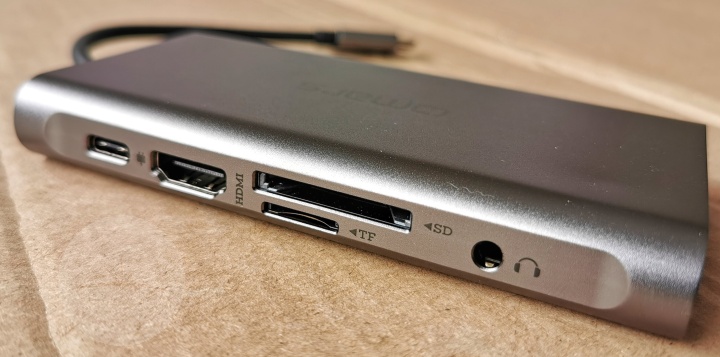 Build Quality
There's not a lot to separate these two hubs in terms of build quality – everything seems top-notch with high quality connectors and an anodized aluminum alloy shell. Both hubs have a premium look and feel that fit in nicely with many of today's high-end laptops.

Performance
Again these two hubs are very similar in terms of specs and performance.
60W USB-C Power Delivery (up to 20V/3A)
3 x USB 3.0 A ports with up to 5V/1.5A output capable of data transmission speeds up to 5Gbps
4K@30Hz HDMI up to 3840×2160 resolution
RJ45 Gigabit Ethernet (10/100/1000Mbps LAN)
The difference being that the Omars model also adds…
VGA up to 1920*1200@60Hz
3.5mm Stereo Audio Output + Mic Input supporting the CTIA Standard
I used a Dell laptop to test both hubs and came away very satisfied with the performance from both. Everything worked quickly as advertised with no glitches, heating or compatibility issues.
Conclusion
I can definitely recommend both of these USB Type-C hubs. While the Novoo model is slightly cheaper and more pocketable, those that need to connect analogue audio devices or older monitors will need to go with the Omars device. Regardless you won't go far wrong with either of these well made and high performing hubs.
For a short time we've managed to arrange some significant discounts on these hubs for our readers. Check them out from the Amazon links below…
(Currently 5% off until May 27th)
(15% Discount Code: MYS6AMVO until May 31st 11:59 PM PDT)
(20% Discount Code: 8KEMCIWU until May 24th 11:59 PM BST)
(15% Discount Code: RQLMKLN8 until May 31st 11:59 PM PDT)