The rise of the tablet is certainly putting the squeeze on the laptop market.  For surfing, media consumption and casual gaming they often offer a better experience than a similarly priced laptop.  However when it comes to getting a serious bit of work done, a touchscreen just can't compare to the accuracy of a proper keyboard and mouse / track-pad.  Google's strategy has been to offer Chromebooks for the road warriors who need to do a bit of typing and keep Android for their mobile devices, but the overlap between the two keeps growing with many expecting the two operating systems to converge at some point in the future.
If you're tablet isn't quite doing the business, you could of course buy and carry a separate laptop-type device.  However instead what if you could just add a keyboard and track-pad to your tablet?   While Android and most of it's apps have been tailored for touchscreen use, most devices can support mouse and keyboard use via USB-OTG or Bluetooth.  In fact manufacturers such as HP and Lenovo have started offering laptops running Android.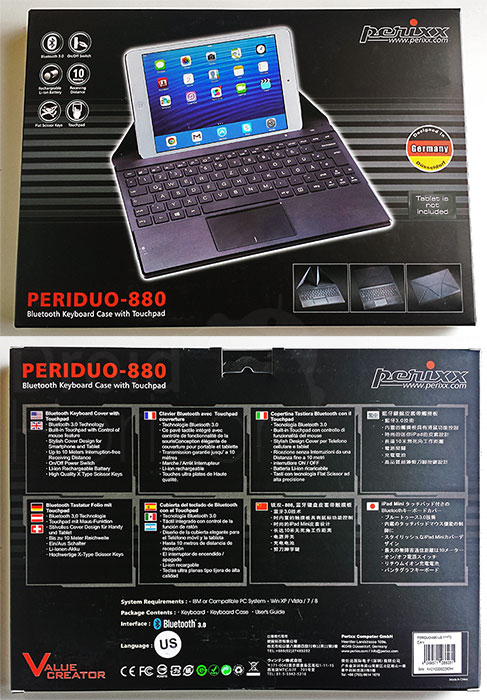 That's where Perixx comes in with their Periduo-880 keyboard / touch-pad combo.  It can connect to any Bluetooth 3.0 compatible device (for Android this is usually a tablet or mini PC, but it will also work with Windows and Apple devices) and give you a laptop-style experience.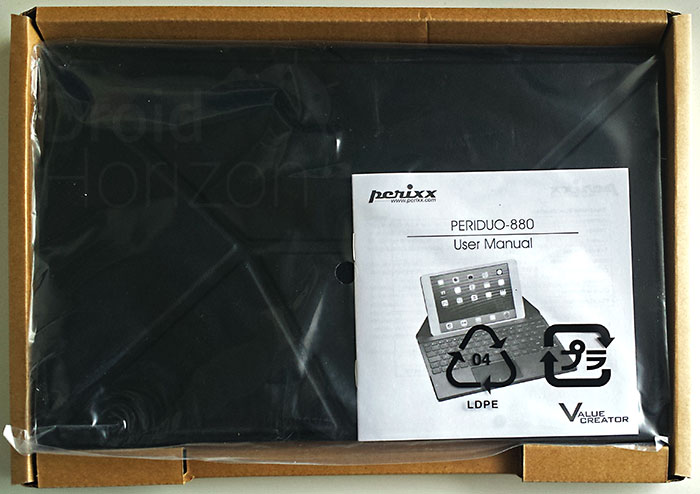 The Periduo resembles a slim netbook with a cover instead of a screen, and this cover can be folded origami style into a stand to prop up your tablet.  Once folded a magnet keeps it in position, and the first thing that surprised me was just how stable this stand is.  On a flat surface it holds your tablet very securely and you can tap away at the touch-screen without any wobble.  Even sitting on a bed or on your knee the stand does a great job of holding the tablet, and while the angle isn't adjustable I found it good for most situations.  The cover can also be folded comfortably under the keyboard so that it's out of the way when using it with something like a mini PC.  Finally when you're travelling the cover snaps over the keyboard and again stays in place by magnets keeping it clean and protected.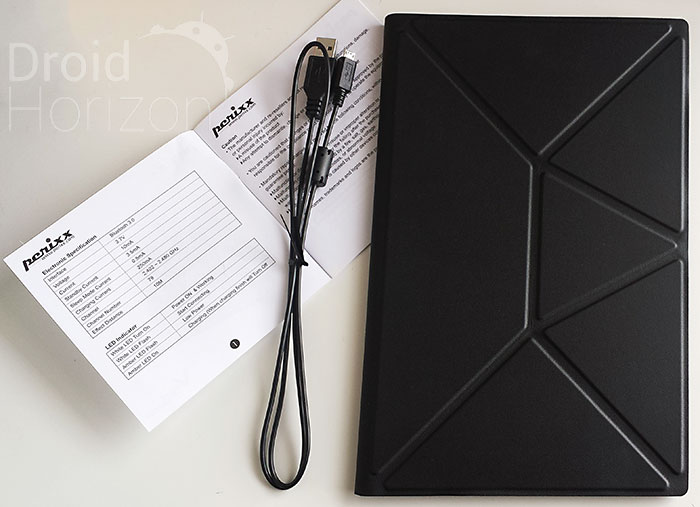 The Periduo's body and cover are coated in a grippy black rubberized plastic which as well as helping to hold the tablet, keeps the base from sliding around when left on a smooth surface.  The device is well made and gives an impression of durability.
At the side of the keyboard is a micro-USB port for charging and an on/off switch.  If you hold this switch up for a few seconds a Bluetooth LED flashes to let you know it's in pairing mode.  Doing a Bluetooth scan found the keyboard easily, and once selected you are prompted to enter a numeric PIN on the keyboard.  Type this and press enter and pairing is complete.  Your device will recognize the keyboard and use it when available.  Unfortunately this PIN code means if you plan on using the keyboard with more than one device, you'll need to repeat this pairing process every time you switch.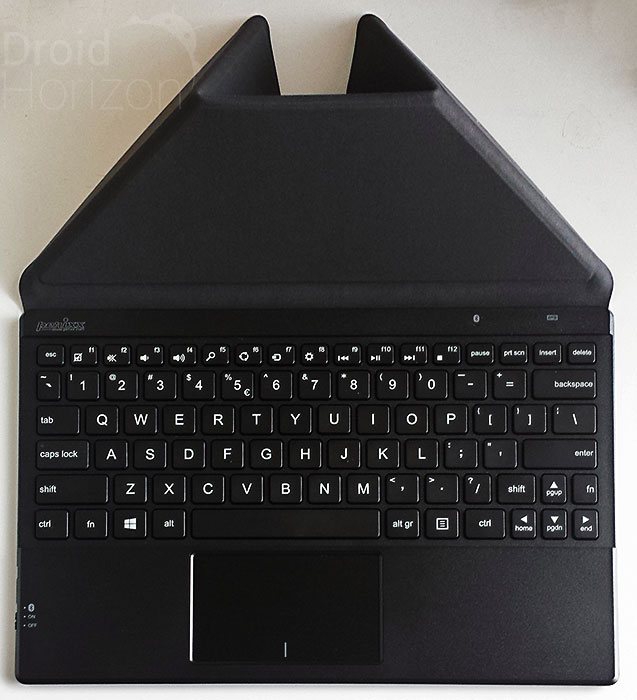 Straight away you should have a mouse cursor which you can move with your trackpad.  The trackpad is nice and responsive and I had no issues navigating around the screen.  Pressing down on the bottom-left and bottom-right of the trackpad gives you your left and right mouse buttons.  These require quite a bit of force to register which results in the occasional missed click during use.  On Android the function of the right mouse button varies depending on the manufacturer.  On my mini PC and S4 it's the equivalent of the back button which once you get used to is very handy, but my Nexus 7 treated it the same as the left button.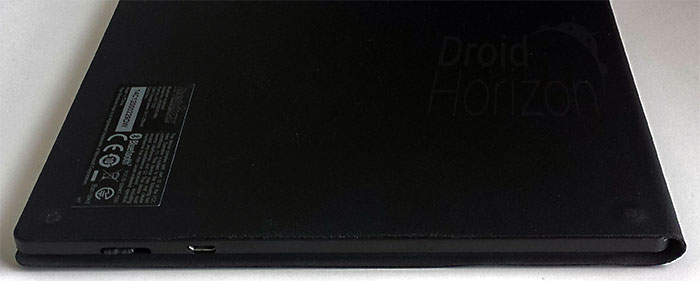 I found the keyboard really nice to type on, being roughly equivalent to a decent laptop keyboard.  The model I'm reviewing is the US variant so if you're in the UK like me the layout is slightly different and you won't find any pound sign.  However it's perfectly adequate for the vast majority of typing I need to do.  The function keys double as media controls by holding down a fn key, and I was able to use them to adjust the volume and pause/play/skip media.  As this is a universal keyboard, some keys don't work with Android – most notably the delete key which I found irritating.  Again this isn't a fault of this keyboard, but of how Android and it's manufacturers implement keyboard support.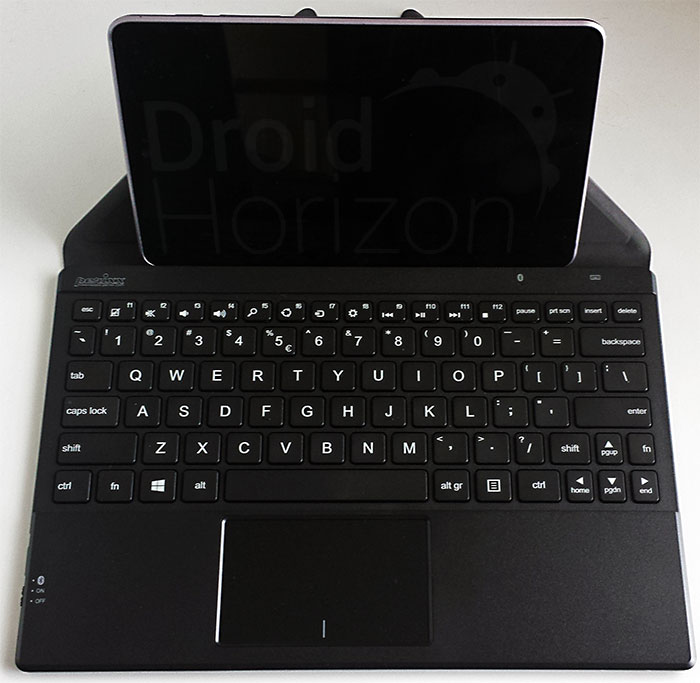 Battery life wasn't an issue with the Periduo-880 automatically powering off when not in use – it just takes a key-press to wake it up again.  I was able to use it for well over 3 months before the keyboard / battery amber led indicator began to flash.  Then it was only a matter of plugging it in for a few hours and it was good to go again.
Overall if you have a tablet and want to use it to do a bit of typing then I recommend you take a long look at the Periduo-880.  Android still has a bit to go compared with operating systems designed with a keyboard in mind, but with Google's apps such as Chrome, Docs and Sheets improving all the time it now means if you do add a keyboard and trackpad then you can usually get the job done (this review was typed on Android using the Periduo).  Currently priced at a penny under £50/$50 it's much cheaper than buying a second device and is slim and light enough to fit inside most bags.  Plus it's universal so you'll not only be able to use it with the tablet you have today, but keep on using it as you upgrade.  It also makes a great keyboard and track-pad for a mini PC / media centre PC connected to your TV.
You can find more details on the Periduo-880 along with their complete range of accessories at the Perixx website.  It is also available to buy from the Amazon links below.
Pros
Proper laptop style keyboard & track-pad
Slim & light
Cover / stand combo
Battery life.
Cons
Stiff track-pad buttons
Need to pair every time you switch devices