Review: Playbulb Rainbow from Mipow
I have reviewed some other MiPow products in the past, and was happy to hear they also did a smart bulb. The Playbulb Rainbow looks just like any standard light bulb. It is a good deal smaller than its bigger brother the Playbulb Color, the Rainbow has a more conical shape and also means you can use it with a lamp shade.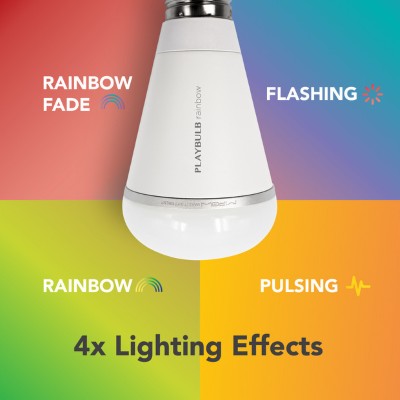 The Playbulb Rainbow has a matte white material covering it, with a ring of brushed silver near the top, just below the actual light bulb. The bulb portion of the rainbow takes up more space than the Color, which means it gives off more light in my living room. Though don't think that more light means that you can't go for a bit of mood lighting. In my testing I found it could light a small bedroom, though did struggle with my living room. But the lower price meant that if needed you could get 2 or 3 and have them working together.
The Rainbow's LED puts out about 700 lumens. This puts it a little brighter than the 600-lumen Philips Hue Connected Bulb $199.00.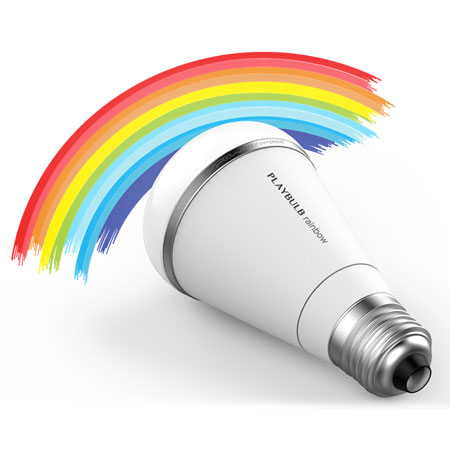 Setting up the bulb was incredibly easy. Its a three part process, screw it in, download and open the app, and then connect to the bulb through the app via Bluetooth. I was able to connect to it using my S6 Edge, HTC M8 and Kazam.
The app can be a little slow at times. The home screen houses all of the Rainbow's color controls. A color wheel sits in the center of the screen where you can select from a multitude of shades. Below that is a color saturation slider with a selection of four swatches further below that lets you select pure red, green, blue, or white shades. An Effects button is located right next to the swatches. Tabs for the Music Player and Scenes are on the bottom of the home screen, with toggles for Shake and Color up top. Toggling off Color reverts the bulb back to pure white, whereas toggling on Shake lets you choose a light random color by shaking your device.
One feature I used more than once was for the bulb to flash colors like I was at a rave. The Rainbow effect makes the bulb shift from color to color, and Rainbow Fade gradually phases the colors into each other in a soothing manner. I did find some of the settings to be a little too fast for my liking, when I'd rather have a slow fade.
The Scenes section of the app allowed me to take a picture, or load one from my phone, and then select a color from within that picture. There are three preset scenes available: Rainbow, Sunset, and Reading. Just like with scene creation, you can select a color from a picture of a rainbow, or a color from a picture of a sun setting behind a field of wheat, and so on.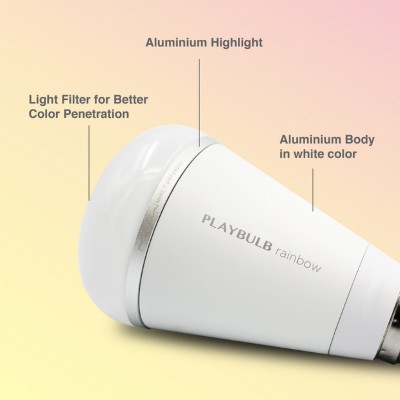 The Playbulb Rainbow is a great color smart bulb for the low price point of £40. It provides a good amount of light and it can phase through the colors of the rainbow in a pleasant, soothing manner. It requires no hub and is simple enough to set up basic effects and scenes. If you have £40 spare, and want a smart bulb for the home then the Rainbow is a good choice.