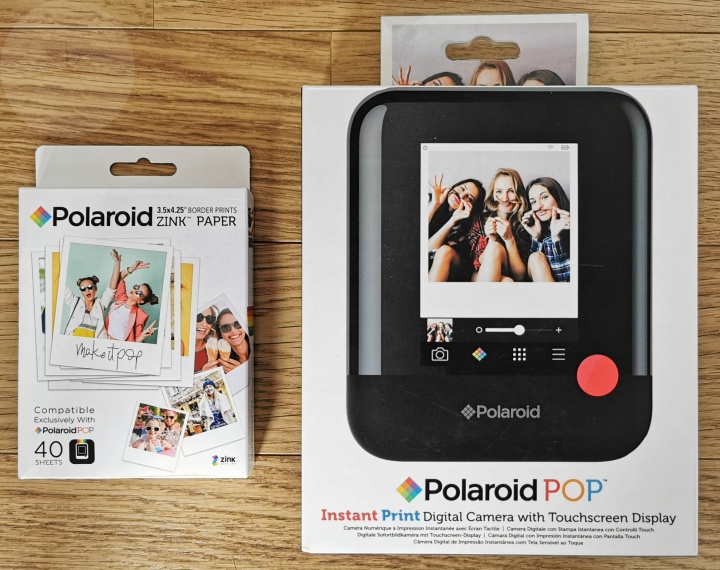 Back in the day you needed to wait to get a look at your photos – filling your roll of 36 shots and then bringing it to the pharmacy to get them developed. It was at this time that Polaroid made their name selling their iconic self-developing Instamatic camera. Fast forward to 2019 and we now have Polaroid Pop – an integrated digital camera and printer that delivers these same kind of photos on the move.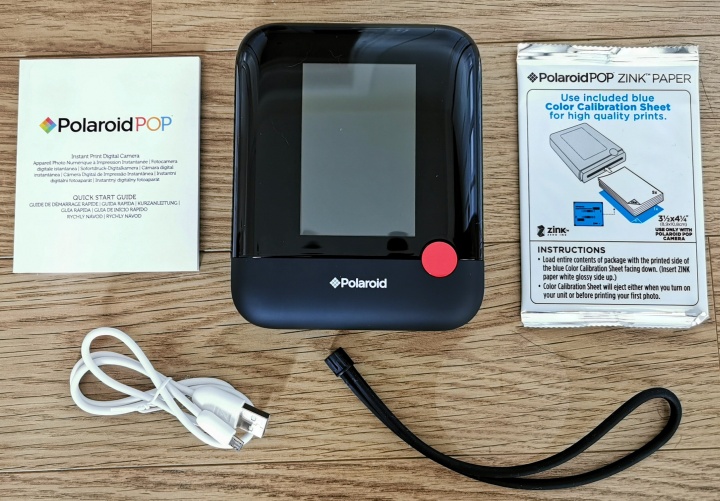 Apart from being around an inch thick, the Pop is similar in size to a 6″ x 4″ photo. It has a rounded shiny black plastic shell with a magnetic cover at the bottom (available in a selection of matte colours). A red shutter button and 3.97″ LCD touchscreen are located at the front, while an extruding camera lens and flash are on the back. There's a photo output slot on the top, while inside the magnetic cover there's another thicker slot where a pack of paper gets loaded. Also inside there's a MicroSD memory card slot to expand the internal 10-shot storage capacity, along with an attachment socket for the silicone wrist strap. To charge the device you need to plug the included USB cable into the Micro USB socket on one side of the device.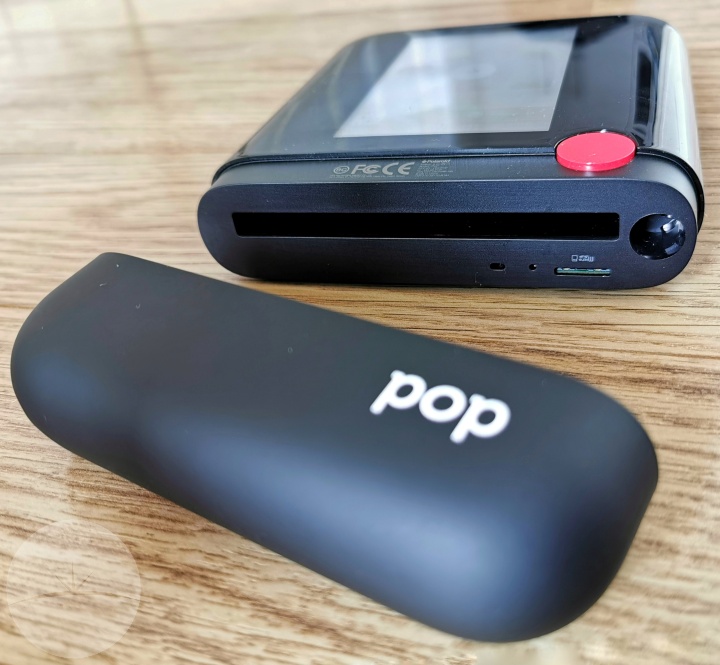 Digital Camera
Unlike the original film Polaroids that actually looked like cameras, the Pop looks more like an overweight smartphone. It'll fit in a jacket pocket, but overall it's quite bulky to carry around and also pretty heavy at 454 grams. The plastic shell is also highly susceptible to picking up fingerprints, scuffs and scratches. To me the overall design lacks the cool factor – to be honest I felt twinges of embarrassment when bringing out the Pop to take photos in public.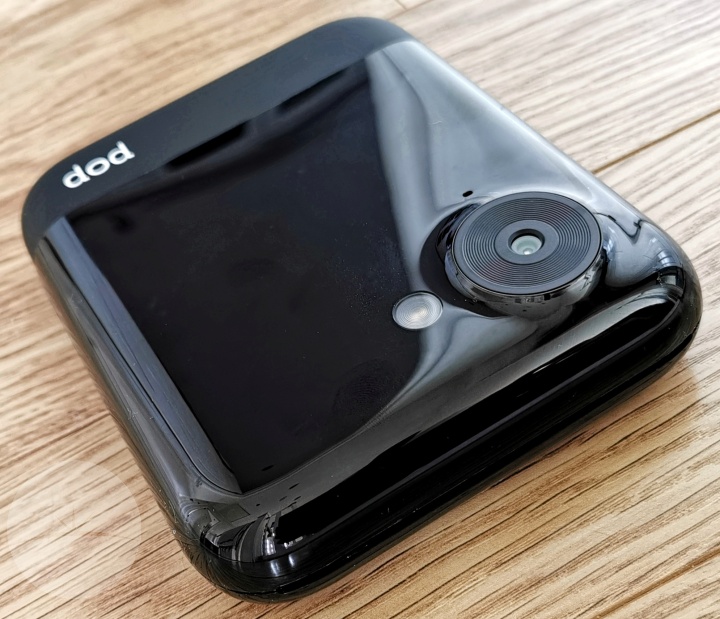 All could be forgiven if I could say the Pop was an impressive standalone camera. Unfortunately while it is capable of capturing photos containing plenty of megapixels (20), these turned out to lack detail and (to a lesser extent) saturation. They're detailed enough for social media or the smaller sized prints you get out of this device, but not the best for other purposes. To see what I mean try zooming in for a closer look at the leaves or river in the sample shot below…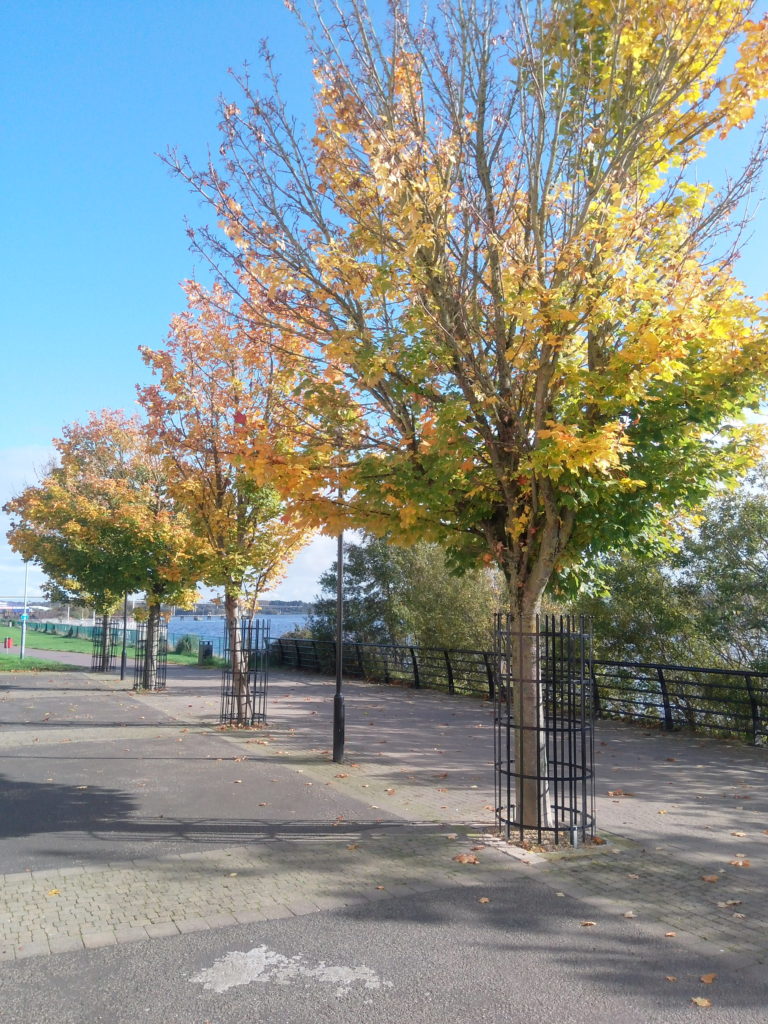 Taking photos is strictly a point-and-shoot affair with the only capture setting being to toggle the flash. Low-light shots are a struggle without the flash, suffering from quite a bit of noise while being difficult to frame thanks to the screen preview looking darker than the resulting photo. For instance the touchscreen looked completely black when capturing the sample no-flash low-light shot below…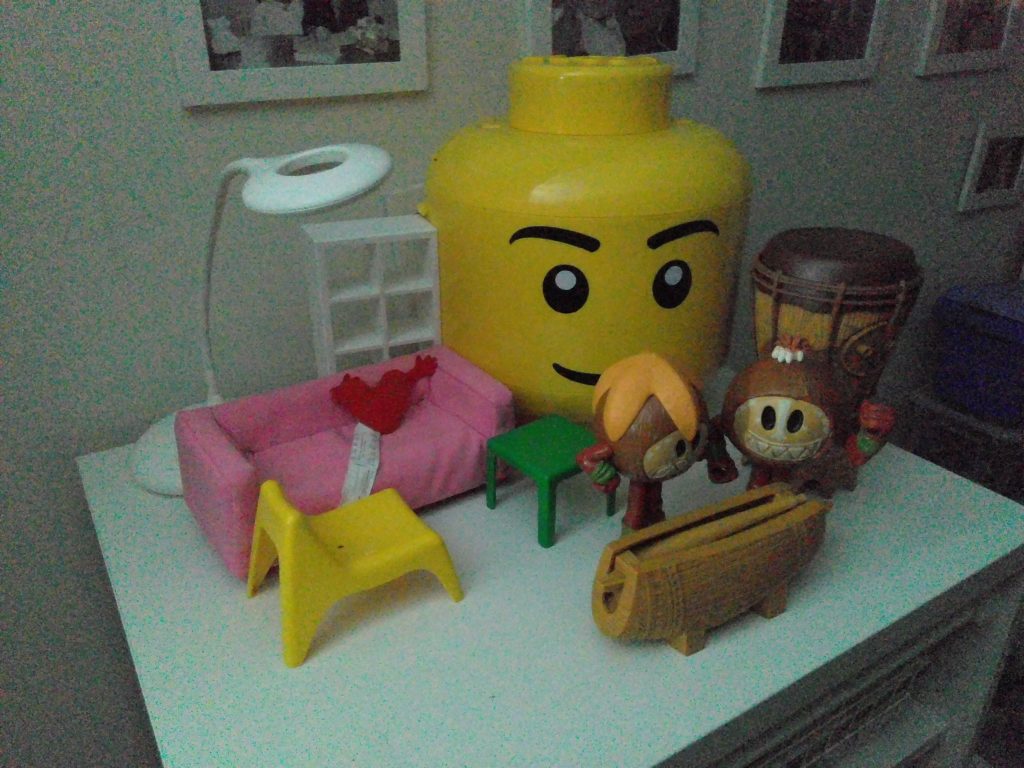 You get to play with quite a few filter, border and sticker options before printing. The Pop can also capture 1080p video and even animated GIFs – I'm just not sure why you'd use these considering they can't be printed. All you can do is transfer them to a smartphone that likely has it's own camera capable of doing just as good a job (if not better).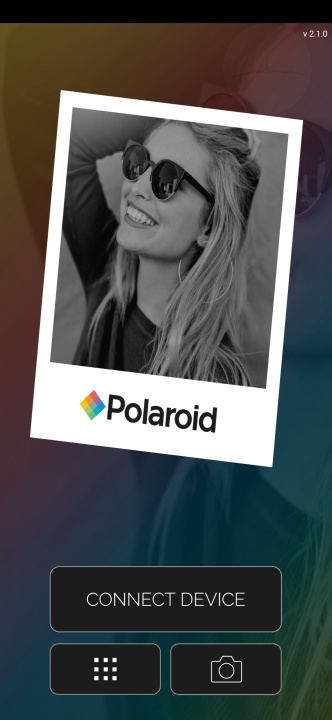 When switched on, the Pop creates a WiFi hotspot that you can connect to on your phone. You then can access additional features using the accompanying PolaroidPop app (available for Android and iOS).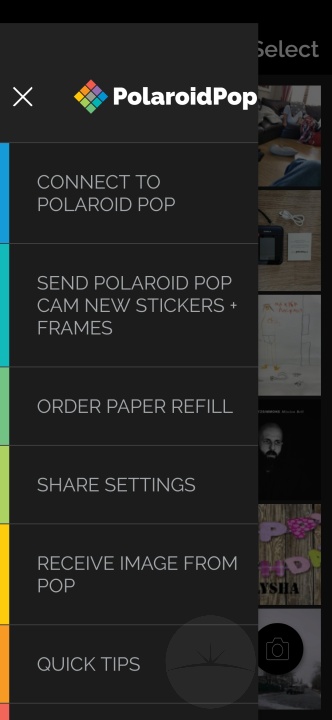 The app lets you transfer media from the Pop and also includes it's own camera option. This camera interface resembles what you see on the Pop so you can frame square-shaped photos suitable for printing. Unfortunately, regardless of your phone camera's capability it captures shots with only an 810×810 resolution.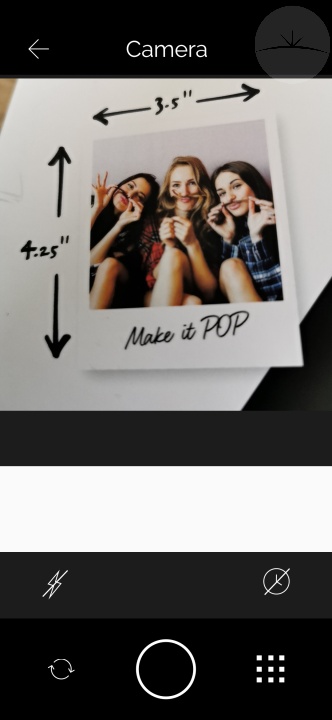 Luckily there's also a photo gallery that lets you send any photo stored on your phone to the Pop for printing. There are also a few different layout options available for arranging multiple photos together on one print.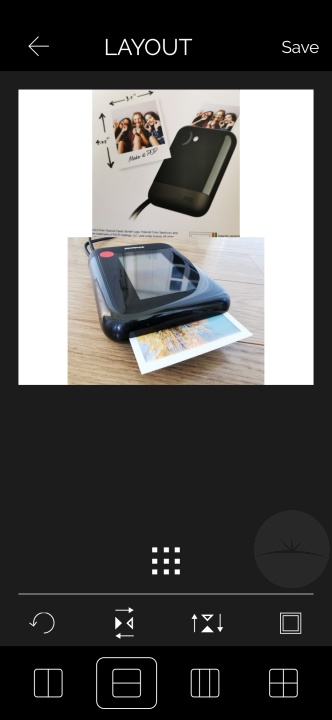 Printing
Even without the camera, Polaroid Pop has a lot of potential as a handy little portable photo printer. Just like the original, it prints 3.1″ square images with a white border to give a 3.5″ x 4.25″ photo. This relatively small photo size means your don't need high-res photos to get a sharp looking print. The Pop uses special Zink technology (zero ink) paper that's resistant to water, sunlight, smudging and tearing – perfect for someone like me, who only prints occasionally and is fed up with finding the cartridges have dried up on their inkjet printer.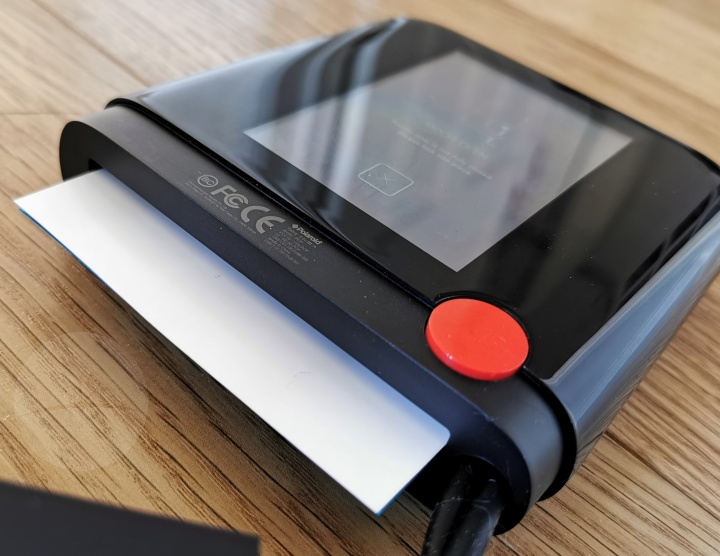 Paper comes in packs of 10, 20 or 40, and each pack includes a special blue calibration card that needs to be positioned face down at the bottom of the pile when loading the paper into the slot inside the magnetic cover. During the (relatively slow and noisy) printing process there's an animation of the photo scrolling out the top of the screen.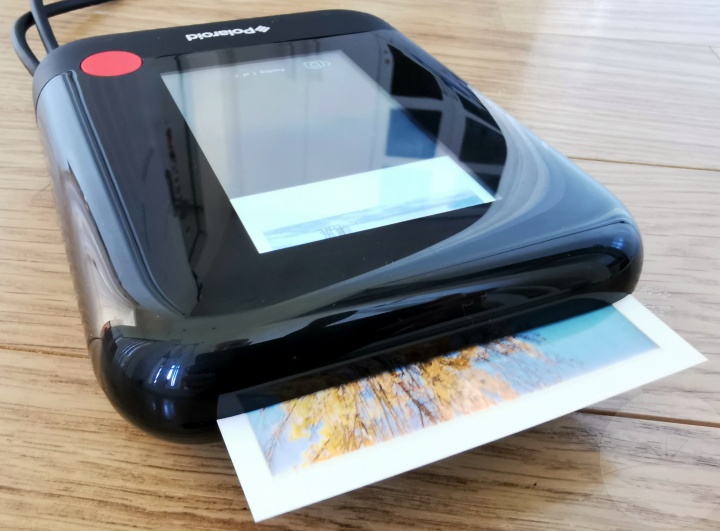 I don't know if they tried to match the look of the photos to the original film camera, but to me the results looked pretty poor for a modern photo printer. Colours look washed out with darker parts of the image coming out near black. To demonstrate this, take a look at the print below compared to the original image above. There's hardly any green and the railing is barely distinguishable from the trees behind it. The blue sky also shows some colour banding.
Conclusion
Do Polaroids still have a place in a world where digital cameras have now transformed how we take and view photos? Polaroid Pop definitely has a certain retro / nostalgic appeal and I could see kids getting a lot of fun from being able to combine photos, filters and stickers before printing out the results.
However the current selling price of £164/$150 with paper packs costing another £25/$37 for 40 sheets makes the Polaroid Pop difficult to recommend. The price will deter parents and anyone else will be better served spending the money on a separate camera and photo printer.  For more details on the Polaroid Pop check out the links below…